The 3D alone on the new Blu-ray 3D combo pack of "Fantastic Beasts and Where to Find Them" (Warner, $44.95 ) on March 28 is worth the price of this disc.
One of the best presentations of 3D on TV delivers palpable depth in almost every scene of this film in the 1926 New York wizarding world connected to the Hogwarts school of Harry Potter, as well as more moments than ever where objects and people seem to pop out of the screen towards the viewer – magic wands, lightning bug-type creatures, newspaper stories of the opening moments, and even main characters Newt and Jacob Kowalski. None of it feels contrived or arbitrary and yet it is so prominent and consistent that the producers must have been considering the best staging for 3D during the entire production.
If you haven't seen this movie, another reason to see check out this new Blu-ray version is to learn the real identity of the evil dark wizard Gellert Grindelwald revealed in a surprise at the end of the movie. We learn he is a contemporary of Professor Dumbledore who seems to have an emissary played by Colin Farrell throughout the film.
There are nearly 1-hour, 45-minutes worth of moderately entertaining bonus features, including nearly 15-minutes of deleted scenes:
Before Harry Potter: A New Era of Magic Begins! (15-min) – J.K. Rowling says she created this in order to keep alive the wizarding world she has been living for 17 years, which she didn't want to let go. She and filmmakers David Yates and David Heyman engagingly discuss their return to Leavesden Studios for this production.
Deleted Scenes (11 scenes, total 14 1/2-minutes) – the most notable scene is one in which Newt shows No-Maj around his environment of creatures with the scene fully produced with digital effects including a three-headed snake. As usual, it's best that most of these scenes were left out of the movie that is already plenty long at 2-hours and 15-minutes.
Characters (23-min. overall; 4 1/2-min each) – fun short videos profiling the actors and their characters
— The New Salemers, Rowling describes that these were witches of Salem who were forced to integrate into the world of the Muggles
— The Magizoologist
— The Goldstein Sisters
— The No-Maj Baker
— The President and the Auror
Creatures (21-min.)
— Meet the Fantastic Beasts – 4-min.
— Bowtruckle – 2 1/2-min.
— Demiguise – 2 1/2-min.
— Erumpent – 3 1/2-min.
— Niffler – 2 1/2-min.
— Occamy – 3 1/2-min.
— Thunderbird – 2 1/2-min.
Design (35-min.)
— Shaping the World of Fantastic Beasts (360°) – 6-min.
— New York City (360°) – 7 1/2-min.
— MACUSA (360°) – 7-min.
— Newt's Magical Case (360°) – 5-min.
— The Shaw Banquet – 4 1/2-min.
— The Blind Pig (360°) – 4 1/2-min.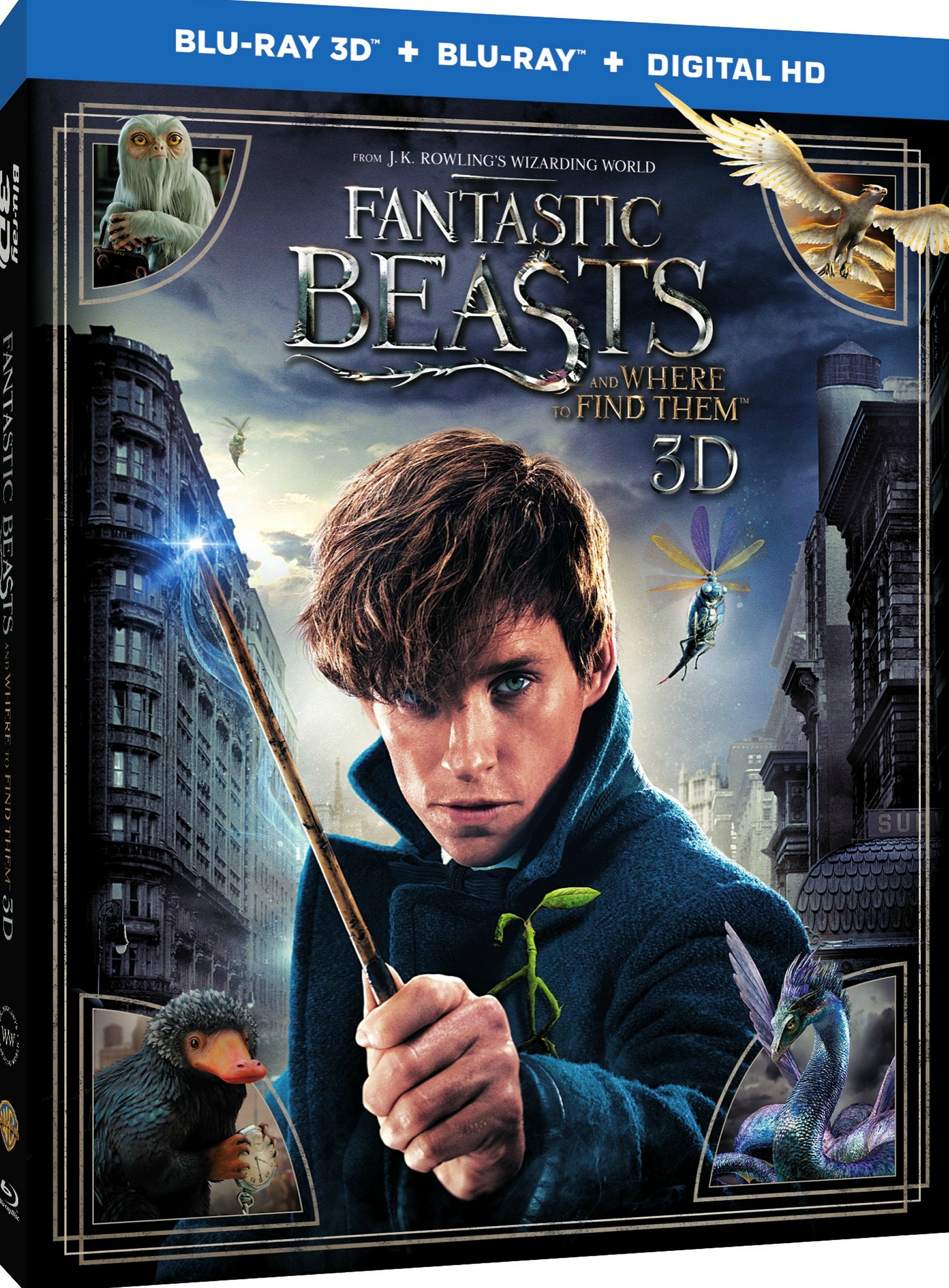 The movie itself may only appeal to the most die-hard of Harry Potter fans since the story and characters are much slighter, with the primary focus on the introduction of tons of new digital creatures of every shape, size, and capability.
Eddie Redmayne in his familar persona of a shy, fish-out-of-water animal lover, is fine as Newt Scamander, who gets caught up in the chaos and panic in Manhattan surrounding the inadvertent release of some of the magical creatures in his bag amidst an attack on the wizarding community by fanatical witches that is destroying the city.
Dan Fogler is mildly charming as the bumbling No-Maj (American version of a Muggle – a regular human with no magical powers). And the rest of the cast is good enough for their roles.
An expanded version of the movie's connected VR (virtual reality) experience will also be available, featuring never-before-seen footage, new beasts, and more interactive magical spells to use with each of the creatures inside Newt's case.
Additionally, all of the special features, including interviews with filmmakers, character and creature featurettes, deleted scenes and 360° videos, can be experienced on tablets and mobile phones using the Warner Bros. Movies All Access App, available for both iOS and Android devices.
Warner Bros. is also re-releasing all eight Harry Potter films on Ultra HD Blu-ray for the first time, the last four on March 28 — "Order of the Phoenix," "The Half Blood Prince," and both parts of "The Deathly Hallows." The first four films will be released later this year in Ultra HD: "The Sorcerer's Stone," "The Chamber of Secrets," "The Prisoner of Azkaban," and "The Goblet of Fire."
— By Scott Hettrick