Perhaps the best, funniest and darkest satire of all-time, "Dr. Strangelove or: How I Learned to Stop Worrying and Love the Bomb" returns to theaters today, Sunday, Sept. 18, and Wednesday, Sept. 21, courtesy of Fathom Events, Turner Classic Movies, Sony Pictures Entertainment, and AMC Theaters.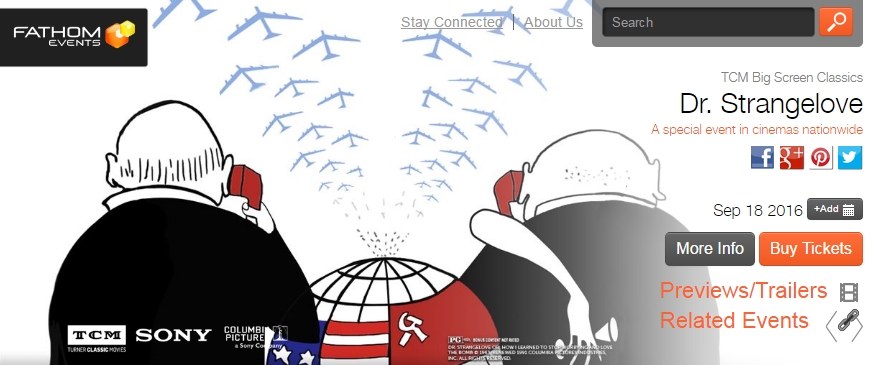 The 94-minute 1964 black-and-white classic from director Stanley Kubrick was an Academy Award nominee for Best Picture, Director, Writing, and Best Actor for Peter Sellers. Sellers stars as three different characters amidst a sea of stand-out performances by George C. Scott, Sterling Hayden, Slim Pickens, and Keenan Wynn.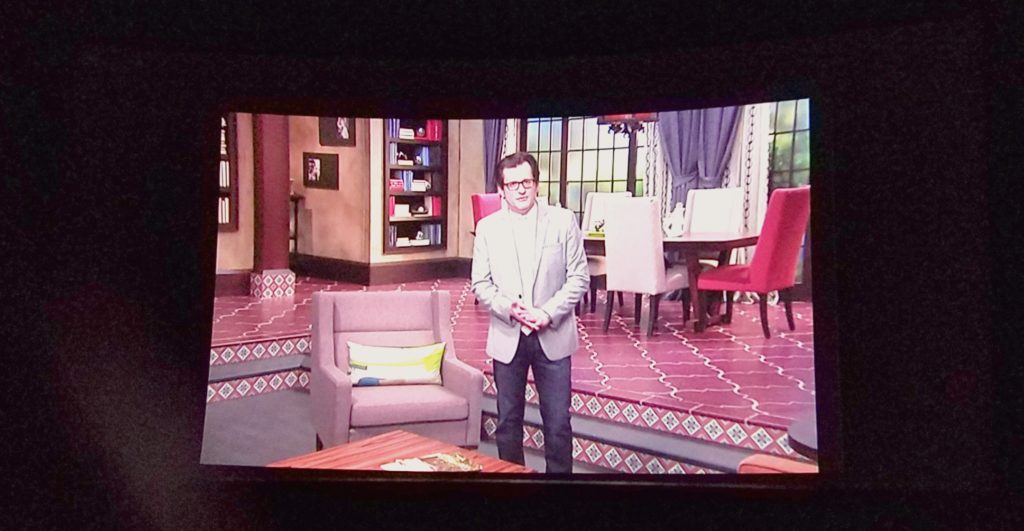 While it's great to fun to see this 42 year-old film that is ranked #39 on the American Film Institute's list of 100 Greatest American Films of All Time (ahead of "The Sound of Music") on the big screen — the first time for most of us — the presentation also feels very comfortably TV-friendly with the familiar brief TV introduction and post-film commentary by Turner Classic Movies host Ben Mankiewicz.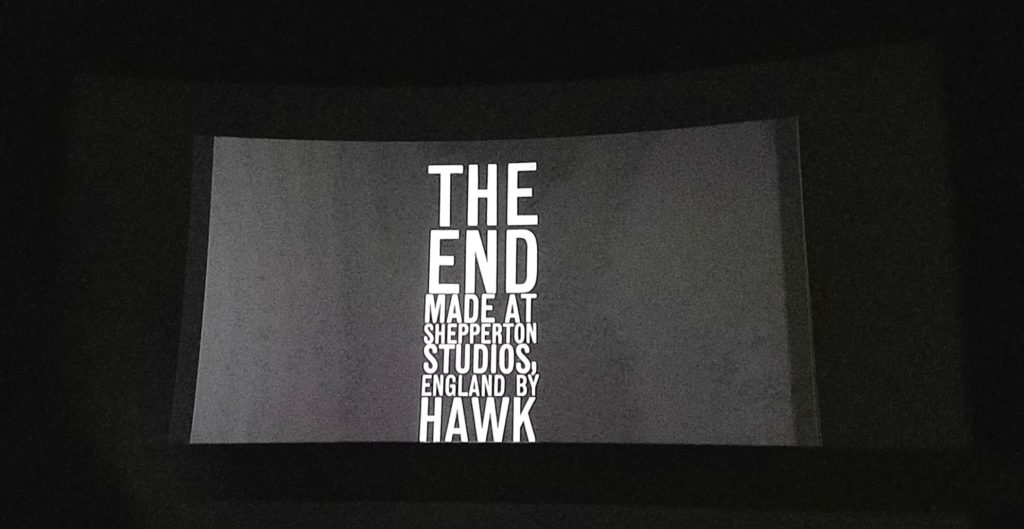 He offers fun bits of trivia such as George C. Scott reportedly saying that he had so much fun and laughed so often during production that he felt guilty about being paid for his work.
Disappointingly, for no obvious reason, the projection of the film does not come close to filling the screen vertically or horizontally (see two photos above).
Sellers is brilliant, of course, especially with his over-the-top wheelchair-bound nuclear scientist title character who struggles to repress his Nazi-ideals and his uncontrollable desire to salute the Führer.
But Scott is Sellers' equal, arguably generating more laughs than Sellers' three characters combined with his Joint Chiefs of Staff General "Buck" Turgidson. The arrogant "Commie"-hating Turgidson becomes the point man for answers around a giant conference room table when the President calls a meeting in the War Room to discuss how psychotic U.S. Air Force Commander Jack D. Ripper (Hayden) managed to supersede the President and order a nuclear bomb attack on Russia. (Ripper is paranoid that fluoridation of drinking water that began the year after World War II ended is a Communist plot to mess with precious bodily fluids of Americans.)
While Scott's line delivery is amazing, it's his physical actions and expressions that are priceless, beginning with the moment he slaps his open-shirted bare stomach, eliciting a deep hollow sound, to emphasize a point while talking on the phone. He doesn't end any of his retorts or outrageous suggestions to the President without leaving his mouth wide open and/or chewing gum with unusual force. While walking backwards away from The President he trips and falls and immediately gets back up and continues his dialogue as if nothing happened, for no apparent reason other than a laugh. Even when he has no lines his contorted lips, raised eyebrows and scowled expressions elicit laughs equal to the dialogue.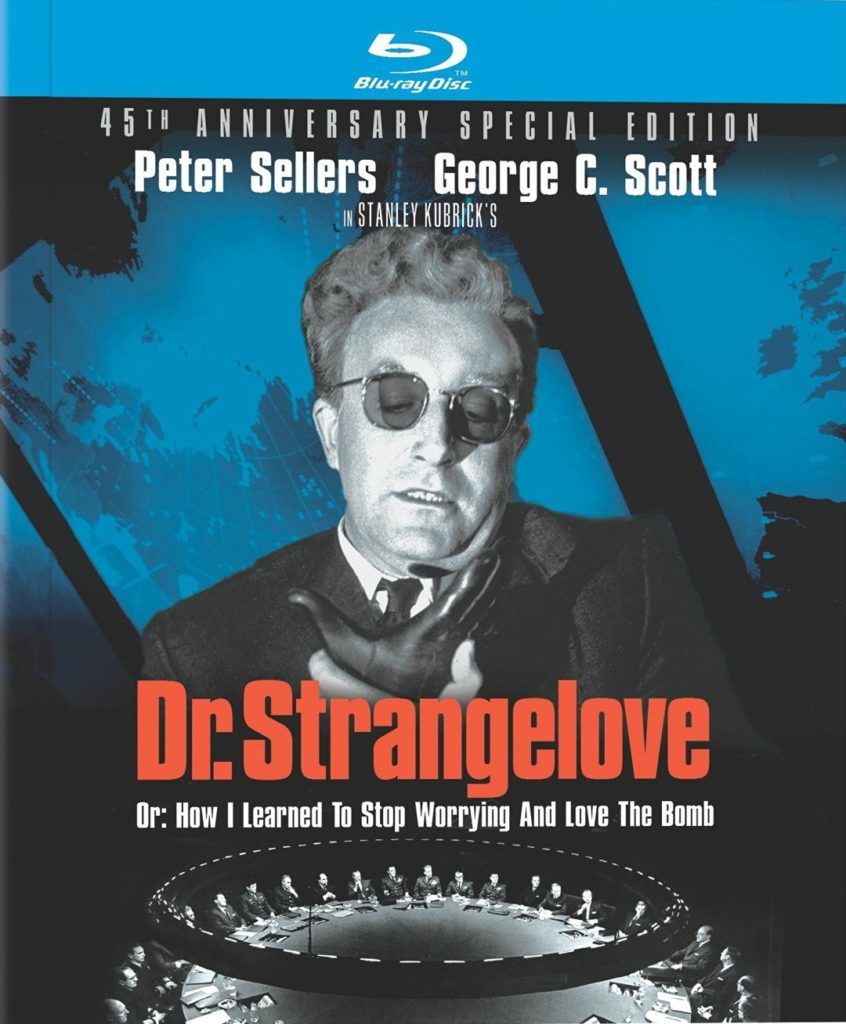 Blu-ray home version
If seeing the movie on the big screen makes you hunger for more, Sony Pictures Home Entertainment's 45th anniversary edition of "Dr. Strangelove," released on Blu-ray disc in 2009, offers a pristine HiDef version of the film and several hours of fun bonus features:
36-page color booklet

: color photos, star bios, an article about deleted scenes, including (along with the script) the final custard pie fight in the War Room.
"No Fighting in the War Room or: Dr Strangelove and the Nuclear Threat," a 30-minute documentary from 2004 discussing the mood of the country under fear of a Communist attack in the early 1960s.

— Comments from a diverse array of celebrities ranging from Spike Lee to Washington Post Watergate reporter Bob Woodward to film critic Roger Ebert to former Defense Secretary Robert McNamara.

— discussion of and still photos of deleted final custard pie fight scene (the studio, Columbia Pictures, felt that the line, "The President has been cut down in his prime" would be offensive since President Kennedy was assassinated two months earlier.)

"Inside Dr Strangelove or: How I Learned to Stop Worrying and Love the Bomb,"

a 46-minute retrospective from 2000. Some of the notable tidbits:

— Evolution of the concept for the film shifting from a straight-forward drama to a satire.

— Comments by the wife and son of writer Terry Southern; Art Director Peter Murton and Production Designer Ken Adam on the iconic War Room set and the B-52 bomber (Adam did the huge sets for the James Bond movie "Goldfinger" the same year).

— Sellers described as being so brilliant at improvisation that much of Sellers' three roles were not scripted but worked out with Kubrick during production. Among his improvs were the black glove and the uncontrollable Nazi arm salute of his Dr. Strangelove character, and the phone conversation he has as President alerting the Soviet Union about the inadvertent nuclear bombing by a rogue General: "He went and a little funny in the head; he went and did a funny thing."

— Sellers was initially to play a fourth character, the cowboy bomber eventually played by Slim Pickens (Sellers didn't want to play the part; while filming he fell out of the 15-foot-high cockpit and hurt his ankle, preventing Sellers from continuing to portray the character).

— The iconic scene of the cowboy riding the bomb down to detonation was an 11th-hour decision that Kubrick needed Ken Adam to create in only 48 hours.

— Kubrick convinced Sterling Hayden to come out of retirement and do his first role in years.

— James Earl Jones screen debut.

— "Fail Safe" (a dramatic version of basically the same story starring Henry Fonda) went into production as "Dr. Strangelove" was wrapping production; Kubrick & Columbia Pictures sued to strategically delay the release of "Fail Safe."

— a typo in the opening titles: missing "d" on "Base on book…"

— discussion and still photos of deleted creme pie fight scene; film instead ends with reinvigorated Dr. Strangelove rising from chair, saluting, and proclaiming, "Mein Fuhrer, I can walk!"

— critic screening date was scheduled for same date as President Kennedy assassinated on Nov 22 ,1963 – screening rescheduled and Slim Pickens line changed: "A fella could have a pretty good time in Dallas (Vegas) with all that stuff."

— The New York Times initially wrote savage review but then came back later with a very favorable review.

"Best Sellers or: Peter Sellers and Dr. Strangelove,"

an 18-minute 2004 featurette about the actor

— Comments from David Frost, Roger Ebert, Michael Palin, Shirley MacLaine, among others.

— Sellers suffered a heart attack shortly after the movie.

— Sellers crushed when he didn't win the Oscar for "Being There."

"The Art of Stanley Kubrick: From Short Films to Strangelove,"

a 14-minute featurette from 2000.

"A Conversation with Robert McNamara,"

a 24-minute interview from 2004.

— Seven years as Secretary of Defense during the Cold War which he described as a "hot war" since country was constantly under threat of nuclear attack.

Split-screen interviews with Peter Sellers and George C. Scott

, two 3 1/2-minute publicity films for local TV stations to plug in local reporters as if they are asking questions, with Sellers and George C. Scott filmed on a phone from the War Room set.

— Scott says he thinks "Dr. Strangelove" will be one of the most talked-about pictures for many years to come.

— Sellers is prompted to speak in many different English accents.

Pop-up trivia

option running during the movie about the Cold War and the movie itself.
— By Scott Hettrick