Once again Warner Home Video has created a little magic of its own with the Harry Potter franchise, with dazzling new ultimate editions of the first two movies and several event-type extras on today's Blu-ray debut (Dec. 3) of the sixth episode, "Harry Potter and the Half-Blood Prince."
With the Ultimate editions, once again the studio has introduced such a high-class and enticing new collector's version of a franchise that has already been released in multiple iterations that consumers will gladly go buy the same movie yet again for themselves or as a gift, and be completely happy to have done so. (See also "Gone with the Wind.") You'll find further comment on the Ultimate editions below.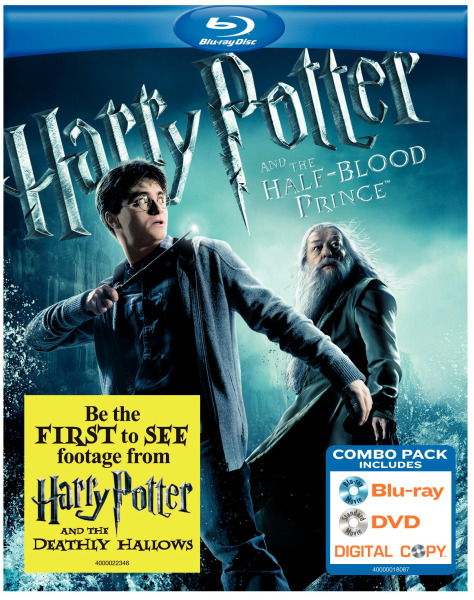 The newest release, "Half-Blood Prince" ($35.99) showcases tons of typically great Potter bonus features on the two-disc set (third disc is DVD version of movie):
* First glimpse of "The Deathly Hallows," seventh movie coming to cinemas November 2010 (the final chapter will be in theaters July 2011). The 110-second clip shows 60-seconds from the set and then a 50-second video montage of scenes, including Hermione running frightened amongst muggles on a crowded modern city street.
* Preview of Harry Potter theme park opening 2010. Eleven-minute discussion and models of the sprawling area at Universal Studios Florida's Islands of Adventure, featuring full-scale Hogwarts and familiar settings, dragon rollercoasters, and new movie footage exclusive to the attraction.
* Terrific user-friendly "Maximum Movie Mode" offers optional interactive pop-up picture-in-picture elements such as scene-specific comments, storyboards, etc., integrated into the movie. Simply click right arrow on remote control to skip to next optional feature.
* "Live Community Screening" Saturday Dec. 13 at 12 noon PT (3 p.m. ET) of "Half-Blood" in London with star Daniel Radcliffe and director David Yates answering questions via Blu-ray-connected BD Live players.
* J.K. Rowling TV documentary — the fascinating and intimately personal program following the creator of Harry Potter back to her childhood and up to her finishing touches on the final book.
* Cast member videos — actors ask their co-stars fun questions.
I have to say that while I thoroughly enjoy the cinematic presentations of Harry Potter" — I diligently go to see each movie when they premiere in theaters — they feel more like amusement park rides to me (the theme park in Orlando is a brilliant and long overdue natural tie-in), which is perhaps why I try to see them on a giant IMAX screen, and with 3D scenes, when offered. Although I am continually impressed by how faithful the movies are to the novels – perhaps more exact page-by-page translations than any cinematic adaptation — they disappear from my mind as I leave the theater and tend to blur together when I try to recall any specific installment. I find that I have little interest in re-watching them when they are broadcast on TV networks.
But the Blu-ray experience rekindles and deepens my appreciation of each of them by providing such a pristine image and so many back-stories about the productions and the cast and crew that I find myself far more engaged in each episode.
The new ultimate edition volumes of the first two Harry Potter movies out today, December 8 – Year 1: "The Sorcerer's Stone," and Year 2: "The Chamber of Secrets" ($49.99 each) – are very impressive in every way: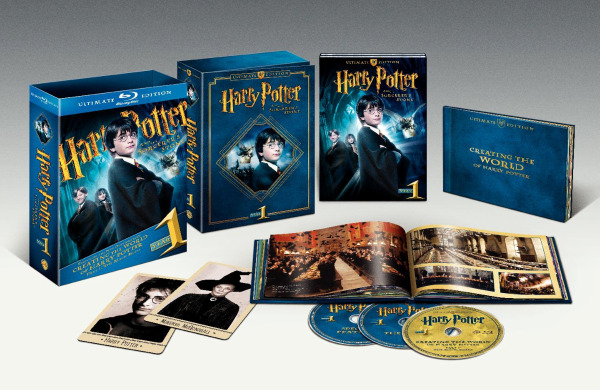 * An extended version of each movie — more than six extra minutes in "Sorcerer's Stone."
* New fun and informative picture-in-picture comments during specific scenes of the movie by director Chris Columbus and storyboard comparisons, etc. (only on the theatrical version)
* Best-yet access of PiP extras — just click the right arrow of remote to skip to the next integrated piece.
* New 1-hour retrospective program from top-rate New Wave Entertainment under exec producer Michael Meadows featuring recent fascinating interviews with cast and crew and introduction by Daniel Radcliffe.
* Packaging that looks and feels like bound school textbooks (Year 1 is blue; Year 2 is red)
* collector's 48-page color hardbound booklet of photos
* pamphlet filled with character Tarot-type cards and a digital disc copy of the movie
* Four-fold jacket with three discs
* An entire DVD of previous extensive bonus features.
— By Scott Hettrick
Official details below following trailer video:
Warner Home Video
Street Date: 12/8/09
MSRP:  $49.99
3-Disc Set Includes:
Creating the World of Harry Potter Part 1: The Magic Begins
For the First Time Ever … Uncover the intimate details of the search to cast Harry Potter and his friends • See Daniel, Rupert and Emma's never-before-seen audition tapes • Be there with stars and filmmakers walking onto the set of the exciting first day of shooting • Learn about Chris Columbus' critical, step-by-step decisions behind the creation of Harry Potter's world on screen • Look back on an amazing decade's worth of movies with Daniel, Rupert and Emma in new and vintage interviews never seen before. Plus: Exclusive Introduction by Daniel Radcliffe.
DISC 1: • Theatrical Version including In-Movie Experience with Director Chris Columbus • Extended Version with 7 Minutes of Footage Not Shown in Theatres • BD-Live
DISC 2: • Introduction by Daniel Radcliffe • Creating the World of Harry Potter, Part 1: The Magic Begins – Discover the story of how one vision for the Harry Potter films came together out of limitless possibilities to create the visual world we have come to know and love. • A Glimpse Into the World of Harry Potter 2001 International TV Special • Deleted Scenes • Trailers
DISC 3: • Diagon Alley • Tour the Gryffindor Common Room, Harry's Room and the Great Hall – Welcome to the self-guided tour of Hogwarts, home of witches and wizards in training, and take in the sights. • Classrooms: Defense Against the Dark Arts; Spells and Charms; Potions; Transfiguration; • Third Floor Corridor; Deleted Scenes. • Sorting Hat • Library: Gallery of Art & Architecture; Hogwarts Yearbook; Guide to Ghosts – Discover the many marvelous and mysterious ghosts of Hogwarts. • Hogwarts Grounds: Quaffle and Bludger – Get a lesson from Oliver Wood on how to play Quidditch; Tour Hagrid's Hut – Welcome to the self-guided tour of Hagrid's Hut, home of Rubeus Hagrid, the keeper of keys and grounds at Hogwarts, and his faithful companion, Fang. • Extra Credit • Interview – Capturing the Stone: A Conversation with the Filmmakers – Director Chris Columbus, Producer David Heyman, Screenwriter Steve Kloves and Production Designer Stuart Craig talk about casting and bringing the novel to life.
Disc Configuration:  BD – 25, BD – 50, DVD 5
Run Time: 500
Harry Potter and the Half-Blood Prince (Blu-ray+DVD+Digital Copy Combo Pack)
Synopsis:  Voldemort is tightening his grip on both the Muggle and wizarding worlds and Hogwarts is no longer the safe haven it once was. Harry suspects that dangers may even lie within the castle, but Dumbledore is more intent upon preparing him for the final battle that he knows is fast approaching. Together they work to find the key to unlock Voldemort's defenses and, to this end, Dumbledore recruits his old friend and colleague, Professor Horace Slughorn, whom he believes holds crucial information. Even as the decisive showdown looms, romance blossoms for Harry, Ron, Hermione and their classmates. Love is in the air, but danger lies ahead and Hogwarts may never be the same.
Street Date: 12/8/09
MSRP:  $35.99
Studio/Label: Warner Bros.
Disc Configuration:  BD – 25, BD – 50
Genre(s):     Drama, Romance, Fantasy Adventure, Mystery
Rating:      movie PG; Blu-ray PG-13
Director:  David Yates
Producer: David Heyman, David Barron
Screenplay: Steve Kloves
Actors:  Daniel Radcliffe, Rupert Grint, Emma Watson, Helena Bonham Carter, Robbie Coltrane, Warwick Davis, Michael Gambon, Alan Rickman, Maggie Smith, Julie Walters, Tom Felton, Evanna Lynch, Bonnie Wright, Jim Broadbent, Helen Mccrory, Jessie Cave, Hero Fiennes Tiffin, Frank Dillane