A big week for big Blu titles being released today, Tuesday, Dec. 8.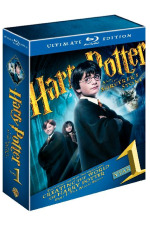 My Blu Pick is the Ultimate Edition Harry Potter and Half-Blood Prince releases, details of which you can read there.
Also notable are the following: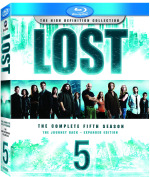 * "Lost: The Complete Fifth Season – The Journey Back, Expanded Edition" ($79.99, Disney). The five-disc set of all 16 episodes of the penultimate season includes some fun bloopers, interesting deleted scenes, numerous informative featurettes (we learn in "An Epic Day With Richard Alpert" that the actor does not use eyeliner as it appears to many viewers), and a special program featuring on-set comments about the show's 100th episode.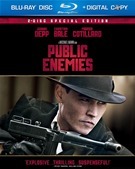 * "Public Enemies 2-Disc Special Edition" ($36.98, Universal – the second disc is a digital copy of the movie) delivers a nice array of featurettes on the historical perspectives of John Dillinger and the FBI, as well as the production of the movie, many of which are delivered nicely through the U-Control feature offering picture-in-picture video comments by filmmaker Michael Mann and an interactive historical timeline.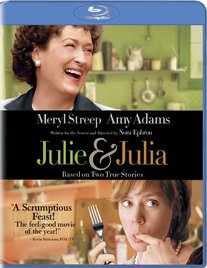 * "Julie & Julia" ($39.95, Sony) delivers a stove full of cooking-related extras as well as a look at how Meryl Streep and Amy Adams created their characters in the movie in which they never meet during their separate but connected stories. Streep's characterization is typically remarkable in this profile of two characters that is more about their personalities than their skills at the stove.
— By Scott Hettrick
Following are the official details of these titles:
LOST: THE COMPLETE FIFTH SEASON
LOST: The Complete Fifth Season comes to Blu-ray Hi-def on December 8, 2009 from Walt Disney Studios Home Entertainment. All 17 episodes of the season fans and critics alike are calling the best ever are available to watch again and again in a five-disc set packed with never-before-seen bonus material, including revealing cast interviews and behind-the-scenes features, including exclusive content only available on the Blu-ray. The mystery, action and intrigue that
have made LOST one of the most influential shows of the decade gather speed as the show nears its highly anticipated final season.
Destiny sends the Oceanic 6 back to the Island and into the heart of the enigmatic Dharma Initiative. The reason they had to return and the fate of all those who were left behind is revealed as the momentum builds toward the much anticipated series finale in 2010. Some of LOST's most pressing questions are finally answered in a spectacular 5-disc collection, packed with deleted scenes, exclusive interviews, as well as Blu-ray exclusive content.
LOST stars Naveen Andrews as Sayid, Henry Ian Cusick as Desmond, Jeremy Davies as Daniel
Faraday, Michael Emerson as Ben, Matthew Fox as Jack, Jorge Garcia as Hurley, Josh Holloway as Sawyer, Daniel Dae Kim as Jin, Yunjin Kim as Sun, Ken Leung as Miles, Evangeline Lilly as Kate, Elizabeth Mitchell as Juliet and Terry O'Quinn as Locke.
LOST was created by Jeffrey Lieber and J.J. Abrams & Damon Lindelof. Abrams, Lindelof, Bryan Burk, Jack Bender, Edward Kitsis, Adam Horowitz and Carlton Cuse serve as executive producers. LOST, which is filmed entirely on location in Hawaii and premiered on September 22, 2004, is from ABC Studios.
STREET DATE: December 8, 2009
Pricing: Blu-ray Disc: $79.99 (U.S.), $94.99 (Canada)
Rated: US: 'TV – 14'; Canada: TBD
"Public Enemies: Special Edition
Universal Studios / 2009 / 140 Minutes / Rated R
Street Date: December 08, 2009
List Price: $36.98
Genres: Drama, Thriller
Starring: Christian Bale, Johnny Depp
Director: Michael Mann
Plot Synopsis:
Public Enemies tells a timeless story of black, white and grey against a historical backdrop eerily similar to the troubled times in which we now live.
Public Enemies, helmed by acclaimed director Michael Mann, tells the story of the nascent FBI and legendary agent Melvin Purvis' crusade against gangs of bankrobbers terrorizing the country during the Great Depression. Based on a book by Bryan Burroughs, the majority of Public Enemies' action centers around the cat-and-mouse game between Purvis (Christian Bale) and legendary bankrobber John Dillinger (Johnny Depp).
Dillinger, a charming, charismatic figure had captivated public opinion by his daring raids against banks, made unpopular by the troubles the Great Depression financial crisis had heaped upon ordinary Americans. As Dillinger's robberies and jail escapes became the stuff of legend, more gangsters join his band and other robbers crop up around the nation.
As the loot hauls and body count climbed, FBI director J. Edgar Hoover (Billy Crudup) decided Dillinger's capture would be the flash in the pan that would catapult the new agency into national prominence, and assigned the photogenic Purvis to lead the manhunt. The Public Enemies film chronicles Purvis and Dillinger's duels, featuring exciting chases, gunfights and the eventual betrayal that led to Dillinger's downfall.
"Public Enemies" depicts how Purvis' early attempts to catch Dillinger end in tragic failure, and how Purvis eventual adoption of morally gray methods lead to his eventual success, but also how these methods lead to his questioning of his role as a lawman.
Audio Formats
* English DTS-HD Master Audio 5.1 Surround Sound
Supplements
* Larger than Life: Adversaries
* Michael Mann: Making Public Enemies
* Last of the Legendary Outlaws
* On Dillinger's Trail: The Real Locations
* Criminal Technology
* Feature Commentary with Director Michael Mann
Exclusive HD Content
* U Control – Interactive Timeline
* U Control – Picture in Picture
* Gangster Movie Challenge
* My Chat
* My Movie Commentary
* My Scenes Sharing
* IPhone APP
* BD-Live
Julie & Julia
Meryl Streep, Amy Adams, Stanley Tucci, and Chris Messina star in the comedy "Julie & Julia," coming to Blu-ray December 8 from Sony Pictures Home Entertainment. Two women from different decades come together through their own true stories of culinary exploration when dissatisfied writer Julie Powell (Adams) decides to cook and blog her way through Julia Child's (Streep) book Mastering the Art of French Cooking, which launched Child's career.
Blu-ray special features include commentary by writer/director Nora Ephron and the behind-the-scenes featurette "Secret Ingredients: Creating Julie & Julia," which features interviews with the cast and crew.
The Blu-ray Disc is packed with exclusive features such as "Julia's Kitchen," a tour of Julia Child's one-of-a-kind kitchen now housed at the Smithsonian's National Museum of American History, which was custom built by her husband Paul Child to accommodate her 6' 2" frame and to serve as a television soundstage for her cooking shows.
Also included is "Family & Friends Remember Julia Child," which picks up where the film leaves off and chronicles her public life including other published works, her numerous television shows, her founding of the American Institute of Food and Wine, the many accolades she received, her philanthropy and her rarely discussed private life: the love story with her husband, her sense of humor, her amazing work ethic, and her love of teaching.
Lastly, there's "Cooking Lessons" with master chefs Julia Child, Jacques Pépin, Mark Peel, Suzanne Goin, Steven Lewandowski and Drew Nieporent demonstrating how to make such mouthwatering dishes as Braised Beef Short Ribs and Butter Poached Maine Lobster.
The Blu-ray Disc also features movieIQ with "Julia's Recipe Collector," where viewers can bookmark and email select Julia Child recipes featured throughout the film. movieIQ also allows viewers to access updated information on cast & crew while exploring relevant trivia such as production facts, music and soundtrack information.
Julie & Julia will be available on Blu-ray for $39.95 SRP.
SYNOPSIS:
A culinary legend provides a frustrated office worker with a new recipe for life in Julie & Julia, the true stories of how Julia Child's (Meryl Streep) life and cookbook inspired fledgling writer Julie Powell (Amy Adams) to whip up 524 recipes in 365 days and introduce a new generation to the magic of French cooking. Stanley Tucci (The Devil Wears Prada) co-stars in director Nora Ephron's delicious comedy about joy, obsession and butter.
Blu-ray Special Features Include:
* Commentary with writer/director Nora Ephron
* "Secret Ingredients: Creating Julie & Julia" – Go behind the scenes with Meryl Streep & Amy Adams to see how they became Julie & Julia.
Exclusive Blu-ray Special Features Include:
* "Family & Friends Remember Julia Child" – Julia's closest family and friends tell us about the woman they knew and loved.
* "Julia's Kitchen" – Learn all about how the Smithsonian's National Museum of American History acquired Julia's kitchen and take a tour inside.
* "Cooking Lessons":
o Poaching Eggs with Julia Child & Jacques Pépin
o Making Hollandaise Sauce with Julia Child & Jacques Pépin
o Mark Peel Prepares Scrambled Eggs
o Suzanne Goin Prepares Braised Beef Shortribs
o Steven Lewandowski & Drew Nieporent Prepare Butter Poached Maine Lobster
* movieIQ – "Julia's Recipe Collector" – collect and email your favorite Julia Child recipes while watching the film!
Julie & Julia has a running time of 123 minutes and is rated PG-13 for brief strong language and some sensuality.
Blu-ray Disc SLP: $39.95
The Blu-ray Disc version of Julie & Julia is BD-Live™ enabled, allowing users to get connected and go beyond the disc via an Internet-connected Blu-ray player. Download exclusive content, register for rewards, give feedback through our survey and more! Get rewarded for registering your Sony Blu-ray discs! The Sony Pictures Blu-ray Club rewards consumers in the U.S. for purchasing and registering BD-Live enabled Sony Blu-ray movies. Members can redeem accumulated points for cool Sony products, plus enter to win cash and prizes in daily sweepstakes and more.