"Gone with the Wind" just keeps getting better with age, thanks in no small part to Warner Home Video's loving care and continual improvements on the movie itself and the dressing surrounding it in the packaging and bonus features.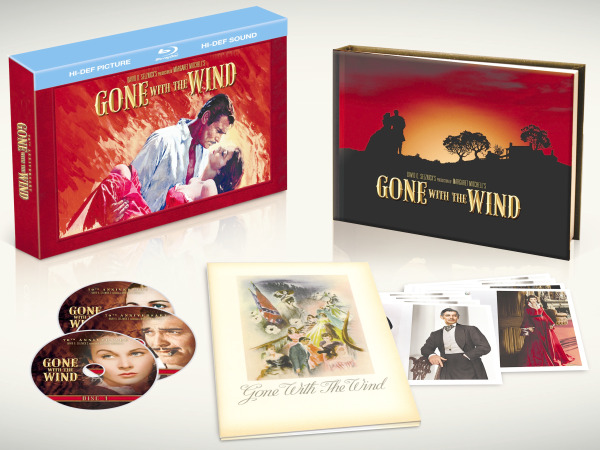 Let me answer your first two questions first about Warner's new 70th anniversary edition Blu-ray in stores Nov. 17:
* Yes, there is plenty of distinctive qualities and elements here to justify yet another purchase of this classic movie:
— the Blu-ray HiDef presentation is stunning and spectacular.
That's reason enough, but there is much more, detailed in media release below.
*  No, it is not presented in widescreen because the movie was not produced in widescreen in 1939.
A stretched theatrical rerelease resulted in the loss of some of the image at the top and bottom.
Once again the release of this epic in a new home format gives us all a reason to revisit the masterpiece and I've never heard of anyone being disappointed.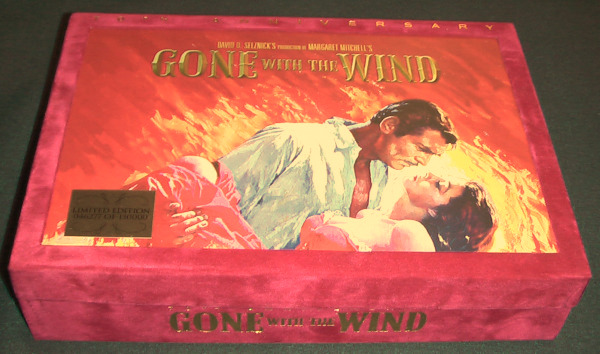 In fact, I continue to discover and further appreciate different small elements. In this case, the clarity of the image made me more closely examine the closing shot of Scarlett in silhouette and Tara in the background that so meticulously matches the shot of Scarlett with her father early in the movie.
I could go on until the next iteration comes out in a few years, but all that needs to be said is that, if you haven't already made the plunge, this Blu-ray HiDef transfer of "Gone with the Wind" justifies the purchase of a Blu-ray player and HDTV.
– Scott Hettrick
Complete media release:
This Country's #1 Movie of All Time1 Arrives in Spectacular New Blu-ray Version!
GONE WITH THE WIND
70th Anniversary Ultimate Collector's Edition from Warner Home Video November 17
With More than Eight Hours of Enhanced Content, Two of Which Are Brand New
Includes New Documentaries and Nostalgic Collectibles in Limited, Numbered Velvet Keepsake Box, Perfect for Gift Giving
Burbank, Calif. August 10, 2009 – Winner of 10 Academy Awards® including Best Picture, and still history's all time domestic box-office champion  ($1.5 billion1), Gone with the Wind has long been considered the most celebrated motion picture of all time.  On November 17, Warner Home Video (WHV) will honor the romantic epic with a stunningly restored and remastered version, available for the first time on Blu-ray™.  Gone with the Wind 70th Anniversary Ultimate Collectors Edition is sure to be a "must-have" for collectors of classic films, available both in Blu-ray as well as on DVD.
The highlight of this new Blu-ray version of Gone with the Wind is how it looks and sounds. As they've done with The Wizard of Oz, Warner Home Video continues to maximize what the Blu-ray format can do in terms of picture and sound.  With six times higher resolution than standard DVD along with the sonic excellence of Dolby TruHD, the film will be at its absolute pristine best.
"You're going to see, hear and experience so much more with this Blu-ray edition," said Jeff Baker, WHV Executive Vice President and General Manager, Theatrical Catalog.  Viewing Gone with the Wind again on Blu-ray is like seeing it for the first time. You're brought into the saga of the war torn Tara so intensely, you feel as if all the characters literally come alive. At times, I felt as if I was on the set standing next to the camera watching Gable and Leigh as the whole scene unfolded."
Brand new to these editions is a bonus disc with three new outstanding documentaries:
•    1939: Hollywood's Greatest Year is a fascinating tribute to a year considered to be one of Hollywood's greatest. This documentary, narrated by Kenneth Branagh, had its on-air premiere in July as part of TCM's month-long festival saluting that year's 'bumper-crop' of films.
•    Gone with the Wind: The Legend Lives On is an exploration of the legacy of this most beloved film through illuminating interviews, footage and visits to historical sites, events and museums.
•    Moviola: The Scarlett O'Hara Wars — a 1980 WBTV Special, never before seen on home video.
This historic 70th Anniversary Ultimate Collector's Edition,  limited and numbered, will be further enhanced with unique nostalgic premiums – a 40-page hardcover book with photos, production notes and more; a reproduction of the 1939 original program; eight 5" x 7" frameable art prints, and a CD soundtrack sampler.  The UCEs will be available in Blu-ray for $84.99 and DVD for $69.92 SRP.
A Two Disc Special Edition will also be offered with the film and commentary for $24.98 SRP.  The documentary The Making of a Legend will also be available as a stand alone for $14.97 SRP.
About the Movie
Gone with the Wind is the grandest, most ambitious and spectacular piece of filmmaking in cinematic history. With more than 50 speaking roles and 2400 extras, the film is the quintessential Hollywood epic – considered a "must have" for collectors, and one that can be watched again and again for generations to come.
Clark Gable, Vivien Leigh, Leslie Howard and Olivia de Havilland star in Gone with the Wind, which for more than a half century has thrilled audiences with its eternal love affair, set in the South against the backdrop of the Civil War, between handsome Rhett Butler (Gable) and his sassy, headstrong heroine Scarlett O'Hara (Leigh). With each new generation, Gone with the Wind continues to grow in popularity as new audiences discover and embrace the David O. Selznick production of Margaret Mitchell's Pulitzer Prize-winning novel.
TWO DISC DVD SPECIAL FEATURES
Disc 1 The Movie, Part 1
•    Remastered feature with Dolby Digital 5.1 Audio
•    Commentary by historian Rudy Behlmer
DISC 2 The Movie, Part 2
•    Remastered feature
•    Commentary by historian Rudy Behlmer
•    Offer for a numbered Limited Edition copy of the Original 1939 Poster
DVD & BLU-RAY ULTIMATE COLLECTOR'S EDITIONS
Includes everything listed in the Two Disc SE as well as the following:
Disc 3
About The Movie
•     The Making of a Legend documentary (1989 TV Special) (Narrated by Christopher Plummer)
•    Restoring a Legend – Chronicles the film/video restoration process
•    Dixie Hails Gone with the Wind -1939 Premiere newsreel
•    1940 MGM historical short – The Old South
•    Atlanta Civil War Centennial 1961 premiere newsreel
•    International prologue
•    Foreign language version sample scenes
•    Theatrical Trailers
Disc 4
About The Cast
•    Melanie Remembers: Reflections by Olivia de Havilland – Exclusive 2004 Documentary
•    Cast profile – Gable: The King Remembered
•    Cast profile – Vivien Leigh: Scarlett and Beyond
•    The Supporting Players – Cameo portraits of an unforgettable ensemble
o    At Tara
    The O'Hara Plantation in Georgia
    Thomas Mitchell as Gerald O'Hara
    Barbara O'Neill as Ellen, his wife
o    Their Daughters
    Evelyn Keyes as Suellen
    Ann Rutherford as Carreen
o    The house servants
    Hattie McDaniel as Mammy
    Oscar Polk as Pork
    Butterfly McQueen as Prissy
o    At Twelve Oaks
    Leslie Howard as Ashley Wilkes
    Rand Brooks as Charles Hamilton, her brother
    Carroll Nye as Frank Kennedy, a guest
o    In Atlanta
    Laura Hope Crews as Aunt Pittypat Hamilton
    Eddie Anderson as Uncle Peter, her coachman
    Harry Davenport as Dr. Meade
    Jane Darwell as Mrs. Merriwether
    Ona Munson as Belle Watling
    Cammie King as Bonnie Blue Butler
Disc 5
New Bonus Disc
•    Warner Bros. Home Entertainment presents 1939: Hollywood's Greatest Year –
New documentary about Hollywood's watershed year narrated by Kenneth Branagh
•    Gone with the Wind: The Legend Lives On —  Exploring the legacy of the most beloved film through illuminating interviews, footage and visits to historical sites, events and museums
•    Moviola: The Scarlett O'Hara Wars 1980 WBTV Special never before on home video
•    Trailers
(Blu-ray Hi-Def will have all discs above combined onto 2 discs)
Also included are unique premiums housed in a beautiful velvet keepsake box, limited and numbered:
EXCLUSIVE TO THE DVD and BLU-RAY HI-DEF RAY ULTIMATE COLLECTOR'S EDITIONS
•    20-page reproduction of the original and complete 1939 Souvenir Program
•    40-page Production History Book with photos and production notes
•    Eight Frameable 5×7 Art Prints
•    CD soundtrack sampler featuring eight tracks
o    Main Title
o    Tara
o    The Barbecue
o    Escape From Atlanta
o    I'll Never Be Hungry Again!
o    Paddock Scene 5:27
o    Scarlett In The Mist/Rhett Leaves
o    Flashback/Finale
EXCLUSIVE TO BLU-RAY ULTIMATE COLLECTOR'S EDITIONS:
•    MGM: When The Lion Roars Documentary
Marketing Support
Marketing Campaign:
GWTW 70th Anniversary release will be supported with a national marketing campaign spanning TV, Online, Print, Promotions, and Publicity.
Both WHV and TCM will be supporting partners in a 70th Anniversary celebratory weekend to take place in Marietta, Georgia, just outside of Atlanta and home of the "Marietta Gone with the Wind" Museum, Scarlett on the Square.  The weekend – November 13-14 – is sure to draw fans far and wide, and will consist of a gala re-premiere screening at the historic, newly refurbished Strand theatre, hosted by TCM's Robert Osborne and complete with red carpet, replica of the original theatre facade, vintage cars from the '30s, and more. In addition, there will be a"Belles and Beaus" costume ball and "Gone with the Wind" authors forum.
TCM will also be supporting the release with Print, TV, and Online (details to be confirmed).
Gone with the Wind 70th Anniversary Edition
Street Date: November 17, 2009
Order Due Date: October 13, 2009
Blu-ray Ultimate Collector's Edition
$84.99 SRP
Catalog # 1000043133
Ultimate Collector's Edition (SD)
$69.92 SRP
Catalog # 1000042988
Two-Disc Special Edition
$24.98 SRP
Catalog #: 1000089173