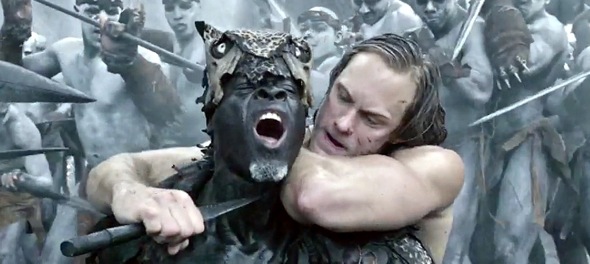 Just when you thought there could not be another worthwhile take on Edgar Rice Burrough's story of a man raised by jungle animals who swings on vines through forests, "The Legend of Tarzan" (Warner Blu-ray 3D combo pack, $44.95) delivers the most visually dynamic version ever, and a very compelling new story line.
As if often the case, the 3D of the Blu-ray available today (Oct. 11) delivers far more depth and impact on your TV than what you will find in most 3D theatrical presentations. In fact, it's almost an entirely different and far more immersive experience than the standard 2D version that is also available in HiDef on a separate Blu-ray disc in this combo pack.
The story offers a refreshing new concept in which Tarzan (Alexander Skarsgård) has been living as distinguished Englishman John Clayton, Lord Greystoke, for ten years with Jane when he is requested by real-life American anti-slavery proponent George Washington Williams (Samuel L. Jackson) to return to the African Congo to help thwart a scheme involving slavery and diamond mining.
Having recently suffered the loss of their child, Jane insists on coming along and the two also rediscover their love for each other along the way.
<Review continues below the following video trailer…>
The added depth of the 3D is clear and obvious in almost every shot, but especially in the following shots:
Overhead a native standing atop a cliff looking down on actor Christoph Waltz
Gatling gun being fired
Tarzan and Jane/Alice sitting in a tree, including a shot with a limb extending in the foreground
Sweeping shots of the wide-open savannas and rivers
Jane walking from back of screen towards her African village home large in the foreground
Williams (Jackson) pointing rifles at the camera
Overhead shots of Tarzan and others running on tree limbs
Tarzan and Williams walking across savanna towards camera but separated by a few yards
Ostriches approaching and running past Tarzan and Williams, with one stopping to poke his head at Williams (at camera)
Elephants approaching en masse amongst dense jungle trees
Steam ship on a river – the paddle wheel, steam, and water all standing out
Tarzan swinging on vines and pulley ropes.
The Blu-ray offers nearly an hour of special features in the form of behind-the-scenes featurettes, each running from 90-seconds to 15-minutes:
"Tarzan Reborn" (15-min) describes the evolution of the story and casting
"Battles and Bare Knuckled Brawls" (15-min) is a collection of three five-minute making-of segments relative to specific scenes: Tarzan fighting ape Akut; the Boma Stampede; and the Train Ambush
"Tarzan and Jane's Unfailing Love" (6-min) is primarily an interview with Margot Robbie about the romantic element of the story
"Creating the Virtual Jungle" (15-min) is a fascinating look at the physical and digital effects from the jungle plants to the animals that were all digital.
"Gabon to the Big Screen" (2 1/2-min) is essentially a trailer that also features comments by Skarsgård and Robbie.
"Stop Ivory" (90-seconds) public service announcement featuring Skarsgård and Robbie lobbying for putting an end to the killing of elephants for their trunks.
As for the two-hour, 15-minute movie itself, rated PG-13, the story starts off intriguingly with Tarzan/John Clayton and Jane living the life of aristocrats and reluctant celebrities in England, and is aided by the considerable screen presence and acting chops of Jackson and Waltz.
After the set-up and the return to the jungle, about an hour into the story the movie begins to become preposterous as director David Yates tries too hard to inject traditional Tarzan elements that involve too many ridiculous close encounters with just about every animal that could harm humans, an absurd scene in which Tarzan patches up a massive ape bite on his shoulder by using ants to stitch the wound (he then eats the ants), and with leaps off tall cliffs into trees where he conveniently grabs vines that seemingly allow him to swing a quarter mile at a time right alongside speeding trains.
Nonetheless, it ends nicely and is a worthwhile new twist on a nostalgic character.
Tech details
Formats:
Ultra HD Blu-ray, $44.95
Blu-ray 3D Combo Pack, $44.95
Blu-ray Combo Pack, $35.99
DVD, $28.98
HiDef and standard-def streaming and download from select digital retailers including Amazon, CinemaNow, Flixster, iTunes, PlayStation, Vudu, Xbox and others at varying prices.
Video On Demand services from cable and satellite providers, and on select gaming consoles, with varying prices.
All disc versions include a digital version of the movie in Digital HD with UltraViolet. The Blu-ray disc of "The Legend of Tarzan" will feature a Dolby Atmos soundtrack remixed specifically for the home theater environment to place and move audio anywhere in the room, including overhead.
— By Scott Hettrick