Fans of Emilia Clarke will get to see her in a very different role than her sexy "Game of Thrones character" when Warner Bros. Home Entertainment and MGM release the romantic drama "Me Before You" on Blu-ray and cable and satellite VOD services and select gaming consoles August 30 (Blu-ray SRP $29.98; and via online digital HD streaming and download Aug. 16).
Based on the critically acclaimed, bestselling novel by Jojo Moyes, New Line Cinema's and Metro-Goldwyn-Mayer Pictures' "Me Before You" also stars Sam Claflin ("The Hunger Games" series).
Directed by first-timer Thea Sharrock, the film written by Moyes also stars Oscar® nominee Janet McTeer ("Albert Nobbs," "Tumbleweeds"), Charles Dance ("The Imitation Game"), Brendan Coyle ("Downton Abbey"), Stephen Peacocke ("Hercules"), Matthew Lewis (the "Harry Potter" films), Jenna Coleman ("Dr. Who"), Samantha Spiro ("From Hell"), and Vanessa Kirby ("About Time").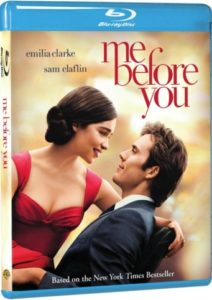 The Blu-ray edition features a disc of the film in HiDef Blu-ray that includes deleted scenes, outtakes, and a making of featurette. The Blu-ray package also includes a separate standard definition DVD, and Digital HD with UltraViolet (wb.com/ultravioletdevices). UltraViolet allows fans to watch a digital version of their movie or TV show anywhere on their favorite devices by offering instant streaming and downloading through UltraViolet retail services like CinemaNow, Flixster, Vudu and more.
The movie follows a waitress as she takes a job as a caregiver to an obstinate young man who used to be a wealthy banker with an adventurous soul but is now confined to a wheelchair. She soon breaks down his coarse demeanor as they fall in love and enjoy life together.