In the world of giant screen cinema there is no better and perhaps no longer-lasting tandem than IMAX and producers MacGillivray Freeman Films.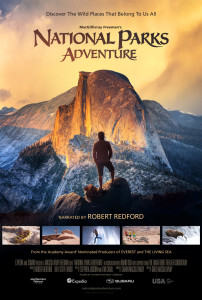 The latest evidence is the new 40-minute 3D documentary "National Parks Adventure," playing at destination/museum theaters with the very largest IMAX screens such as the California Science Center in Los Angeles and the Lozier IMAX at Omaha's Henry Doorly Zoo and Aquarium in Nebraska.
These screens that are about seven stories tall (60-70 feet) and about 80-90 feet wide in front of auditoriums that feature a six-channel digital surround sound network of 44 speakers display movies filmed on the largest film frame in the motion picture industry – 10 times larger than Hollywood's standard 35-mm film format.
Thus, astounding images of all varieties of topography at more than a half-dozen different national parks appears just as vivid as if you were standing there in person. But of course, Greg MacGillivray's cameras take you where you could not possibly go, making your IMAX 3D visit even more dynamic and breathtaking than you could experience in person.
"National Parks Adventure" is one of the last IMAX movies to be shot using 70mm film as opposed to digital.
<Review continues after the following video trailer…>
Who better to narrate images that take you soaring over red rock canyons and hurtling up craggy mountains peaks than Robert Redford, and what better timing than the 100th anniversary this year of the national park system that now includes more 407 parks that comprise a collective 84 million acres and which have drawn an estimated 12 billion visitors.
And who better to direct this production than Greg MacGillivray, who is responsible for the landmark film "Everest," Academy Award-nominated films "The Living Sea" and "Dolphins," and whose 38 films have accumulated $1 billion in worldwide ticket sales.
World-renowned mountaineer Conrad Anker, his step-son adventure photographer Max Lowe and Max's long-time friend, climber and artist Rachel Pohl take us on a guided tour to some of the most spectacular and hard-to-reach areas of parks such as Yellowstone, Glacier National Park, Yosemite, and Arches.
Their daring exploits may occasionally take your breath away in a different way, especially while riding bikes on rock formation precipices hundreds of feet in the air, and climbing precariously up the crevices of Devil's Tower.
MacGillivray does an admirable job of blending historical perspective — complete with re-enactments of naturalist John Muir's three-day camping trip with President Teddy Roosevelt in Yosemite Valley — with a nature documentary that also serves as a plea for preservation of these natural wonders.
<Review continues following the 2-minute behind-the-scenes video below…>
Not only did Roosevelt resolve to protect Yosemite – he would go on to sign into existence five more national parks, 18 national monuments, 55 national bird sanctuaries and wildlife refuges and 150 national forests.
A system that could truly last the ages became full reality in 1916 when President Woodrow Wilson signed The Organic Act. The Act established a brand new government agency, the National Park Service.
The film crew lugged two carts jam-packed with hundreds of pounds of giant IMAX cameras and equipment around the primeval landscape of Yellowstone, with its gushing geysers and alien-like thermal basins encircled by lofty alpine peaks.
Then it was on to Devils Tower National Monument, the 1,267-foot (equivalent to 86 stories), improbably steep dome of igneous rock that erupts from the Black Hills of Wyoming.

The trio of adventurers encouraged cameramen to film them climbing like spiders up the cracks in the rocks, using their body parts as levers, jamming hands and feet at jig-saw tilts into the fissures until cliff, skin and bone meld together. It took Rachel Pohl to her physical edge as the wintry conditions made a daunting assignment even tougher.

"That climb would still have been hard if I could have felt my hands, but not only were my legs maxed out … my fingers were completely numb!," she later told IMAX publicity people.

Her challenge is obvious to viewers, but what is not so obvious is the literal monumental task of capturing all of this on film.

"The biggest difficulty was just getting the camera up high on the formation," according to Greg MacGillivray.

Pro mountain bikers joined Conrad, Rachel and Max atop the Slickrock Trail of Moab in Canyonland National Parks just outside of Utah's Arches to traverse the tire-gripping,

sandstone seabeds with gravity-defying abandon. The Slickrock Trail draws more than 100,000 cyclists of all levels each year with a 13-mile loop that invites bikers to follow the flowing contours of the canyon in their own style.

MacGillivray wanted to shoot the swoops and swerves of Moab with a visceral realism – to give audiences that churning rush bikers get, so he turned to his long-time colleague and master of aerial photography Ron Goodman, the designer of the groundbreaking, gyroscopically-stabilized SpaceCam helicopter mounts. The use of drones adds to the stunning and nerve-wracking imagery.

At the entrance to Arches National Park — home to the world's largest collection of natural sandstone archways — stands a quirky stone guardian: The Three Penguins, a trio of sculpture-like 130-foot towers that sit imposingly atop a 100-foot pedestal.

The trio of adventurers repel to stand atop a cocktail-table-sized summit with jaw-dropping, 360-degree vistas of the entire park.

The frozen wonderland of Pictured Rocks National Seashore in upper Michigan, designated a national park site in 1966, boasts sandstone cliffs, caves, natural archways and dunes, and caves filled with ice crystals and pristine icy waterfalls.

Here the cameras take us on an ice-climb up a frozen waterfall led by Conrad Anker and a trek into a hidden ice cave that appears like something out of a classic fairy tale.

"The IMAX  3D camera really doesn't like cold," said Greg MacGillivray. "So we used electric heating pads velcro-ed around the camera like blankets. But even that wasn't enough. The camera would still jam. So then we put the camera inside a special tent with a propane heater, while the rest of us froze outside."

Each shot meant hours in bone-chilling cold. At times, the crew had to haul in large fans just to keep snowflakes from hitting the camera lens.

One of the cutest moments comes with young bears shown at Katmai National Park in Alaska trying — and comically failing — to learn how to catch salmon in mid-jump. The exercise is captured magnificently in slow-motion with cameras set to film at 200-300 frames per second. An estimated 2,200 bears inhabit the park that features an active volcanic landscape.
The film also captures two of the most well-known parks on opposite sides of the country: Redwood National Park in California and the Florida Everglades. To shoot the Emerald Giant 300-foot-tall redwood, a wire dolly was built just like the ones employed by the National Football League that MacGillivray has been using in his films for more than 20 years.

Cameras also capture just a few samplings of the more than 700 plant and 300 bird species in the Everglades, as well as endangered manatees, crocodiles and panthers.
Also enhancing the experience is the soundtrack produced by Steve Wood, which includes Bruce Springsteen and Little Feat performing Woody Guthrie's "This Land Is Your Land," as well as Jeff Buckley's powerful version of Leonard Cohen's rock hymn "Hallelujah" appropriately played in the ice caves that resemble a giant pipe organ.
— By Scott Hettrick