Thanks in large part to the premium prices of 3D and IMAX presentations, "Star Wars: The Force Awakens" has blasted all previous box-office records, taking in more than a quarter-billion dollars domestically ($238 mil.) and more than a half-billion dollars globally ($517 mil.) in its opening weekend. About half of first-day grosses were reportedly from 3D and IMAX screenings.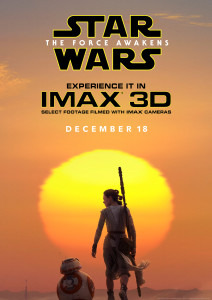 IMAX records, according to Walt Disney Studios:
Biggest IMAX domestic Thursday night preview: $5.7 mil.
Biggest domestic single-day: $14 mil. Friday
Biggest domestic weekend: $30.1 mil. (topping $20.9 mil. of "Jurassic World")
Biggest IMAX global debut: $48 mil. (topping $44.1 mil. of "Jurassic World")
Walt Disney Studios has also announced that the following additional domestic records:
Biggest Thursday preview gross with $57 mil. (surpassing $43.5 million by "Harry Potter and the Deathly Hallows Part 2")
Biggest Friday and biggest single-day gross with $120.5 mil.
First film ever to post a single day over $100 mil.
Fastest film to $100 mil. and $200 mil.
Biggest December debut (nearly three times previous record of $84.6 mil.)
Highest theater average for a wide release ($57,568)
Star Wars: The Force Awakens debuted day-and-date internationally in nearly every market (except Greece and India, which open Dec. 24, and China, which opens Jan. 9) and set records in many. Among the records overseas:
Biggest opening weekend of all time in UK (4-day), Australia, Russia, Germany, Sweden, Norway, Finland, Austria, Poland (3-day), Denmark (5-day), Romania, Hungary, Bulgaria, Croatia, Ukraine, Iceland, Serbia, New Zealand.
Second biggest opening weekend in France, Belgium, Israel, Chile.
"Our sole focus has been creating a film that delivers that one-of-a-kind Star Wars experience, and director J.J. Abrams, Lucasfilm President Kathleen Kennedy, and the Lucasfilm team have outdone themselves," said Alan Horn, Chairman, The Walt Disney Studios. "To all of the fans around the world who not only came out in Force to make this such an exciting and astronomical debut but who treated this film as their own and helped preserve the experience for their fellow fans by not spoiling it – thank you, we do."
The Force is strong with critics and audiences, whose enthusiastic reactions have powered a 95% Rotten Tomatoes score (our non-spoiler review here) and an excellent A CinemaScore, with an A+ among women and younger audiences, for Star Wars: The Force Awakens.
The Previous record for an opening weekend was this year's "Jurassic World" ($208.8 mil. domestically), another resurrected franchise film series released in IMAX 3D, according to BoxOfficeMojo.com.
— By Scott Hettrick