Director Ang Lee has been named the International 3D Society's 2013 recipient of the Harold Lloyd Award, the Society's Hollywood division announced today.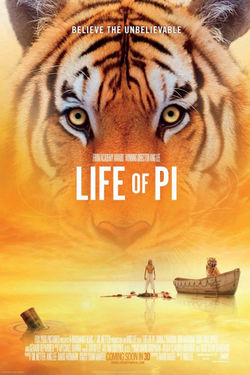 The two-time Academy Award-winning director will receive the Society's highest filmmaker award at a black tie ceremony at the Beverly Hills Hotel February 6th.
Lee's use of 3D in the current "Life of Pi" has been lauded by even the most jaded film critics as an example of how effective the format can be to enhance cinemtic storytelling.
"Ang Lee has embodied Harold Lloyd's vision and passion for capturing the hearts and the imaginations of movie fans around the world," said Suzanne Lloyd, Lloyd's granddaughter and Chairman of Harold Lloyd Entertainment. "With 'Life of Pi,' he has produced an exquisite, enlightened and exciting storytelling achievement that ranks as one of the3D's finest artistic works captured in 3D."
The Award was established by the 3D Society and the Lloyd Family to annually celebrate filmmakers for groundbreaking artistic and technical achievement in 3D.
"Harold Lloyd was a life-long advocate for 3D movies, but the technology available to him could never bring this dream to life," said Jim Chabin, President of the Society. "In joining our previous honorees, James Cameron and Martin Scorsese, Mr. Lee has realized that dream, and has produced an extraordinary work of art with 'Life of Pi,' "
"Life of Pi" is Ang Lee's first 3D feature, and is based on the novel by Yann Martel. The critically-acclaimed film has been called a "spectacular work of wonder" by TIME Magazine. The Associated Press praised the movie as "the most artful use of digital 3D technology yet seen."
Mr. Lee's vision, coupled with stunning 3D visuals, has turned a novel long thought unfilmable into a thrillingly audacious mix of grand storytelling and powerful and provocative themes. He has created a singular vision of Martel's unforgettable tale of courage, perseverance, inspiration and hope. The film takes us through a young man's incredible adventure – at turns thrilling and spiritual; harrowing and triumphant; humorous and inspirational.
The Society's Gold Lumiere statuette will be presented for distinguished achievement in fifteen categories, including film and television, at its annual Creative Arts Awards. The Society's Annual black-tie Awards Dinner will be held at the Beverly Hills Hotel Crystal Ballroom. Lloyd's great, great granddaughter and actress Jackie Lloyd, will assist presenters on-stage at this year's honors.
Along with legends Charlie Chaplin, Buster Keaton, and others, Lloyd was one of the founders of Hollywood's original comedic and creative community. Lloyd wrote, acted in, directed and produced more than 200 films. In a 1923 Los Angeles Times interview, Lloyd predicted that "the person who produces perfect stereo motion-pictures will have accomplished the greatest achievement since the first motion-picture." He founded the Hollywood 3D Society in 1950 with Edgar Bergen and actor Sterling Holloway (the voice of Disney's Winnie the Pooh'). He served as its first President.
In addition to his films, the Harold Lloyd Archive contains more than 250,000 stereoscopic 3D photographs of Hollywood celebrities, events, people, and places Lloyd encountered while pursuing his passion for 3D photography.
Lee has won two Academy Awards: in 2006, for his direction of "Brokeback Mountain," and the 2001 Academy Award for Best Foreign-Language Film for "Crouching Tiger, Hidden Dragon." His most recent film, "Taking Woodstock," was nominated for a Golden Palm Award at the Cannes Film Festival.
Among Lee's other films are "The Wedding Banquet," "Sense and Sensibility," "The Ice Storm," "The Hulk," "Eat Drink Man Woman," and "Ride with the Devil."
— By Scott Hettrick