The final chapter in one of cinema's most successful trilogies, "The Dark Knight Rises," rises again in dynamic hi-def Blu-ray Tuesday (Dec. 4, $35.99).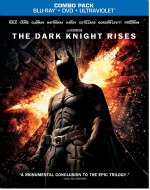 Among the three hours of bonus features on the Warner Home Video release is a five-minute featurette about the IMAX theatrical version of the nearly three-hour movie.
Director of photography Wally Pfister says the IMAX format is "the most immersive of any format – far more than 3D, far more than regular theatrical exhibition because of how much of the screen is filling your vision." (Not sure why he implies it has to be one or the other — IMAX 3D is the best of both worlds.)
Pfister says about a third of "Dark Knight Rises" is in IMAX: "All of the major action sequences shot in IMAX format." Filmmakers worked with IMAX and Panavision to make lenses and cameras smaller and more mobile.
"These characters require a very large canvass; an operatic sensibility," adds director Christopher Nolan. "We made sure that every sequence in the film involved some degree of IMAX.
"I would have loved it to have all been in IMAX," notes editor Lee Smith. "It's more work for everybody but the sequences that are in IMAX are truly visually stunning."
Most of the rest of the bonus features are the usual array of behind-the-scenes featurettes that will be of interest to fans of the movie, and a one-hour program about the history of the Batmobile will have even broader appeal since it offers a fun ride through nearly a century of many changes in the design of the iconic vehicle. (See photos below of Batmobile exhibit created by Paradigm Shift Worldwide running through Dec. 14 in downtown L.A….)
— By Scott Hettrick