The re-release of "Titanic" in 3D, especially on the biggest of IMAX screens, feels like a refreshing throwback to the era when going to the movies was an event and the movies were usually substantial in scope and story.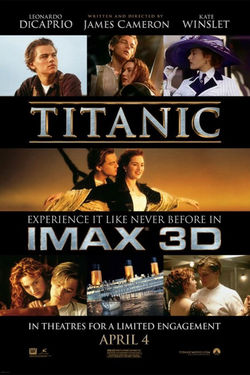 Perhaps because it requires such a commitment and because the running time of 3-hours and 15-minutes, plus a 15-minute intermission, at least at the Universal City AMC IMAX theater, doesn't allow for as many daily showings, the opening weekend was only about $17.35 million Friday – Sunday. That was good enough for third place on the weekend but the lowest among all four of the 3D re-releases from the past eight months, including "Beauty and the Beast" ($17.75 mil.). But "Titanic" opened on Wednesday, April 4, and its $25.7 million from the first five days ranks second among 3D re-releases behind "The Lion King" ($35.1 mil.), according to BoxofficeMojo.com.
Overall, "Titanic" played at 2,674 locations this weekend and has now grossed $626.5 mil. domestically, still second behind "Avatar," both of which belong to director James Cameron.
The re-release of "Titanic" requires a commitment of about 4-hours (and that's without the usual 20-minutes of trailers) but while you're there and after you leave, you feel as if you've been part of an experience that will stick with you. In fact, it's reasonable to assume from the age of many moviegoers that the movie already stuck with them so much for the past 14 years that they wanted to repeat the 1997-98 big-screen experience of "Titanic." And a large percentage (Paramount says more than half) were younger consumers under the age of 25 who wanted to have the big screen experience for the first time. (At $19.50 for a prime-time reserved seat ticket, it's not likely this generation of young people will be going back multiple times as they did in 1998.)
And what an experience – the converted 3D creates a noticeable improved impact from the opening moments of the modern-day sequence of the submersible exploring the sunken ship. You're never going to see the ship appear to come out of the screen above your seats or see chunks of the iceberg hurtling towards you. But that's just fine. Perhaps the biggest wow moment is early on when the camera swings above Rose standing on the back railing of the ship contemplating a suicidal jump. The far more evident height, distance and depth of her precarious perch will make you more nervous and tense than ever before. The rest of the time the 3D and the larger visual scope of the IMAX screen (though it does not completely fill the giant screen vertically or horizontally) subtly engage you more completely and make you more aware of important elements you may not have noticed previously.
If it weren't for "Wrath of the Titans" committed to many IMAX theaters, "Titanic" may have even been stronger since IMAX theaters accounted for 9 of the top 10 highest-performing "Titanic" locations and a combined total of $2 mil. (eight percent) from 79 IMAX theaters, according to Hollywood.com Box Office. IMAX can swap "Wrath" for "Titanic" in more theaters this coming Friday. Or perhaps even "The Hunger Games," which only enjoyed a first week run in IMAX theaters but has now grossed more than $300 million in domestic theaters alone.
Warner's 3D "Wrath" fell 55% to just over $15 million, for a 10-day total of $58.9 mil.
Those two films are just two of the five 3D movies still on the box-office charts, with Universal's "Dr. Seuss' The Lorax" adding another $5 mil. this weekend to take it to less than $2 mil. short of $200 mil. in its first five weekends. Disney's "John Carter" is up to $68 mil., and Warner's "Journey 2: Mysterious Island" is about to break $100 mil.
— By Scott Hettrick