"Avatar" will be coming to Blu-ray in 3D this November after all, but it won't be available for purchase or rental in stores or online alongside the previously announced Fox Ultimate Edition 2D version.
The top-grossing movie in the history of cinema, in large part because of the groundbreaking use of 3D, will only be offered in 3D on Blu-ray for the first several months with the purchase of Panasonic 3D Blu-ray equipment, multiple sources have told 3DHollywood.net.
3DHollywood.net has also learned that Disney is close to finalizing a deal with Sony Electronics to release "Alice in Wonderland" in 3D on Blu-ray this fall exclusively with the purchase of Sony 3D hardware.
None of the sources, some very close to the filmmakers and others close to the companies involved in the release strategy, would officially confirm the news or talk on the record. Fox, Disney, Panasonic, and Sony Electronics either did not return calls or had no comment about this story.
The number and caliber of major titles being bundled for exclusive release with hardware products is highly unusual, if not unprecedented in home video, particularly with almost no titles being released for general consumption at retail. And studios are being paid ever-increasing fees — in the millions of dollars for each title — by hungry electronics companies that have put themselves into bidding wars.
Even though many major electronics companies except Sony have had 3D TVs and 3D Blu-ray players on the market for some months, until this week only one 3D Blu-ray title was available to consumers, and that movie — DreamWorks' "Monsters vs. Aliens" — was also only available with the purchase of Samsung 3D TVs and 3D Blu-ray players. That Samsung window expired Sunday with no word of a general retail release upcoming for "Monsters."
This week Fox and Panasonic, as well as Universal, announced the immediate availability of the first 3D Blu-ray versions of "Ice Age: Dawn of the Dinosaurs" and "Coraline" only with the purchase of a Panasonic Blu-ray player. There are no announced plans for either of those titles to be available to traditional retail in 2010.
Sony's previously announced that "Cloudy with a Chance of Meatballs" will be the first 3D Blu-ray title to be released through traditional retail channels — it's expected in late June or early July.  But even that title's distribution will be focused on bundled sales with Sony 3D HDTVs which are due to hit the market early next month in time for the 3D TV broadcasts of the World Cup soccer matches, sponsored by Sony.
"Sony Pictures Home Entertainment is bringing the first retail Blu-ray 3D sku to market early this summer with 'Cloudy with a Chance of Meatballs,' " said Lexine Wong, senior executive VP worldwide marketing. "While the title will  be primarily bundled with Sony 3D HDTVs, we feel it is also necessary to offer a standalone retail 3D version of "Cloudy" for our retailers and consumers who are excited about acquiring more 3D content for their 3D TVs."
SPHE is also releasing a 3D Blu-ray of World Cup highlights later this year, and will likely release 3D titles such as "Monster House" and and "Open Season" on 3D Blu-ray, though it's not known if they will be available at retail.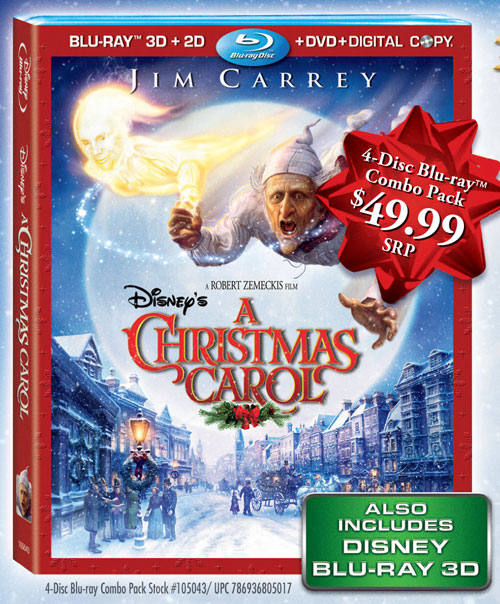 Disney announced at the Consumer Electronics Show in January that it would release "Disney's A Christmas Carol" "broadly" on 3D Blu-ray in the fourth quarter. That is expected to mean a general retail release — now set for November 16  — since it is the only title of all the others not to have already been released on Blu-ray Disc in 2D. In fact, the only way to get the 3D version will be to buy all other versions– 2D Blu-ray and DVD discs and a digital copy for computers and other devices — in a four-disc combo pack priced at $49.99 ($10 more than the single-disc 2D Blu-ray version). The 3D disc will also include a special 3D bonus feature called "Scrooge's Wild Ride," according to HDroom.com.
Other Disney 3D movies such as "Bolt" are being considered for 3D Blu-ray in the not-too-distant future.
Disney is also finalizing a special 3D Showcase Blu-ray disc that may be packaged with hardware from multiple manufacturers. The Showcase disc will include a sampler of trailers and shorts such as an original 3D short featuring Lion King characters Timon and Pumbaa produced expressly for this Showcase disc. It will also include the 1953 3D Disney animated short "Working for Peanuts" and promotional trailers of upcoming 3D Blu-ray releases such as "Alice" and "Christmas Carol" as well as "Toy Story 3" and "The Nightmare Before Christmas."
Consumer electronics companies, particularly Sony, Samsung, and Panasonic, are said to be escalating rights fees they are willing to pay for major movies to help sell new 3D products. Of course, that's just fine with studios since the fees are more than they figure to generate from a traditional retail release when the current market for home 3D is nearly non-existent at this moment and not expected to grow substantially this year.
And most seem to feel that all the bundling at this point is a good thing for the nascent industry if such enticements seed the market with homes that become equipped to watch 3D.
Ironically, the only people who may be negatively affected could be the very people who respond to these offers. For instance, a consumer who bought Samsung's 3DTV and 3D Blu-ray player would theoretically be forced to go out and buy another 3D TV and Blu-ray machine every time he wants to watch another 3D Blu-ray movie like "Avatar" or "Ice Age 3." But consumer electronics companies are expected to work out a way for consumers who have already purchased 3D equipment to get access to further releases, at least from the same company.
Also, it's not clear whether the 3D Blu-ray version of "Avatar" will include all the bonus features available on the special 2D "Ultimate Edition" being released simultaneously, which would give consumers yet another tough decision to make, especially after many of them already purchased the first bare-bones 2D Blu-ray version of "Avatar" last month.
Release strategies are always a challenge with a new format. Most filmmakers and sometimes even studio executives don't want to release their titles to a market of only a few hundred thousand homes, or even a few million. Steven Spielberg and Universal withheld the release of any of his major hits on DVD for several years until that format achieved mass market status, although the filmmaker did agree to release the Sony-controlled "Close Encounters of the Third Kind" in the very early stages of the launch of Blu-ray Disc several years ago when Sony needed help in fending off competing format HD DVD. But Spielberg and George Lucas still have not released many of their biggest movies on Blu-ray Disc as yet, most notably "Jaws," "Jurassic Park," and "Star Wars."
The June 18 theatrical release "Toy Story 3," seemingly a natural for a 4th quarter release on Blu-ray, may not be a candidate to have a 3D component this holiday season. Even though Disney has been one of the strongest proponents of 3D theatrically and intends to carry that aggressive strategy into the home market, sources say that none of sister company Pixar's 3D movies or shorts are on the schedule for a 3D Blu-ray release as yet, including the little-seen 3D version of "Tokyo Mater" — one of several "CarsToon" computer-animated "Mater's Tall Tales" that got some of the most enthusiastic reactions as part of a 3D Blu-ray demo at Disney's D23 Expo last September.
— By Scott Hettrick