Tony Romo will be in 3D this Sunday.
First, the Dallas Cowboys introduced the world's largest HDTV display in their new stadium and now they are introducing the first-ever public demonstration of live 3D delivered in real-time converted from standard 2D broadcasts, and on that giant screen.
The company handling the groundbreaking process as the Cowboys take on the San Diego Chargers Dec. 13 is HDlogix's new ImageIQ 3D.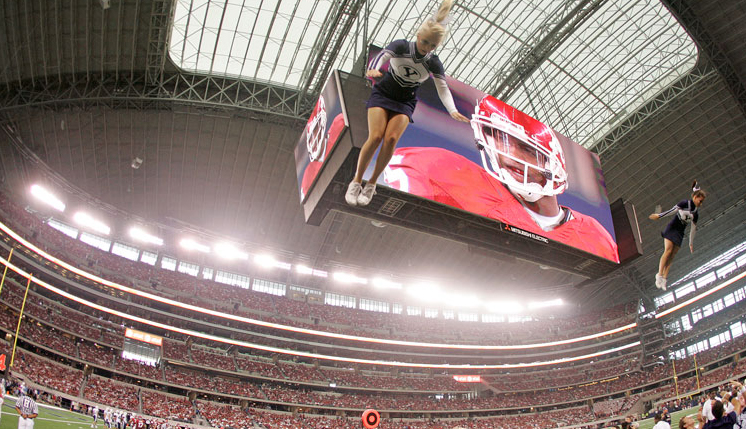 The images will be in anaglyph on the giant LED screens, requiring fans to don red & blue glasses that will be handed out. The HDTV display is 160 feet in length and 72 feet in height on the sideline boards-the largest video board installation in the world. The four board video cluster, suspended 90 feet directly over the center of the playing surface, stretches from the 20-yard line to the 20-yard line.
The development of ImageIQ 3D was based on HDlogix's expertise in live video communications and super-resolution products. ImageIQ 3D incorporates sophisticated algorithms such as real-time optical flow and image structure analysis capabilities to reconstruct the entire geometry of the scene contained within each video frame. Unlike other 3D conversion solutions, ImageIQ 3D runs in real-time, without the need for any manual intervention. ImageIQ 3D outputs true 3D stereo video suitable for display on screens ranging from ordinary televisions to the world's largest HDTV.
HDlogix, a privately-owned firm started a year-and-a-half ago by veterans of Sun Microsystems, IBM, Clique Communications and AgileVision, specializes in imaging and video-based products for the world's consumers, entertainment companies and service providers. The company plans to formally unveil its technology next month at the 2010 Consumer Electronics Show (CES) in Las Vegas.
In an interview with The Hollywood Reporter, HDlogix VP sales and marketing Simon Tidnam said that the technology is used at the broadcast end and the content could be displayed on any of the new 3D TVs entering the market. He added that it could also be used to display in anaglyph — today's commonly used two-color method the employs the use of paper glasses — so that even those without 3D TVs could view the format at home.
In an interview with Broadcasting & Cable, chief technology officer Will Gaddy said the HDLogix software can generate highly detailed information about a scene's depth of field, and then modify the image to create the 3D effect. "We're doing motion estimation for every pixel, with one-hundredth of a pixel accuracy… "
That "optical flow" processing software, which runs on graphical processing units (GPUs) from chip makers like Nvidia and ATI, is the basis of how HDLogix creates what it calls "synthetic 3D" from conventional video.
— Scott Hettrick