Back when Disney was the only one releasing animated feature films every few years and it was enough for them to be calmly-paced, charming, poignant, and filled with lovely artistry without a barrage of big action scenes and over-produced songs and musical numbers, "Bambi" was a success when it was released during World War II in 1942 and it stands the test of time.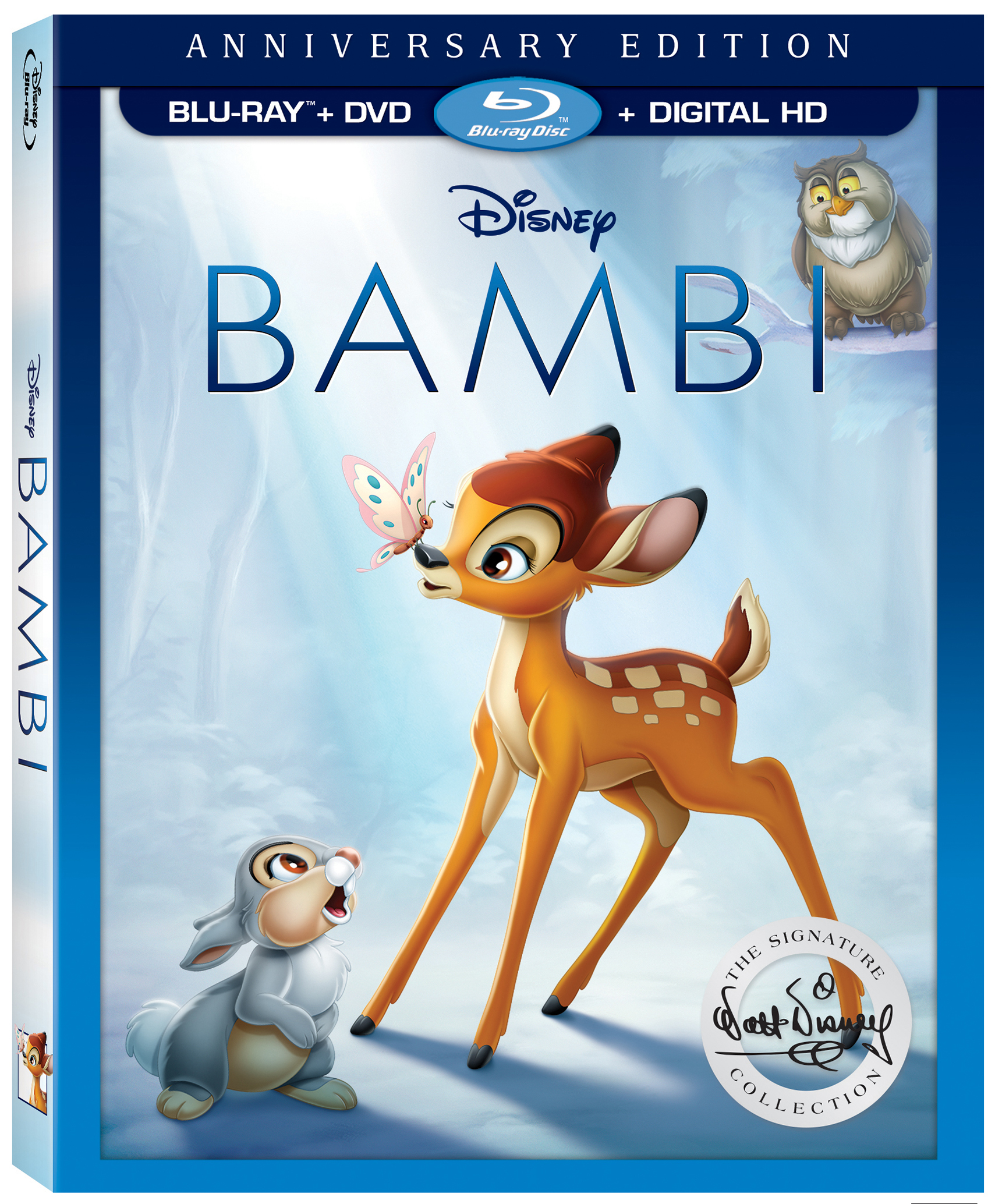 The 70-minute coming-of-age story of an adorable young deer that explores the wonders and challenges of the woods with his playful pal Thumper and the lovable skunk Flower before fulfilling his destiny as prince of the forest, not only remains an amazing and entertaining film (it ranks third on the American Film Institute's "10 Top 10″ greatest animated films of all time), but it looks better than ever as the studio celebrates its 75th anniversary with a Walt Disney Signature Collection edition release on June 6 (Disney Blu-ray plus Digital HD and DVD, $19.99 on Amazon); also On-Demand.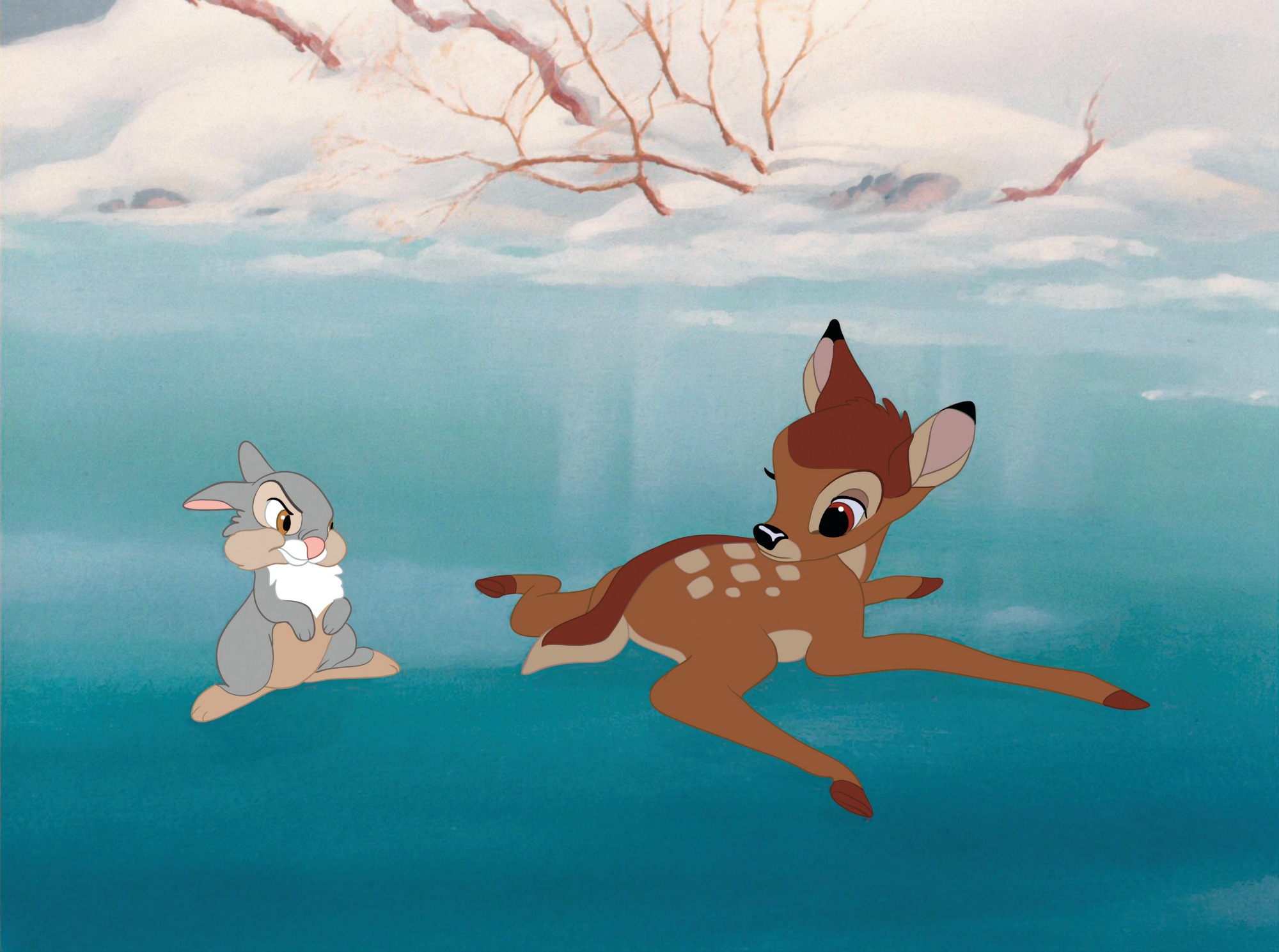 The meticulously-created impressionistic and water-color backgrounds can be appreciated more deeply than even the best previous presentation in theaters or on home video formats.
Enhancing that appreciation is the new and previously-released bonus features with Disney artists and Disney himself describing the process of creating the gorgeous drawings and effects – "Bambi" took five years to produce due to its exquisite hand-drawn artwork and attention to detail — as well as other elements of the production. For instance, Walt recalls in an audio recording that his daughter was upset with him for allowing the Bambi's mother to be killed. Her argument, for which Disney said he had no defense, was that he changed many other things about the book she was so fond of, so he surely could have changed that part too.
As much as the film can be admired as an artistic achievement, it's charm and timelessness is due to the touching story and adorable characters, especially Thumper with lines delivered with impossible cuteness such as "Did the young prince fall down?" and his invitation to ice skate on the frozen pond, "Look, the water's stiff."
This new Blu-ray edition offers many ways to view the film itself:
Original theatrical presentation with the square-ish aspect ratio of 1.33:1 which will create vertical black bars on the sides of the image on your widescreen TV.
DisneyView: those black bars are filled with a couple of handfuls of lovely thematically-related pieces of art by Lisa Keene.
Inside Walt's Story Meetings: Extended Edition: Use of the entire 16×9 format of your widescreen TV with picture-In-picture offering video, photos and audio recordings relating to specific moments playing in the film, along with 25 additional minutes of additional production stories.
Bonus features:
The Bambi Effect (3-min) – A fast-paced Disney Channel-style featurette about the innovations used in the film, such as animators spending more time observing real animals, and the multi-plane camera to create the "3D" effect.
Studio Stories: "Bambi" (5-min): – Recordings of Walt Disney discussing the challenges, pitfalls and triumphs during the production of "Bambi."
Deleted Scenes (7-min combined) introduced by 50-year Disney Artist Floyd Norman – artist sketches set to audio recordings:
— Bambi's Ice and Snow: Bambi coaxes Thumper and his brothers and sisters to come play on the ice during the first snow.
— The Grasshopper: A grasshopper confronts Bambi and Thumper and finds himself in quite a predicament. Walt felt the scene was an unnecessary distraction from the main story.
Bambi Fawn Facts: trivia about deer and other forest creatures – for instance, what is a female deer called and how it's spelled.
Oswald the Lucky Rabbit: "African Before Dark" (5-min) – a pre-Mickey Mouse black-and-white comedy short that ends with some impressive cartoon gags.
Art card representing design by the late Disney artist Tyrus Wong who died Dec. 30, 2016, at the age of 106.
Celebrating Tyrus Wong (exclusive to Digital HD): A heartfelt look at the man who played a key role in the success of "Bambi" with a unique signature style in concept art paintings that inspired the soft water-colored backgrounds and beautiful palettes in the film.
Classic bonus features (produced for previous releases in 2004 and earlier):
The Making of Bambi: A Prince is Born (53-min.) – the most comprehensive and very informative and entertaining documentary on the making of the film, including the following segments that can be viewed individually:
o Story: Telling the Tale
o Characters: Drawn to Nature
o Actors: Giving Voice to Animals
o Art Design: Impressions of the Forest
o Music: Nature's Symphony
o History: Back to the Beginning
Deleted Scenes – Two Leaves, Bambi Stuck on a Reed, Winter Grass, Twitterpated
Trick of the Trade (Excerpt on the multi-plane camera)
Inside the Disney Archives
"The Old Mill" animated short
Original theatrical trailer
The Golden Age
— By Scott Hettrick