Ben Affleck is a man of many faces lately, from superhero to 1930s gangster, and even an autistic bookkeeper with ninja-like martial arts skills in this week's (Jan. 10) Blu-ray release of "The Accountant" (Warner, $35.99; 4K Ultra HD Blu-ray with HDR $44.95).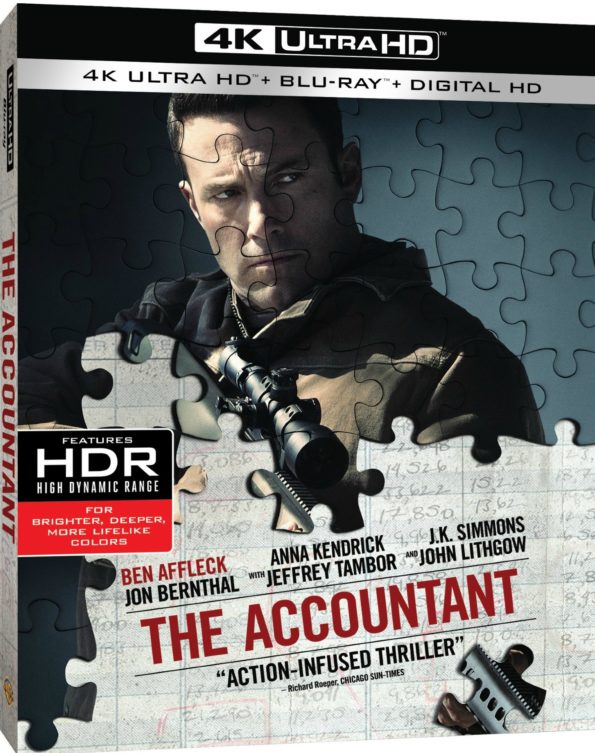 Affleck's Christian Wolff is actually a math savant with little ability to interact with others. His disciplinarian father trained him as a child to be a master of hand-to-hand combat as a way to defend himself against certain ridicule and bullying. Apparently Wolff also picked up a knowledge of weapons use as well.
So, the result is a large man with no social skills who can out-fight any platoon of top-notch elite fighters and also comb through decades of a large corporations financial reports in a matter of a few hours and suss out any improprieties.
This is certainly a very unique character and makes for a compelling enough story, especially since he does manage to improve slightly on his social skills when he meetings develops feelings for a young female accountant clerk played by Anna Kendrick.
<Review continues below the following video trailer…>
It has become something of a trendy storytelling technique of late in films and TV shows such as "This is Us" to abandon chronological timelines in favor of relating background stories through multiple flashbacks to various points in time.
It's through this hopscotching throughout the two-hour, R-rated movie that we learn about Wolff's childhood, his small strip-mall CPA agency where he helps everyone from low-income couples save money on their tax returns to international criminal organizations, as well as his time spent in prison, his brief encounter with a Treasury Department agent (J.K. Simmons) during his assassination of most of the members of a major crime family, his collection of original masterpiece works of art, and several "This is Us"-like surprise twists.
And all of that is backdrop to a current investigation of Wolff by the Treasury Department's Crime Enforcement Division as he has just been hired to go over the books of a state-of-the-art robotics company that is about to go public and urgently needs to find out why millions of dollars is being inexplicably moved around the company's records.
It's an awful lot for one man and an awful lot for the viewer to absorb and keep track of. But Affleck, Kendrick, and Simmons are engaging enough to make the effort worthwhile, along with small but notable small roles played by John Lithgow, Jeffrey Tambor, and Jean Smart.
The Blu-ray includes three traditional but interesting making-of bonus featurettes:
"Inside the Man" (11-min) includes comments from cast and crew about the evolution and production of the film – many seem to have been very impressed (and intimidated) by the large size and physical abilities of Affleck.
"Behavioral Science" (8-min) offers an interesting perspective on the wide and diverse spectrum of autism disorders, some very famous mathematicians and scientists who have had some form of autism, including Asperger's Syndrome, and their great untapped potential. Affleck recounts the research he did in this area, including visiting homes and schools.
"The Accountant in Action" (7-min) details the many impressive weapons used and complex fight choreography.
— By Scott Hettrick