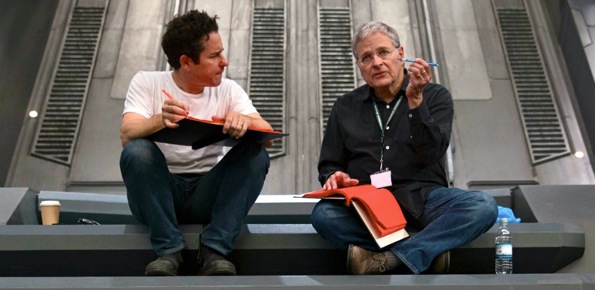 Last year's biggest film becomes this year's best special edition Blu-ray release on Nov. 15.
"Star Wars: The Force Awakens" 3D Collector's Edition (Disney, $29.96) delivers knockout 3D, one of the most riveting audio commentaries ever, and the coolest packaging in ages.
The four-disc box set hit stores overseas Oct. 31 and lands in U.S. and Canadian stores Nov. 15.
New to this set is the 3D, which is even more dynamic than it was in theaters, commentary by director J.J. Abrams that is filled with fun trivia and anecdotes, and an amalgamation of all the bonus features on the myriad versions of the movie at different retailers last spring, along with three new deleted scenes and five new behind-the-scenes featurettes for an overall total of nearly 4 ½-hours of extras. And that doesn't count the access to a Digital HD version or the DVD disc. Other than the audio commentary on the HiDef Blu-ray disc (presented in letterboxed format of widescreen 2.40:1 film format), the other 2 ½ hours of bonus features are presented in HiDef on a separate Blu-ray disc.
Continue reading below the following video of one of the new deleted scenes.
3D
Of course the best thing about this Blu-ray set is the 2-hour, 16-minute movie itself, which features significant additional visual impact in 3D.
"The Force Awakens" takes all the elements that were great about the original films in this franchise and re-creates them in the most exciting way possible, giving you clever and sincere tributes to all the best moments and characters of the forerunners, while adding a very strong cast of new characters, far more laughs and clever lines and banter than all the others combined, and certainly more engaging and better-staged and superior choreographed aerial battles and light saber duels.
The added depth of 3D brings much more weight and draws you further in to nearly every scene, starting with the initial scrolling text, the star fields, and particularly the point of the introduction of the triangular spaceship of the evil First Order flying towards the audience in the opening moments.
And the 3D accentuates the anxiety of the catwalk moment between Han Solo and his son standing above a much more visually intimidating 10-mile drop below the bridge, and then the even more dramatic impact of Han Solo's fall into the abyss.
The 3D also makes you feel far more embedded into all the revised iconic scenes from the original "Star Wars" trilogy, including something of a re-creation of the X-wing fighters attacking the latest version of the evil Death Star by flying down into a "trench" to hit a small target.
Although the 3D disappointingly appears blurred with double images in many of the earliest scenes, whatever causes that is corrected for the rest of the movie. Here are some of the other moments and scenes in which the 3D makes an even more noticeable impact on the Blu-ray version than it did in theaters:
Rey sliding down the sand hill after scavenging a wrecked craft
Rey sticking her gun in a holder on the speeder — one of many shots in which an object is pointed towards camera seemingly for maximum 3D effect, although Abrams said he wasn't thinking about 3D while shooting the film.
Rey, Finn & BB-8 running through explosions towards the Millennium Falcon — again, close up of Rey's staff centered towards camera lens as she runs
Many close-ups of the Falcon during flying battles
Low angle shot of Han Solo from perspective of Rey when they first meet
Any and all corridors of the ships
Rey climbing the Jedi steps towards Luke in the closing scene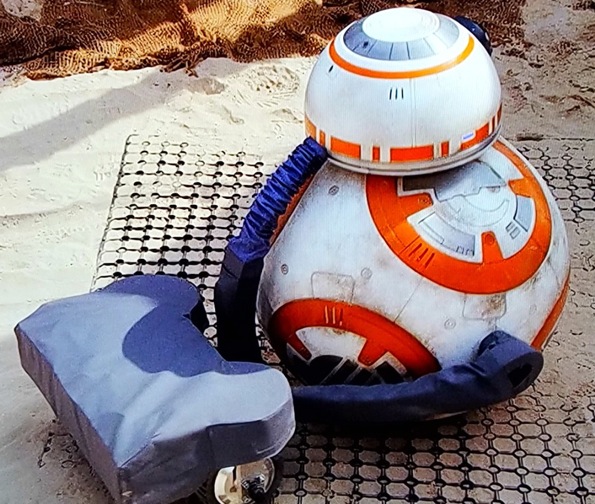 Audio Commentary
An engaging and quality audio commentary is rare because it requires the host to be a good storyteller and very prepared and organized with their thoughts. The best ones blend interesting tidbits of information about the making of the film along with humorous anecdotes. Commentaries are yet another art form in which J.J. Abrams excels. Among his comments here:
First saw original Star Wars when he was 10 years old in 1977
Enjoyed introducing new element to the Star Wars franchise: a storm trooper with compassion, and the fact that there are humans in those suits, not robots
In Kylo Ren he continued a Star Wars tradition of having really screwed up families
Did a complete rewrite and reshoot of Rey/Finn first meeting to be less angry and for Rey to have heard of Luke Skywalker before
The scene of Rey, Finn and BB-8 running towards Millennium Falcon was shot using IMAX cameras, "which means big and loud." (Abrams doesn't mention why the decision was made not to use those larger full-frame images on this Blu-ray edition as was done in IMAX theaters.)
It was the weirdest thing being on the set of the Millennium Falcon
"Working with Harrison Ford was the gift of a lifetime" and getting to direct Han Solo with a blaster is "the most fun you can have as a director."
Voice of Obi-Wan saying "Rey, these are your first steps," was a combination of Alec Guinness saying "Rey," edited from recording of him saying "great" and Ewan MacGregor recording the rest of the line, thus combining both actors to play the character.
Han/Leia final scene together: cut out line of dialogue, "There's something I want to tell you," as well as removing a shot of Finn getting on the Falcon to leave
Kylo Ren was sincere about nearly giving in to Han Solo on bridge until darkness descends and changes his mind. He did not premediate stabbing his father.
Regrets showing part of backside of Chewie as Leia greets Rey after the death of Han Solo. Makes it seem that Chewie was going to have a moment with Leia, which Abrams said he should have included.
Cameos pointed out of Abrams father, friends, and a receptionist from his Bad Robot company called in at last moment to say a line needed in a reshoot.
Among the many people he credits for many elements of the film are two who made valuable suggestions for shots he included are Steven Spielberg and Ava DuVernay.
next installment, arriving in theaters Dec. 2017, as well as the first in a series of standalone films, "Rogue One: A Star Wars Story," premiering on Dec. 16, 2016.
Bonus Features
Deleted Scenes (6:30 total)
— Jaku Message (Leia and C-3PO — "Never underestimate a droid.")
— Unkar Plutt at Max's Castle: Chewie rips arm off Unkar
— Tunnel Standoff
— Han Solo/Finn
— Snow Speeder Chase — storm troopers chase Rey/Finn (CGI not complete)
— Finn and Villager (no dialogue)
— X-wings Prepare for Lightspeed
— Kylo Searches Falcon
— Finn Will Be Fine
— Leia & the Resistance
Featurettes (new)
— Dressing the Galaxy (6 1/2 min) about costumes: showing mask coming off Anthony Daniel's (C-3PO); Kylo Ren mask by far most difficult to design to Abrams' safisfaction; Reyes goggles made of stormtrooper lenses she scavenged; Harrison comments (he's really obsessed with costumes — "a pain in the butt.")
— The Scavenger and the Stormtrooper: A Conversation with Daisy Rider and John Boyega (11:45) three months of lightsaber training; behind-the-scenes on-set video as they talk.
— Inside the Armory (8:17) about weapons; everyone surprised by the weight of lightsabers; now the blade actually lights up during filming
— Foley: A Sonic Tale (4 min) — foley artists at Skywalker Sound who create sounds
— Sounds of the Resistance (7 min) more about sound effects (JJ Abrams comments)
Featurettes ("Classic")
— Secrets of the Force Awakens: A Cinematic Journey (1-hour, 9 min) — by Laurent Bouzereau; evolution from Lucas sale of company to Disney and appointment of Kathleen Kennedy; table read at which Hamill reads script instead of director; shows puppet and mechanical operators of BB-8; Captain Phasma female in chrome
— The Story Awakens: The Table Read (4 min) – Ford: loved JJ's audacious, bold casting choices. Hamill: So great being back with everyone.
— Crafting Creatures (9 1/2 min) — art, design, mechanics of costumes, make-up. Simon Pegg describing melting heat of costume; matching Chewbacca costume to original; Peter Mayhew grateful to be back as Chewie, everyone wants to hug him in costume
— Building BB-8 (6 min) – Abrams scribbled post-it note drawing; moves with puppetry, and "trike."
— Blueprint of a Battle: The Snow Fight (7 min) — fake snowstorm and forest indoors; lightsabers heavier than practice ones
— ILM: The Visual Magic of the Force (8 min) challenge and fun of re-creating and adding to iconic spaceships
— John Williams: The Seventh Symphony (7 min) — Williams thrilled to work on seventh episode; hailed by Abrams as still composing scores in his 80s as compelling as anyone else.
By Scott Hettrick