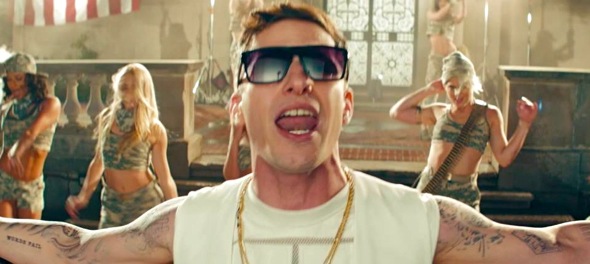 "Popstar: Never Stop Stopping" (Universal Blu-ray, $19.99) is essentially "This is Spinal Tap" for the millennial generation.
It's an irreverent documentary spoof (Tap was dubbed a "mockumentary") of the hip-hop music industry with hilarious original songs and music videos and a biting satire of the self-absorbed and over-indulged life of the artists.
It also compares to "Saturday Night Live" with 84-minutes of gags, of which only a percentage work well, and mainly the ones featuring cameos by celebrities and/or spoof music videos.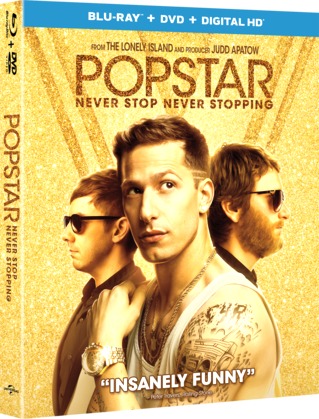 As a film produced by Judd Apatow and star Andy Samberg, that should inform you that it is an R-rated movie filled with crude, vulgar, and sexually explicit humor (extended scene of a penis against a car window) that often puts people in uncomfortable situations for laughs (Apatow productions include "Anchorman," "The 40 Year-Old Virgin," "Bridesmaids," "Trainwreck"), and the cleverly goofy and sophomoric humor of Samberg, former "Saturday Night Live" star now headlining the "Brooklyn Nine-Nine" TV series.
The Blu-ray being released this week is chock full of more than an hour of bonus features, including five music videos; 43 1/2 minutes of 23 deleted scenes (6 1/2-minutes of extended celebrity interviews; 9 1/2-minutes of additional scenes including appearance on "Late Night with Seth Meyers"; 1-minute "sex" tape; 70-sec. how-to Donkey Roll; 2-minute pretend Big Boy Freestyle improv; 60-sec. video shooting hoops; 42-sec. Frog jizz; 50-sec. "Turn Up The Beef" backstory; and zippy wedding invitations), outtakes and a 3 1/2-minute gag reel.
The widescreen presentation (2.40:1) also includes a feature-length audio commentary with writers Samberg, Akiva Schaffer, and Jorma Taccone (the latter two are also co-directors), which is mostly three guys sitting around (one via speakerphone) trying to make each other laugh. About the only notable movie-related bit of interesting trivia is that the clock tower in the "Equal Rights" music video is the one seen in the movie "Back to the Future."
Apatow, Samberg, Schaffer and Taccone (the latter two of whom who also star in the movie) are part of a so-called comedy collective called The Lonely Island behind this film about a former boy-band member trying desperately to salvage his failing solo career.
Andy Samberg is nerdy Conner4Real (obsessed with a pet turtle called Maximus who suffers from "soggy bone syndrome"), the breakout star of the popular but disbanded hip-hop group called The Style Boyz (Carrie Underwood: "They were hot!"), whose life and career go off the rails just as he launches a highly publicized solo tour.
A major part of what gives the movie comedic weight and credibility is that it is peppered with funny cameos by music industry superstars including Justin Timberlake, Adam Levine, Pharrell Williams, Carrie Underwood, DJ Khaleed, Seal, P!nk, Nas, Usher, Snoop Dogg, 50 Cent, Ringo Starr, Simon Cowell, Questlove, Mariah Carey, RZA, T.I., Michael Bolton, and "Weird Al" Yankovic. (Cowell gets in a zinger against One Direction defector former group member Zayne.)
Comedy actor Bill Hader has a bit helping Conner4Real pick out zippy wedding invitations. When Conner4Real asks him if he likes the Tropical Sunset font, he responds, "It's elegant but street, plus the bottom of it looks like a chooch."
Other celeb cameos include Imogen Poots, Chris Redd, and Kevin Nealon.
Much of the movie features interviews with Tim Meadows, formerly ousted from the quartert-turned-trio Tony! Tonei! ToNe! over "creative differences" when he insisted on going by the name of Tone? (with a question mark instead of an exclamation point).
A mock TMZ show called CMZ is also a clever storytelling element/parody. Will Arnett hosts the show that features a segment with Martin Sheen getting in a fight, yelling "Attica, Attica" and CMZ referencing him as the guy from West Wing who took a dump in Anne Frank house, and Sheen saying, "That 'West Wing' POTUS stuff, all improv."
The lovably egotistical rapper Conner4Real enjoys a hugely successful debut solo album called Thriller Also, with a single called "I'm So Humble" (featuring Adam Levine) that sparks a comment by Mariah Carey: "I instantly connected with that because I'm probably the most humble person I know."
Conner4Real not only gets caught up in his own press clippings and adoring fans (and his 32-person entourage who never say anything negative around him, including a Perspective Manipulator guy who is slightly shorter to make him look taller), but he completely misinterprets what fans liked about him and the songs that were mostly written by his former partners.
He allows his second album to have a corporate sponsor (Maya Rudolph, representing AquaSpin Appliances) which embeds his songs in kitchen appliances. He refuses to listen to the advice of his publicist (Sarah Silverman), who tries to deflect criticism about his entourage: "They are not yes men, they are just agreeable." Her publicity strategy is that she likes Conner4Real to be everywhere "like oxygen, gravity and clinical depression."
This oblivious and narcissistic behavior by Conner4Real (song called "These are the things in my Jeep") is an excuse for several brilliantly offensive music videos and performances, as well as bad judgment.
About his first new single off the new album, he decides in an impetuous tweet that he will be "surprise releasing it next Thursday."
"Equal Rights" features Conner4Real ostensibly standing up with featured singer Pink as a proponent for gay marriage while incessantly interjecting "I'm Not Gay," which prompts a response from Ringo Starr, "He's writing this song like it's not allowed; it's allowed now."
After finally learning some lessons the hard way, Conner4Real gets a chance to redeem himself when he is asked to be a last-minute fill-in for Taylor Swift as the closing act at the Pop Awards (The Poppies) when Swift is arrested for murder. Usher joins in to resurrect the Style Boyz once-popular dance called the Donkey Roll, and Michael Bolton is a featured performer with Conner4Real.
— By Scott Hettrick