Emilia Clarke could not have gotten further away from her oft-naked Daenerys Targaryen character in "Game of Thrones" than she does with Louisa "Lou" Clark in "Me Before You," on Blu-ray (Warner, $29.98) starting this weekend.
Beyond the similar last names, Clarke says in the 5 1/2-minute Blu-ray behind-the-scenes bonus featurette "From Page to Screen" that she also could not have played a character closer to her true personality, including being a klutz.
"Lou" in the story is so sweet and cheerful that even her occasional bumbling comes off as just another charming characteristic, others of which include what most would consider a horrible fashion sense of mismatched and childish outfits.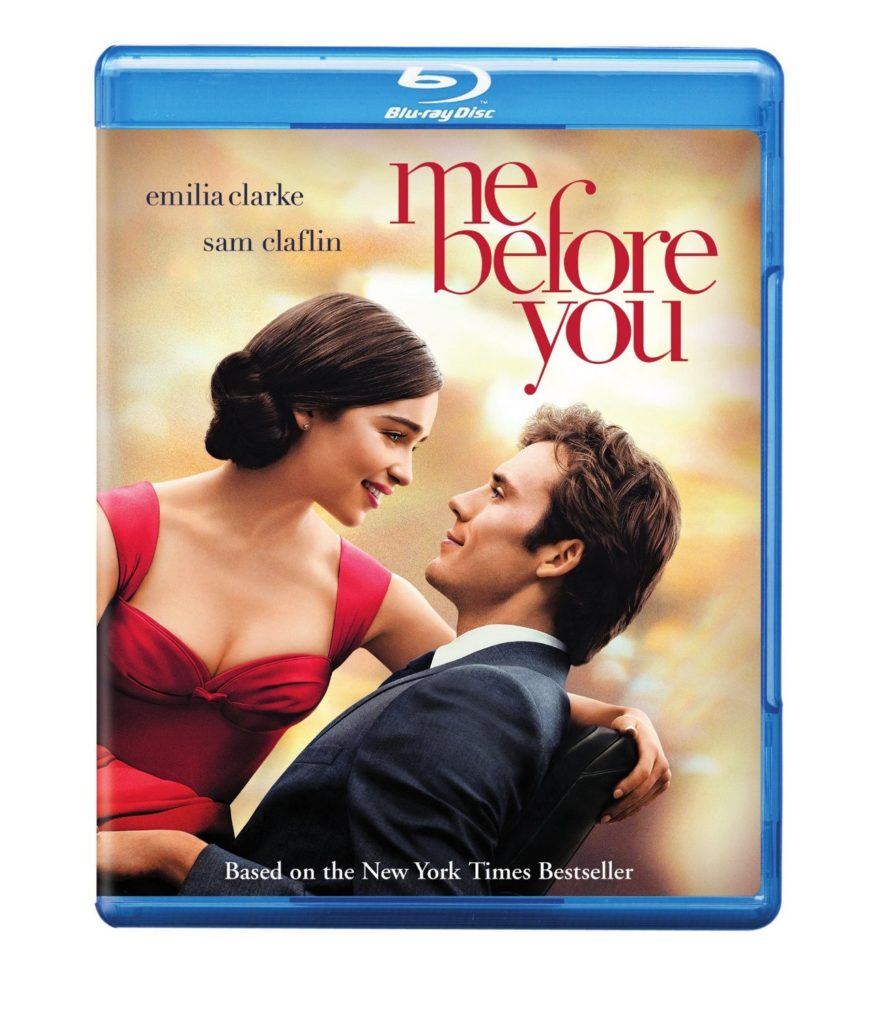 It's the latter that first strikes her "client," a wheelchair-bound wealthy young banker called Will Traynor (Sam Clafin of "The Hunger Games" series) who has been in a suicidal state of depression since being paralyzed in an accident two years earlier. Prior to being hit by a motorcycle while crossing a street on foot, Will was a globe-trotting, adventure-seeker with magazine cover good looks on the verge of marriage. His former girlfriend is now about to marry his friend.
Except for being able to continue to afford the most expensive comforts and pay for the highest level of support, life couldn't seem less worth living for Will.
Meanwhile, Lou is on the other end of the spectrum, having just been laid off from her job as a waitress that she only took on a dare but was the only income in her family of lower middle-class English parents and sister. ("Downtown Abbey's" Brendan Coyle has a nice turn as Lou's easy-going father.)
So, Lou jumps at the opportunity to take a job with a wealthy family caring for their physically and emotionally broken son. (Oscar nominee Janet McTeer and Charles Dance of "The Imitation Game" are convincing as Will's parents who are willing to try anything.)
Of course, you see where this is going – the relentlessly optimistic Lou sparks a 180-degree change in Will's demeanor and the two fall in love.
But it may not all be quite as simplistic as it might seem in this 1-hour, 40-minute chick-flick/date movie based on the novel by JoJo Moyes that she says has sold more than five million copies.
Clarke and Clafin feel so perfect for their roles that Moyes even concedes in the Blu-ray featurette that they have replaced the physical images of the characters she had in her head when she wrote the book.
In addition to the vivid images and vibrant colors offered on this HiDef presentation, the Blu-ray edition also includes several minutes of amusing outtakes and about six minutes of trimmed footage and deleted scenes, including one humorous moment in which Lou discovers that her grandfather is putting X's in the boxes of a sudoku puzzle as if it is a tic-tac-toe game. Another is a poignant scene in which Will's mother confronts Lou about her true and desperate intention in hiring Lou to care for her son.
— By Scott Hettrick