Jennifer Lawrence has a new movie opening today and it's one of her best.
Haven't heard of it? It's the 40-minute IMAX 3D documentary "A Beautiful Planet," which is narrated by Lawrence.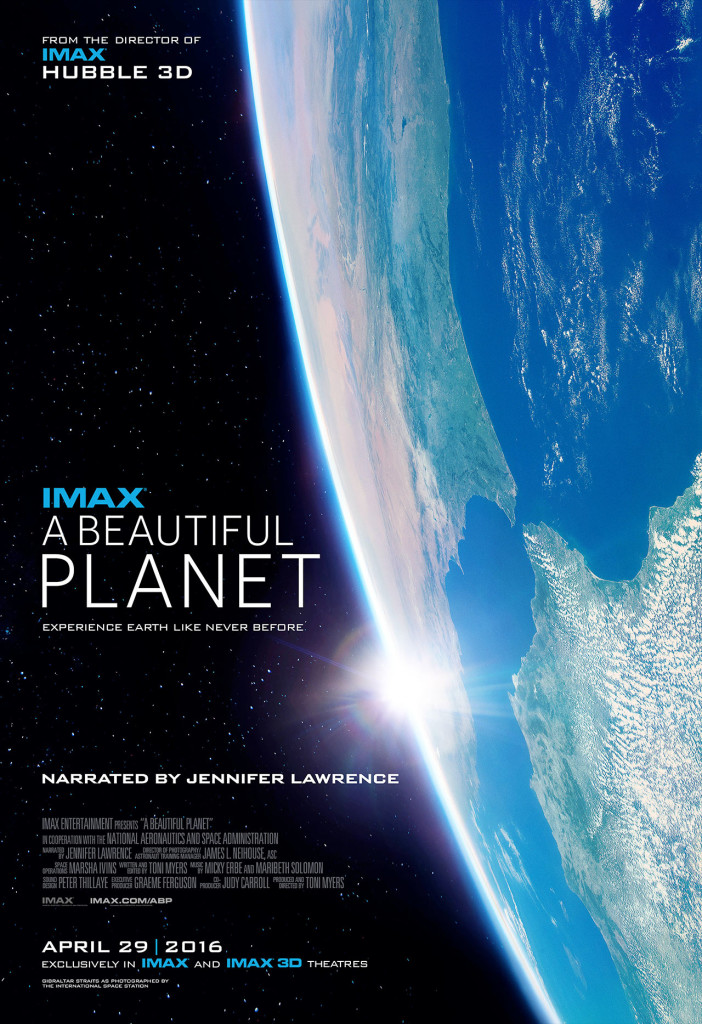 The word awesome is over-used but it's the first word that comes to mind when viewing the opening moments of "A Beautiful Planet" on a giant IMAX screen through 3D glasses: extremely impressive; inspiring great admiration.
The film that features staggering images of Earth from space could also be subtitled "An Amazing Space Station," as at least half of the presentation depicts the Russian, American, Italian, and Japanese astronauts rotating to and from Earth to the spacecraft over the course of more than a year, and their extraordinary technical and physical challenges (space walks involve temperature shifts of nearly 600 degrees from the sun side of the station at nearly 300 degrees to about 275 degrees below zero in the shade).
<Review continues below the following video trailer…>
The Toni Myers / IMAX Entertainment film made in cooperation with the National Aeronautics and Space Administration (NASA), "A Beautiful Planet" yet again delivers stunning 3D cinematography from the International Space Station — both on board the craft, where the sense of depth and separation is extremely pronounced, to the eye-popping pictures of Earth by day and night. (Myers and IMAX previously produced "Hubble 3D," "Space Station 3D," and "Blue Planet.)
What looks like random flickering lights of a pinball machine turns out to be lightning storms beneath clouds over Africa. There's California with a seldom-seen view of what looks to be a scoop taken out of its mid-section that accounts for the state's Central Valley, and clear evidence of the toll of the drought. There are only two clear delineations of nation borders from space — the bright night lights of South Korea bordered by the immediate total darkness that represents North Korea, and the clearly-lined border between Pakistan and India.
Of course, all these films in recent years incorporate well-intentioned but heavy-handed save-our-planet commentary, but it all goes down quite soothingly coming from the voice of Jennifer Lawrence.
"A Beautiful Planet" premieres today, April 29, 2016, in IMAX venues all over the country such as the California Science Center in Los Angeles, but it is in more limited release than usual in cities such as Omaha, Nebraska, where, instead of the normal IMAX institutional venue for such documentary films — the Lozier IMAX at the Henry Doorly Zoo — it is playing only once per day at 10 a.m. for one week at the AMC Oak View Plaza but neither of the other two AMC IMAX theaters in the area. In Kansas City it is playing only at the AMC Barrywoods 24 at 11:30 a.m. each morning. (At traditional commercial theaters like AMC, it is being squeezed by the IMAX 3D showings of the ongoing hit "The Jungle Book" and next week's debut of "Captain America: Civil War.")
— By Scott Hettrick