Pixar should take a few pointers in how to present 3D from the Disneytoon Studios production of "Planes," which ironically is essentially a spin-off of Pixar's "Cars" even though it is from Pixar's sister studio and was originally designed for an exclusive premiere on Blu-ray.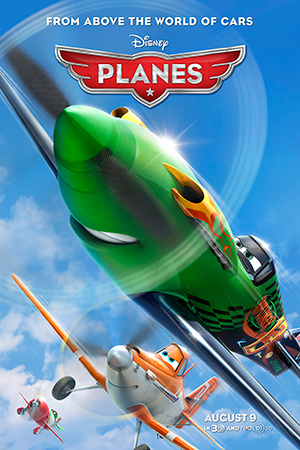 A sequel called "Planes: Fire Rescue" was already anounced this weekend at Disney's D23 fan convention in Anaheim, Ca.
The cute movie with impressive 3D images that is aimed even more at young kids than most animated features landed in third place for the Aug. 9-11, 2013 weekend with $22.5 mil., according to BoxOfficeMojo.com., behind #2 finisher, comedy "We're the Millers." "Planes" was the best of three 3D animated movies in the top 10, and four in the top 12.
Landing in first was the Matt Damon starrer "Elysium" with $30.4 mil., aided by the premium pricing for IMAX showings, which enhanced the latest post-apocalyptic sci-fi story. The giant screen increased the perception of scale needed to emphasisze the massive scale of desperation of planet Earth filled with a poverty-ridden population while the one-percenters have escaped to an orbiting satellite paradise where all medical problems are cured with a simple scan of a machine. If not as powerful or exhilirating as one might like, Damon and the IMAX experience combine to make this a solid two-hours of entertainment.
<Story continues following the "Planes" trailer below…>
"Planes" exploits all the obvious opportunities for creating an impact with 3D, especially the flying sequences, but also does so with creative set-ups of otherwise routine scenes. There is never a moment when you don't feel a sense of depth or wonder whether the movie is even in 3D, as happens so often with most Pixar movies.
Although clearly a derivative of Pixar's "Cars" — it even begins with the "Cars" logo and the words, "From the world above "Cars," ' the story about an under-appreciated little crop duster with big dreams of becoming an air racer in an international competition is charming and the humor is funny and clever enough to elicit laughs a few times from adults. Although none of them stand out as particularly recognizable, the strong cast of voices from Dane Cook as star Dusty to actors including Teri Hatcher, Julia Louis-Dreyfus, John Cleese, Stacy Keach, Val Kilmer, Brad Garrett, Carlos Alazraqui, Anthony Edwards, Cedric the Entertainer, and even sportscaster Brent "Mustangburger" Musburger provide an engaging and diverse ensemble.
Disneytoon Studios produces the CGI animated "Tinker Bell" series of features made exclusively for Blu-ray, and "Planes" was created to be the same thing. But just as the quality and potential for big screen success prompted Pixar to elevate "Toy Story 2" from a DVD premiere to a theatrical release, Disney execs, including Pixar founder John Lassetter, also recognized the potential for "Planes," and increased the budget to $50 mil. for release in theaters.
— By Scott Hettrick