We always knew Superman had X-ray vision but we didn't know he also had such power in 3D — Warner Bros' "Man of Steel" raked in more than $125 million in its opening weekend, including Thursday previews and midnight showings, according to BoxOfficeMojo.com. Another $72 million from overseas theaters brings the total up to a Lex Luthor-like haul of nearly $200 million.
And we always knew the Krypton-born kid was big, but who knew he was this big, his massive upper half accentuated almost beyond belief when seen in a giant screen IMAX theater.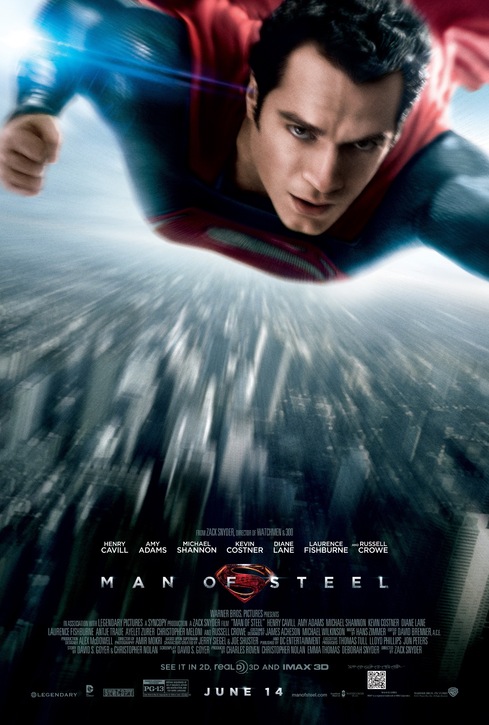 The enormity of the opening weekend grosses surely means that this DC Comics franchise has finally been reignited, especially since the studio and producer Christopher Nolan were already prepping to fast-track the sequel, pending opening weekend. Nevermind that director Zack Snyder is in the midst of finishing another sequel, "300: Rise of an Empire."
Although only 56% of critics liked "Man of Steel," according to RottenTomatoes.com, 82% of the audience were satisfied. That's an apparent improvement from the last effort to revive the franchise when Bryan Singer's "Superman Returns" in 2006 performed nearly as well in theaters as Nolan's "Batman Begins" a year earlier, but did not score well with fans.
Snyder, who used 3D and IMAX to pretty decent effect in "Sucker Punch," is less ambitious with the technologies here. Although the depth between characters and objects is fairly pronounced in the first third of the 2 1/2-hour movie on the planet Krypton, the images appear to go almost flat when he gets to Earth, causing viewers to periodically pull off their glasses to see if there is any difference — not much. And that's a big disappointment since there are so many scenes of flying and mayhem that seem perfectly suited for 3D. How cool would it be to see Superman appear to fly off the screen right over your head? But no, not happening here. Heck, Singer utilized 3D more effectively in the 20-minutes he converted for "Superman Returns."
Likewise, even though Nolan is a big fan of IMAX and used it pretty well in his Batman movies, even producing chunks of the movies with IMAX cameras so those scenes were projected in much bigger screen size than the rest of the movie, there is not any scene in "Man of Steel" that really exploits the massive screen in that way. Again, plenty of obvious scenes to make that happen, but no.
With those missed opportunities, we're left with the movie itself, which grows quite tedious in the last hour when it turns into a Transformers-like interminable battle of alien foes — Superman vs Zod — smashing each other through one skyscraper building after another. They appear to destroy most of Metropolis, and thousands of people must surely die in the collapsing skyscrapers. And then there is the anti-climax of Superman finally stopping Zod by simply putting him in a headlock. Who knew that would be Zod's Kryptonite?
A previous battle between Superman and Zod's team of outcasts in Smallville is carried out in front of a handful of obvious corprorate product placements, including IHOP and 7-11. Hard to imagine there is much left of the town after this showdown.
The best parts of the humorless movie are when the story slows and quiets down and allows the development of a bit of character and story, especially the scenes played as periodic flashbacks of Clark Kent's struggles as a youth in Kansas with the tender sympathy of his adopted mother (Diane Lane) and the sage guidance of his adopted father (Kevin Costner). Henry Cavill is also more human and relatable in these moments, though he is also serviceable enough when he dons the cape.
Those hoping to enjoy watching Superman play the dual role of undercover reporter Clark Kent at The Daily Planet will be disappointed — he doesn't step foot into the place until the last seconds of the film after he and Lois Lane (Amy Adams) have a whole relationship involving her witnessing his reconnection with his father Jor El (Russell Crowe in an engaging performance). That's just one of the many twists on the Superman legend you are likely most familiar with. The main missing ingredients are a sense of humor and anything that makes us root for our hero.
Mostly you want to tell him to take his fights outside, or out of this galaxy, so we can get back to our normal peaceful lives.
— By Scott Hettrick