With Disney's 3D "Oz: The Great and Powerful" generating $233 million in domestic theaters and nearly doubling overseas for a collective nearly half a billion dollars, Warner Bros and IMAX are teaming up  to release a converted 3D version of the 1939 MGM classic that will run in IMAX theaters for one week beginning September 20.
Prime Focus will do the 2D-to-3D conversion. Prime has done conversions of "Star Wars: Episode One – The Phantom Menace,' "Harry Potter and the Deathly Hallows: Part 2," "Narnia: The Voyage of the Dawn Treader," "Shrek," "Green Lantern," "Immortals" and "Transformers: Dark of the Moon."
Warner Bros. insisted the 3D conversion be done at a very high resolution (8k) scanning of the original Technicolor camera negative. The restored 2D image was then transformed by creating a depth-map of each frame to construct 3D imagery and determine distances from the viewer's vantage point. This was followed by the long process (with the use of a rotoscope) to further refine viewer distances and fully layer shapes and objects.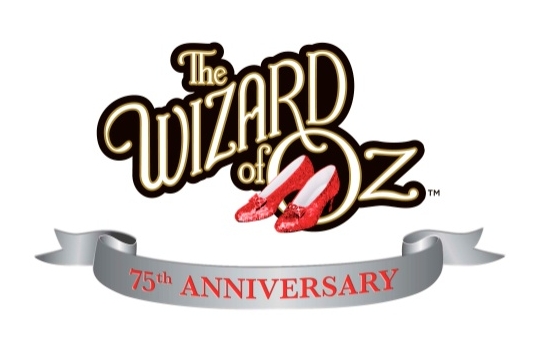 The news comes just a week before Disney releases its Blu-ray 3D version of "Oz: The Great and Powerful" June 11, a format for which "Wizard of Oz" could provide a much-needed boost. The studio will release a five-disc edition of the movie Oct. 1, the 75th anniversary of the month shooting began on the movie in 1938. In addition to the 3D disc, the set will include yet another new retrospective documentary and bonus features for the film that has seen numerous versions on each successive format starting with VHS, DVD and Blu-ray.
Although the movie was not filmed in any widescreen format because widescreen did not happen until the 1950s in response to the introduction of TVs using the same squarish Academy aspect ratio as movies (the use of color in "Oz" and "Gone with the Wind" the same year was considered the major new breakthrough at the time), it will nonetheless be a thrill for most fans to see the movie on the big screen for the first time. And with IMAX, the film will be bigger than ever. The 3D will provide yet another added attraction for filmgoers.
"This film revolutionized the use of color and special effects in cinema, and we're excited to add another 'first' – bringing this timeless classic to moviegoers through the power of The IMAX 3D Experience for the very first time," said Greg Foster, Chairman and President of IMAX Entertainment.
"The Wizard of Oz IMAX 3D Experience is an integral part of our studio-wide anniversary initiative and we are excited to give fans the rare opportunity to see this stunning version on the big screen," said Dan Fellman, President, Domestic Distribution, Warner Bros. Pictures.
The Wizard of Oz 75th Anniversary Collector's Edition will debut as a five-disc set that will include Blu-ray, Blu-ray 3D, DVD and UltraViolet versions of the film; a new documentary, The Making of The Wonderful Wizard of Oz; bonus features and premium collectibles ($105.43 SRP). Three more editions will be available separately: a two-disc 3D/Blu-ray ($35.99 SRP), a one-disc Blu-ray ($19.98 SRP) and a two-disc DVD ($16.95 SRP). All four will contain the new documentary and extra content.
SPECIAL FEATURES will include all previously released special features along with:
New documentary: The Making of the Wonderful Wizard of Oz—This candid overview of how a troubled production overcame the odds to become an integral part of American culture features contributions from historians John Fricke and Sam Wasson, composers Stephen Schwartz and Marc Shaiman, critics Leonard Maltin and Michael Sragow, Bert Lahr's son John as well as revealing interview clips with Judy Garland, Ray Bolger, Buddy Ebsen, Margaret Hamilton and Mervyn LeRoy, among others.
New exclusive collectible memorabilia —A collectible 75th Anniversary journal; Sparkle RUBY SLIPPERS™ Globe; Noble Collection 3-piece enamel pin set, a Map of Oz and a 48-page hardcover book. Collection is limited and numbered.
"People have asked for years about The Wizard of Oz 3D conversion. My answer was always, 'We're not doing it until it's perfect.' And now it is," said Ned Price, Warner Technical Operations' Vice President of Mastering. "As a kid, I was so enthralled by this film. Watching it, you just want to enter the frame, enter the Land of Oz. This new version will allow you to do just that."
In support of the 75th anniversary of the film, Warner Bros. Consumer Products' extensive licensing program of more than 80 top-tier licensees will expand with new partnerships. Leading the way is master toy partner Jazwares, along with Mattel, Rubies, Lionel, Steiff, USAopoly, Thomas Kinkade, and many more that will be taking part in the celebration. Special commemorative anniversary product will be available across a wide array of categories including apparel, jewelry, collectibles, publishing, stationery and paper goods, toys and games, slot machines and personal care.
In addition, the Warner Bros. releases will be massively supported by a far-reaching promotional campaign encompassing numerous participants. National corporate partners include (to date) promotional activities with a Major National Quick Serve Restaurant (QSR), the debut of a giant hot-air balloon and balloonhead characters in the 87th Annual Macy's Thanksgiving Day Parade®, as well as joint programs with Amtrak, Gourmet Trading Company, Langers Juice, QVC and Simon Malls®. In collaboration with the Ad Council and the National Highway Traffic Safety Administration, new child passenger safety Public Service Announcements (PSAs) featuring iconic elements from The Wizard of Oz film will be distributed and run in donated media nationally.
The Wizard of Oz themed competition will also be featured on an upcoming episode of Food Network's "Cupcake Wars" to be aired later this year.
— By Scott Hettrick