Aardman Animation's and Sony Pictures Animation's "Arthur Christmas" (Sony, $55.99) is a delightful comedy with heart and great character that makes effective use of 3D.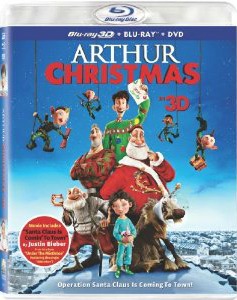 Bravo to Sony for also including three trailers in 3D, "Men in Black 3," "The Pirates: Band of Misfits," and "Hotel Transylvania."
There are also two 13-minute making of featurettes about the computer-animation process on the same disc but they are in 2D.
As for the movie, it's hard to imagine anyone not finding this clever twist on Santa Claus charming and delightful. The computer-animated family film from British production company Aardman, traditionally known for stop-motion films such as "Wallace and Gromit" and "Chicken Run," delivers an unexpected holiday gift.
The story follows three generations of the Claus family trying to come to grips with the transition of leadership to the next in succession. With the current Santa (Jim Broadbent) of retirement age and showing signs of slipping, the likely next-in-line is eldest son Steve (Hugh Laurie), who has been preparing for the day for years with his high-tech mechanization and military style management of the entire North Pole process, including a super-sonic sleigh. But the even older GrandSanta (Bill Nighy) favors the traditions of his day and the passion of his younger unassuming and nerd-ish grandson Arthur (James McAvoy).
It all leads to a slightly predictable but nonetheless amusing scenario in which young Arthur finds himself trying to save the day using his Grandsanta's dilapidated sleigh led by the few surviving reindeer to reach the chimney of a young girl who was inadvertently bypassed by Steve's digital distribution.
Director and co-writer Sarah Smith, with the assistance of Sony Pictures Imageworks, uses the 3D to good effect in almost every shot. While it seldom pushes off the screen very much, the depth and space between objects close and far is palpable throughout, especially in scenes depicting the factory command center full of tiered rows of elves, and the aerial shots from the perspective of the sleighs, all of which look even more effective in home viewing than in theaters.
— By Scott Hettrick