Disney targeted Tinker Bell for Blu-ray 3D years ago, and finally the prima donna pixie has her 3D coming-out party this week in "Secret of the Wings" (Disney, $49.99 SRP).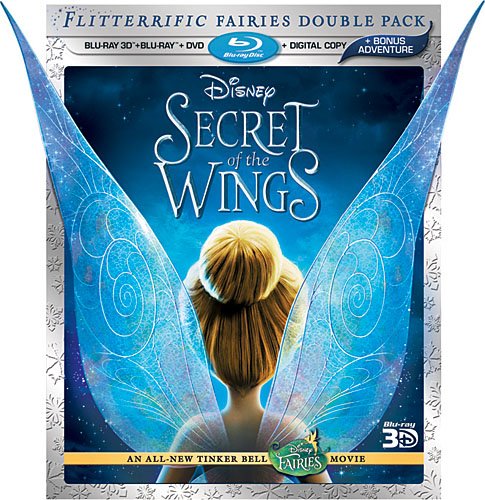 After all this time, the 3D is welcome if not dramatic, in keeping with Disney's and Pixar's apparent strategy of subtlety as opposed to "wow" with all the studios' 3D movies. There is a little more sense of depth throughout, which enhances the fantastical environment of Pixie Hollow as showcased in the first three seasonal-themed episodes in this series, and this time in the magical and mysterious Winter Woods, where Tinker discovers she has a sister who teams up with Tinker. There are a couple moments of the fairies and other objects in flight that take a little more advantage of the format and seem to come close to popping out of the screen, if only for a moment.
It's always nice to see previews of 3D movies in 3D on these discs as well, and Disney has done that here with 3D previews of the upcoming animated theatrical film "Wreck-It Ralph" and the long-awaited next movie produced exclusively for Blu-ray 3D by Pixar, "Planes."
Back to "Secret of the Wings," the first new feature-length movie in the popular computer-animated Tinker Bell and Fairies series for more than two years features an impressive cast of voice talent, including former James Bond 007 actor Timothy Dalton, Oscar-winner Anjelica Huston as Queen Calrion, Huston's fellow "Smash" actress Megan Hilty as Rosetta the Garden fairy, Jodi Benson (Ariel) as the comic voice of the healing fairy, and the return of Lucy Liu as Silvermist, and Raven-Symone as Iridessa, and the introduction of Lucy Hale as the new winter fairy Periwinkle.
Like the previous trio of movies in this franchise, this story is aimed at the very young and mostly girls but they are visually compelling enough for parents to enjoy through the eyes of their children.
Viewers will have to insert the standard 2D Blu-ray to find the fun bonus features, which include two music videos: "Great Divide" performed by the McClain sisters and "Dig Down Deeper" performed by Zendaya; and a 22-minute Pixie Hollow Games Bonus Adventure.