On Friday October 22nd, 1993 a charming little Touchstone Pictures movie came to my town with the ostentatious title of "Tim Burton's The Nightmare Before Christmas."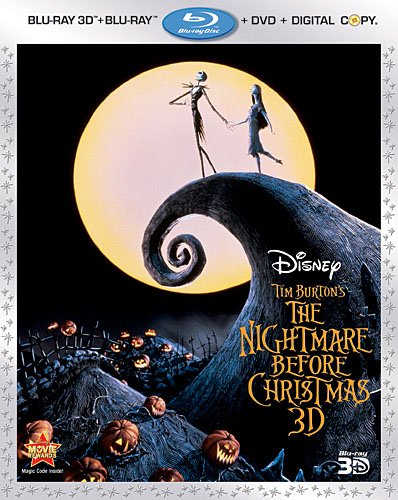 You should recall that, in 1993, Tim Burton was not the Gothic Godfather that he is today. Admittedly, he'd had moderate success with off-beat movies like "Pee-Wee's Big Adventure," "Beetlejuice," and "Edward Scissorhands." He also had solid box office success with the dark and quirky "Batman" movies starring Michael Keaton. But it would be 12 more years before his name would be tied to the title of another movie, 2005's stop-motion movie "Tim Burton's Corpse Bride."
I remember the original viewing date because it was my birthday. My wife knew that I was a fan of all the above-mentioned movies and treated me to a viewing of my favorite director's newest movie. I instantly fell in love with almost every element of the visually engaging stop-motion animated movie.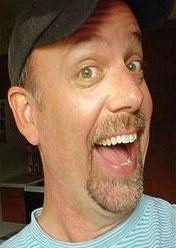 – – – – – – – – – – – – – – – – – – – – – – – – – – – – – – – – – – – – – – – – – – – – –
Guest reviewer/blogger Randall Reeves is a former film/video/TV producer-writer-co-host now living in New Mexico.
– – – – – – – – – – – – – – – – – – – – – – – – – – – – – – – – – – – – – – – – – – – – –
For those unfamiliar with the story, the extremely dead, yet dapperly skeletal Jack Skellington has mastered his holiday so much that he has earned the title of the King of Halloween. But mastery of this holiday no longer thrills Jack. On a long and thoughtful walk he wanders into a place where doors to all the holidays exist. By chance, he opens a door that sucks him into all the glitter and glee that is Christmas Town. Finding this new holiday joyful and rewarding, like his Halloween used to be, Jack Skellington endeavors to take over Christmas and make it his very own.
The story borrows heavily from "Dr. Seuss' The Grinch That Stole Christmas," the classic Rankin-Bass stop-motion movies, and the entire horror genre. It also borrows from the time Tim Burton spent with drawing all sorts of clearly non-Disney characters while attending California Institute of the Arts. In fact, the main characters, Jack Skellington, his rag-doll girlfriend Sally, and Jack's faithful and ghostly dog Zero were all created almost 10 years before the release date, while Tim Burton was still attending Cal Arts.
The sets appear to be carved into the soft ground like a sharp pencil in clay. The set pieces seem impossibly balanced with no concern for gravity or accessibility. The characters are rightfully nightmarish, including a blue behemoth, an entire corpse family, mummified children, werewolves, vampires, and a buggy burlap bad guy named Oogie Boogie. Yet all the characters are as love-able as they are frightening.
As soon as the movie became available on the little seen LaserDisc format, I purchased it. As soon as it became available on the antiquated VHS format, I purchased it. As soon as it became available on the waning DVD format, I purchased it. When Disney released the movie in its digital 3D format in 2006, I went to the theatre to enjoy it all over again.
I was blown away by how much more immersive the viewing was in 3D. My wife, a converted fan, vowed to never again view "The Nightmare Before Christmas" unless it was seen in 3D. Alas, in 2006 a 3D copy of the movie was impossible to own in any home video format.
Until now.
Today (Tuesday, Aug. 30) Disney is re-releasing the now cult classic movie with its massive and loyal following in a Blu-Ray 3D version ($49.98 for 3-disc combo pack) for which happily rivals and perhaps exceeds what was seen in the theater in 2006. Virtually every scene in the newly re-imaged movie has staging that is enhanced by the 3D experience. Tree limbs pull back as the camera zooms in. You duck to avoid impact. The camera zooms down the hall of a town meeting and it feels like you are brushing shoulders with the dead. As Jack flies through the air in his bony reindeer-pulled coffin, you can almost feel the breeze. The characters so skillfully animated in 1993 seem even more lifelike (even in death) in this 2011 Disney Blu-ray 3D version.
As a consumer who has resisted the temptation to buy a 3D TV, I totally get it now. It's not a gimmick; it's a method of enriching the story. It makes the story more believable. It makes the experience real, even when it cannot possibly be real. The 3D in this version is impeccable. There are no losses where the image mysteriously flattens. There are no glitches where the 3D stutters or loses its connection to the viewer. There are even newly-created end titles, which give proper credit for those responsible for the 3D conversion. 3D images of "Nightmare Before Christmas" concept art (many drawn by Tim Burton himself) fly through the air making the credits as worth watching as the rest of the movie.
As charming as the movie was in 1993, it is re-energized and even more enchanting 18 years later in this much-anticipated Disney Blu-ray 3D release.
– – – – – – – – – – – – – – – – – – – – – – – – – – – – – – – – – – – –
2D Blu-ray bonus features:
Tim Burton movie introduction recorded after watching Blu-ray version for first time and lauding the much-improved texture and clarity.
Uncut version of half-hour "Frankenweenie," with Burton introduction of his 1984 black-and-white short that he notes is currently being produced as a feature-length stop-motion theatrical film.
Audio commentary by Burton, director Henry Selick and music designer Danny Elfman, with Burton noting his only familiarity with traditional Christmas from his childhood home of Burbank, Ca. was the Rankin-Bass and Dr. Seuss Christmas TV specials. Elfman says he immediately got the score and lyrics of "This is Hallowe'en…" in his head upon first meeting with Burton.
Burton introduces poem on which "Nightmare" was based, read by Christopher Lee over images of Burton's original concept art.
"What's This?" a thorough tour of the revamped and "Nightmare"-ized Disneyland Haunted Mansion with optional fun  pop-up trivia.
Burton's famous six-minute black-and-white stop-motion short film "Vincent," an homage to actor Vincent Price, who narrates.
Many different presentations of deleted scenes, storyboards, and unused concepts, with audio explanations by director Selick
Previously produced and still entertaining 25-minute making-of featurette.