Since IMAX documentaries have consistently pushed 3D much further than any mainstream 3D movie, the big question has been how would IMAX movies translate to Blu-ray 3D.
The short answer is that none of them come close to matching the 3D impact of the theater, but some are better than others, and Image Entertainment's titles are better overall than Warner's (see how you can win a free Image IMAX title below).
Here's the more detailed answers: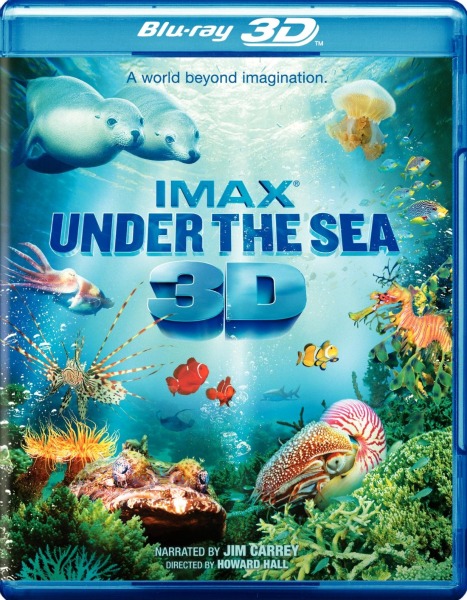 Warner Home Video's new IMAX Blu-ray 3D releases on Nov. 16 include a couple of the best IMAX 3D docs, last year's "Under the Sea 3D," which 3DHollywood.net awarded as the Best 3D experience of 2009, and "Space Station 3D" ($44.98 each).
There are images in both that can't help but be dynamic, especially a few of the shots in "Space Station" inside the craft and outside in the cargo bay.
But sadly, both are disappointments. The opening IMAX 10-9-8-7… countdown that is so dynamic in theaters as it appears to come into your lap does not come close to leaving the confines of the TV screen and yet creates eye pain as the circles spin toward you.
Same thing with the underwater scenes in "Under the Sea," where coral and objects in the foreground are not converged properly. Ditto with "Space Station,"where weak depth and numerous misaligned images result in a whole new definition of 3D for these titles: Distracting, Disorienting, and Disappointing.
Both movies feature the 3D and 2D versions on a single disc, with no bonus features.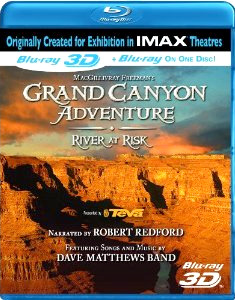 Image Entertainment's three Dec. 7 Blu-ray 3D releases of IMAX movies from Big Pictures Digital Productions look far better as authored by Imagion of Germany.
The best of the lot in terms of 3D is "Grand Canyon Adventure: River At Risk" ($24.98) from award-winning producers MacGillivray Freeman Films. Part of that is due to the filmmakers' aggressive use of effects to accentuate the 3D, beginning during the opening credits with digital water drops bubbling up from rivers and waterfalls, some expanding to frame the opening titles with filmmakers' names. The drops are among the few images to come close to emulating the theatrical experience of something actually pushing out of the screen to make you feel as if you could reach out and touch it.
Even without the gimmicks, the 3D depth of waterfalls and a kayak going over the waterfall, and even a photographer walking between rocks, offer very pronounced depth without any of it being blurry and none of the left/right images in the foreground being split.
The other two, "Wild Ocean," by Yes/No Productions, and "Dinosaurs Alive!," by Giant Screen Films, are also much stronger than the Warner IMAX movies but not as dynamic as "Grand Canyon," narrated by Robert Redford and featuring songs and music by Dave Matthews Band.
All three Image IMAX titles also include multiple 2D making-of featurettes, which with such astounding documentaries like these are really almost required bonus features.
Win a free Blu-ray 3D copy of one of the first three IMAX movies from Image. Be one of the first 15 people to correctly answer both of the following questions (e-mail your responses to info@HollywoodInHiDef.com — you will be contacted and asked for your mailing address only if you are a winner):
1.) Name the IMAX documentary relating to the Persian Gulf War.
2.) Name one of the first two mainstream Hollywood movies to be distributed to giant-screen/large format IMAX theaters.
— By Scott Hettrick