Two of the highest-profile 3D movies by one of the primary digital 3D cinema of this century, Robert Zemeckis, have been released on Blu-ray 3D at the same time.
That's because both are holiday-themed movies based on enormously popular Christmas stories.
Disney's 2009 theatrical release of "A Christmas Carol" ($49.99) authored by Panasonic, provides a noticeably superior 3D experience and offers superior bonus features. Jim Carrey stars as Scrooge and plays multiple roles in the CGI film as did Tom Hanks in the 2004 adaptation of "The Polar Express" (Warner, $44.98).
3D comparison: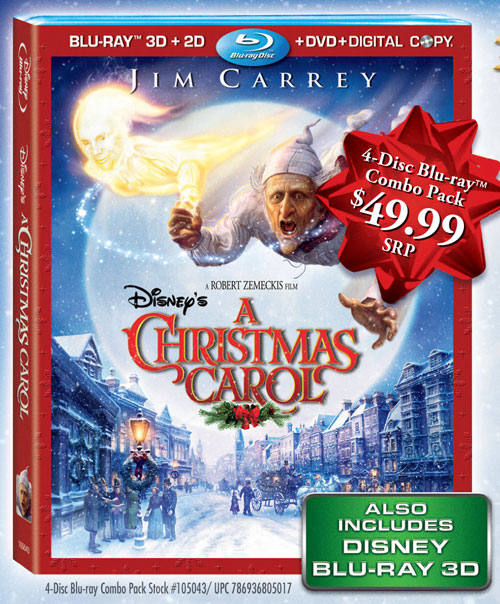 "A Christmas Carol": Zemeckis significantly improved his performance capture technique in this movie and used it to maximum 3D effect, positioning every character and object and even extended hands and fingers to accentuate the depth of each thing in the frame. Although it still isn't as dynamic as I would prefer, it's more distinctive than "Polar Express."
Disney has also created a separate disc specifically for the 3D version in full HiDef 3D for both eyes, and put nothing else on the 3D disc except a 3 ½-minute 3D making-of featurette (see below). The 2D version of the movie and the additional bonus features are on a separate HiDef Blu-ray disc so they do not take up valuable space and require video quality compromises on the 3D disc.
Other elements that make "A Christmas Carol" a superior 3D experience:
— Right off the bat the 3D pops so much more on this disc, beginning with the main menu page that is full of movement unlike many other Blu-ray 3D titles. Even the short Blu-ray 3D promo reel features clips with very dynamic examples of 3D in Disney movies such as "Bolt" and a very eye-catching few seconds from the upcoming "Tron." Interestingly, in addition to "Bolt," the promo also touts "Alice in Wonderland" — neither movie will be available at retail until 2011 (both are bundled exclusively with the purchase of Sony 3DTVs and Blu-ray 3D players this year). Also interesting is that the brand of TV and Blu-ray player shown in the promo are Sony products, even though Panasonic was the company that authored the disc.
— "A Christmas Carol" offers one of the few 3D bonus features on any Blu-ray 3D title, a 3 ½-minute making-of program in which star Jim Carrey and other interview subjects really stand out in front of the background footage.
Beyond 3D on "Christmas Carol"
The 2D disc offers these fun extras:
— A cute animated promo for Blu-ray 3D starring Timon and Pumbaa
— Good optional picture-in-picture commentary/comparison by Zemeckis showing how nearly every shot started with capturing live actor performance in digital "volume" (studio) and was captured digitally and converted, including Carrey sliding through hanging tubes of Styrofoam that became icicles in the movie.
— Somewhat sadly and ironically Zemeckis begins commentary by touting his Image Movers Digital company owned by Disney that created the performance-capture he used but which Disney shut down a few months ago.
— On Set with Sammi is a fun day-in-the-life type of 2-minute featurette in which young actress Sammi Hanratty takes you through process of getting wired and her face dotted.
— Countdown to Christmas interactive calendar is an interactive digital advent calendar that may be more style than substance. Click on various digital windows and doors from the set of the movie each day in December to find a bell or some other object. You can cheat and do it anytime, but you cannot do it out of order, meaning if you want to see what you get on Dec. 25, you have to take the time to open the other 24 in order first.
"The Polar Express": First of all, the 3D here is vastly superior to the muted colors of the anaglyph 3D edition of "Polar Express" Warner released on Blu-ray last year.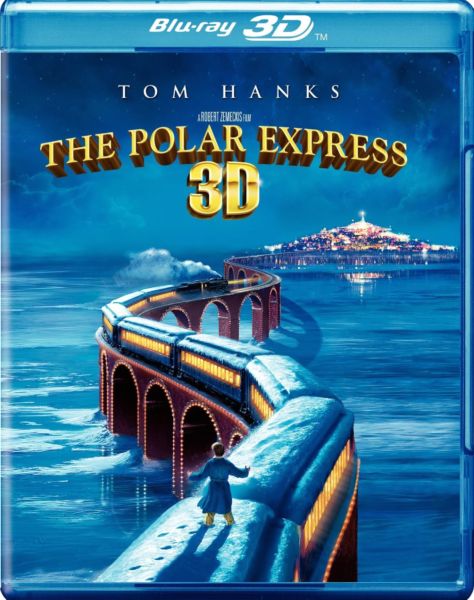 But as with Warner's other new Blu-ray 3D titles, the 3D is kept very subtle; the snowflakes falling in the very first seconds of "The Polar Express" that appeared to come out of the screen into the audience in movie theaters have only slightly noticeable depth between the flakes and the objects behind them in the Blu-ray 3D. The same is true throughout the movie.
Both the 2D and 3D versions of the movie are on the same disc, along with quite a few 2D bonus features, which could mean some bit rate (image quality) was sacrificed. A shortcut was also taken with the main menu, a plain title card with no movement.
Nonetheless, the depth offered in the movie itself is enough to make many scenes a little more dynamic than 2D, especially the fun swing dance number "Hot Chocolate" in the aisles of the train.
— By Scott Hettrick