James Cameron has long set the standard for definitive home versions of his movies, dating back to the laserdisc era with movies such as "The Abyss" and "Terminator 2: Judgment Day," the latter of which also had several demonstration disc-level iterations on DVD.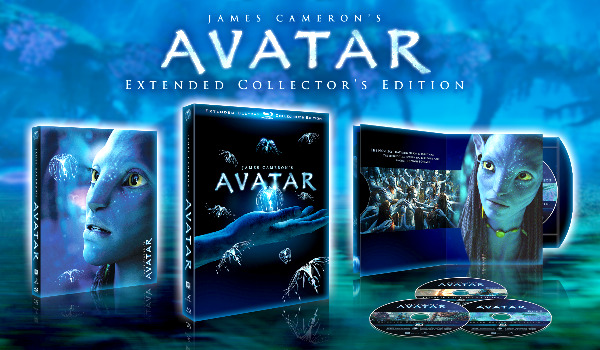 This week's (Nov. 16) three-disc "Extended Blu-ray Collector's Edition" of "Avatar" (Fox, $54.99) continues that tradition, beginning with a handsome glossy book-style package with unique slide-out drawers for each disc inside vibrant colorful pages.
There are three versions of the biggest moneymaking film in history, one 9-minutes longer and one 16-minutes longer than the original theatrical release of "Avatar" that was released on Blu-ray in April, which I reviewed then. (None are in 3D — the original 3D theatrical version with no bonus features will be available on Blu-ray 3D for the next year or so only with the purchase of Panasonic 3D TVs and Blu-ray players beginning Dec. 1.)
While you might think the obvious version would be the longest one, actually, that version is probably too long. Very conveniently, the disc allows you to watch only the specific scenes that are unique to the two longer versions. Interestingly, the 16 extra minutes translates to 33 minutes of affected scenes. Here are some differences (none of which add much to the story, so it's clear why they were cut from the film that already had a running time of 2-hours 42-minutes):
Alternate opening with 3 1/2-minutes of new footage, mostly scene in which Jake Sully gets into a bar fight before being recruited for the mission. Not at all necessary. And the scenes of Jake being shown his dead brother work far better in the original theatrical version of integrated brief flashbacks.
Aerial hunt of running creatures on Pandora is pretty fun
Additional colorful flora on Pandora — lizard-like creatures who light up like purple helicopters/Frisbees
Couple scenes involving Dr. Grace Augustine's school where there was a dramatic shooting and killing
Slightly extended love scene embrace between Jake and Neytiri
Couple scenes depicting the torching of bulldozers and military squad by the indigenous Na'vi, and the reaction to that provides a little more understanding about the subsequent ruthless attack of the Na'vi.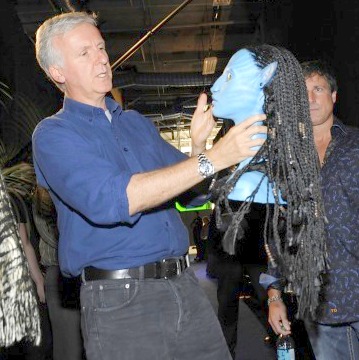 And then there are two discs full of extras. Here are the primary highlights:
Disc 2:
* "Message from Pandora" is actually an interesting 20-minute tag-along sojourn into the Amazon rain forest with Cameron and his wife Suzy Amis as they meet with locals to try to block the building of a dam.
* "Capturing Avatar" is a feature-length making-of documentary by industry-leader Laurent Bouzereau. Among the most notable elements:
On-camera comments by the late visual effects guru Stan Winston
Cameron and producer Jon Landau noting and demonstrating original testing on performance capture technology back in pre-"Titanic" 1995 before setting it aside for ten years and getting greenlight from Fox to start production in January 2007
Footage of 2006 auditions and screen tests by Sam Worthington, Zoe Saldana and Joel Moore
Cameron seen explaining to Sigourney Weaver that her character's original last name will need to be changed to Augustine from Shipley so as not to be confused with her "Aliens" character of Ripley.
Demonstrations of the evolution of the groundbreaking advances in performance capture technology (sometimes called motion-capture) that allows actors to create every movement of characters presented digitally on screen
* Deleted scenes offer about 45-minutes of additional uncompleted bits incorporated into more than an hour of scenes (details included and demonstrated about the missing effects elements in each). Among the highlights:
Helicopter pilot Trudy Chacon and Norm Spellman flirting and then caught briefly having sex (no nudity)
Trudy and others trying to sneak away to initiate a rescue
Longer introductions to various characters
Extended explanation by Augustine about the attack on her Pandora school
A tribal dance
A lengthy final Na'vi initiation ritual for Jake involving ingesting a worm that induces hallucinations
A Na'vi warrior showdown fight with Jake just before Col. Quaritch cuts off his lifeline and Jake's Na'vi body is vacated
Disc 3:
Hours of detailed exploration into every aspect of the movie through 17 on-set featurettes and interactive viewing modes, as well as archives of scripts and a "Pandorapedia" and additional bonus features via Web-connected BD-Live.
3D?
As much as this film pioneered and mainstreamed the new wave of 3D, only 3 1/2-minutes is devoted to the process here in a mini-featurette about the Fusion camera developed by Vince Pace and Cameron. Cameron mentions his love of 3D that began with his 1995 production of the 3D footage for the "T2 3D" attraction at Universal Studios.
— By Scott Hettrick