"Shrek" will follow "Monsters vs. Aliens" as one of the first Blu-ray titles to be released in 3D, both DreamWorks Animation titles to come from Samsung Electronics, the latter company announced in New York this morning, Tuesday, March 9.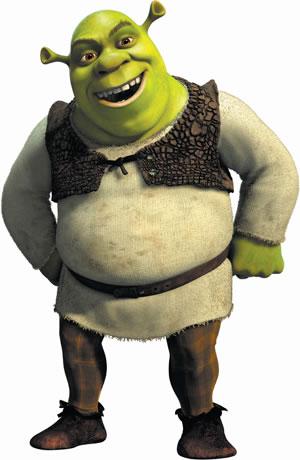 Samsung's official announcement of the launch of its full HD 3D LED TV and lineup of 3D home entertainment products worldwide also included word of an expansion of its strategic alliance with DreamWorks to feature an exclusive offering of the Shrek film series in its entirety in 3D for the first time ever.
As previously reported, Samsung's promotional program will allow everyone who purchases a 2010 Samsung 3D TV and 3D Blu-ray Player or Home Theater System to will receive a 3D starter kit that includes two pairs of Samsung 3D active glasses and a first time, feature-length 3D Blu-ray version of DreamWorks Animation's 2009 release, "Monsters vs. Aliens" (exclusive to Samsung products). Additionally, during the second half of 2010, the most successful animated film franchise of all time — DreamWorks Animation's Shrek film series, with more than $2 billion in worldwide boxoffice — will be available in 3D Blu-ray for Samsung home solutions.
Cnet reports that Samsung' UNC7000 3D TV series is currently going for around $2,350 at Amazon for the 46-inch model ($2,600 MSRP).
Samsung's larger 55-inch 3D TV costs about $3,000 at Amazon ($3,300 MSRP) while the 40-incher is being listed by online retailers at about $1,800 ($2,000 MSRP). The 3D-ready BD-C6900 Blu-ray player is under $400 and the SD-2100AB 3D active shutter glasses are about $150.
Panasonic, which makes its official announcement tomorrow, Wednesday, is expected to price its 50-inch 3D Viera at about $2,500, and $3,000 for a bundle that includes the DMP-BDT350 Blu-ray player and a pair of glasses.
Sony hasn't mentioned pricing for its line-up that arrives June 10. LG is expected in mid-May. Vizio is the only other maker to announce pricing for its 3D products coming in August that start at $1,999.
— By Scott Hettrick
The rest of the official Samsung media release:
"Samsung has been the number one company in the global TV market for four straight years, and we remain committed to leading the market by deploying new categories of entertainment like Full HD 3D LED TVs, on which consumers around the world will be able to enjoy their favorite content, including DreamWorks Animation's Shrek franchise, in their homes," said Boo-Keun Yoon, President of Visual Display Business Unit at Samsung Electronics. "With the widest range of options for 3D home solutions ever, Samsung continues to lead the home entertainment industry by liberating 2D content to 3D, and creating new, immersive experiences for consumers."
"We are thrilled to be able to offer audiences the exciting opportunity to bring the world and characters of all of our Shrek movies home with them this year in 3D," said Jeffrey Katzenberg, Chief Executive Officer of DreamWorks Animation.
The news was delivered at Samsung's Full HD 3D LED TV global launch press conference held in New York City today, one of several global events this week created by the company to invite influencers and consumers to enjoy all the capabilities of Samsung's 3D technology leadership.
Global Product Availability
Samsung will launch the broadest line of 3D home entertainment products in 2010. Its 3D TV lineup includes the LED 7000/8000/9000 Series, LCD 750 Series, and the Plasma 7000/8000 Series. Available this month are the 3D capable 46″ and 55″ LED C7000, with the remaining 3D TVs rolling out over the next several months. Samsung is delivering 3D the way it was meant to be watched, combining the Samsung BD-C6900 3D Blu-ray player or the Samsung HT-C6930W 3D Blu-ray integrated home theater system, stylish 3D active glasses and movie in Blu-ray 3D. The result: Full HD with lifelike depth and color clarity at home.
First to Market Full HD 3D LED TV Raises Bar for TV Excellence
This year's premium LED TV models, the C7000, C8000 and C9000, feature Samsung's Real240Hz(TM) refresh rate technology and Samsung's proprietary built-in 3D processor that is compatible with major 3D format standards. Samsung's 3D technology and a faster panel optimized for 3D work together to deliver an immersive viewing experience. When not in the 3D mode, you're back to watching one of the best performing HDTVs on the market with the push of a button.
The LED TVs come with Internet@TV connectivity which includes the world's first HDTV app store, Samsung Apps, allowing users to download and view applications on their TV screens. The 3D LED TVs are also the highest performing and most eco-conscious HDTV products Samsung has ever released, all exceeding the more stringent EnergyStar 4.0 guidelines.
Taking the Wonder of 3D to people's home
In the US, Samsung is launching a holistic marketing campaign under the name "Dedicated to Wonder," a high-profile marketing effort that includes television advertising and the first 3D Cinema advertising (Spot?) for a consumer electronics brand. Samsung assembled an elite production crew, including the Oscar-winning director of photography, Mauro Fiore, and is bringing the wonder of the 3D experience to life with this new marketing campaign. New commercials will begin hitting the air this week, highlighting Samsung's 3D technology and the wonder it brings to the home entertainment experience.
Samsung's in-store display plan is also key to exposing consumers to the technology and educating them on the value of 3D. Samsung's internal research shows that while awareness of 3D technology is high, less than a third of consumers have had any experience with it. For this reason, Samsung is strengthening marketing activities in an effort to make it easier for consumers to experience 3D. In 2010, consumers can expect to experience this immersive experience in more than 5,000 stores across the nation. Displays will start being deployed later in the month.