Many moviegoers may only know her from her 20-year stint as James Bond 007's boss "M" for the entire Pierce Brosnan and most of the Daniel Craig eras.
But actress Judi Dench was already considered royalty by English royalty when she was appointed Officer of the Order of the British Empire (OBE) 25 years before she ever met James Bond and was named Dame Commander of the Order of the British Empire (DBE) in 1988.
There's nobody who plays royalty or costume dramas better than Dame Judi Dench. In addition to Shakespeare icons and period characters, Dench was nominated for a Best Actress Oscar for playing Queen Victoria in "Mrs. Brown" in 1997 and won Best Supporting Actress the following year as Queen Elizabeth in the Academy Award-winning 1998 Oscar-winning film, "Shakespeare in Love." Since then she has been nominated for Best Actress five more times, most recently for the 2013 "Philomena."
It is that venerable and enormously engaging actress, now 82, who captivates viewers as Queen Victoria once again in the new release of the charming story based on recently-discovered new documents, "Victoria & Abdul" (Universal, digital Dec. 5; On-Demand and Blu-ray $34.98 Dec. 19, 2017).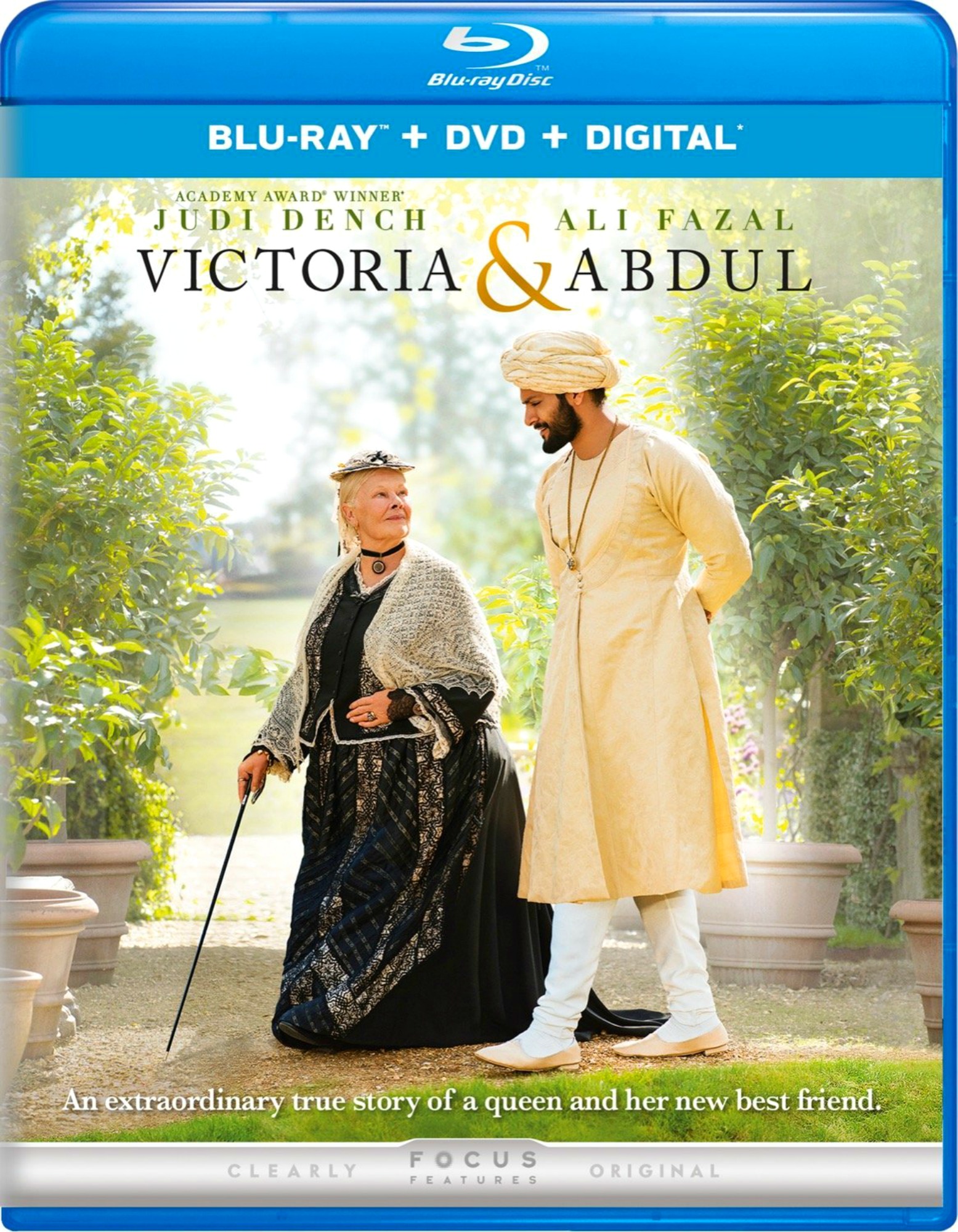 In the final years of her life and then-record-setting reign as Queen of England in the late 1800s, and with her son Edward (Eddie Izzard) champing at the bit to become King, Victoria has grown weary of the trappings of her position and distrustful of anyone around her.
Into her life enters a charismatic and energetic young Muslim man from India called Abdul Karim (Ali Fazal, "Furious 7").
Adapted from a 2010 book based on papers found in India a few years earlier, director Stephen Frears ("The Queen") cleverly injects a liberal dose of unsubstantiated humor and situations into the story that he notes in the titles is based on real events "mostly."
Karim, a married father and clerk, is chosen by British officials in India because of his height to present a rare coin to Victoria during the Queen's Golden Jubilee. He is accompanied by a short sidekick companion who serves as the comic relief with his amusingly sour response to every situation.
But the primary focus is on how Karim restores Victoria's zest for life with his infectious zeal for his homeland, which she has never visited despite its being part of the British Commonwealth over which she rules. This unusual fast-growing relationship causes much resentment from the Queen's son and friction among her staff, but it is this unlikely bond of friendship based on mutual admiration and respect that delivers the heart and emotion of the film.
A five-minute making-of featurette called "Judi & Ali" offers interesting behind-the-scenes comments from the two stars and others about how they didn't know about the story until they read the script, and how they enjoyed working together.
A second seven-minute bonus featurette called "The Look of Victoria & Abdul" takes viewers on the many actual film locations in Scotland, England, and India, and inside one of the homes of Queen Victoria that Dench notes could only be used from the outside when she was shooting "Mrs. Brown" 20 years earlier.
— By Scott Hettrick