It's been seven years since James Cameron told me that "Terminator 2: Judgment Day" would be a likely candidate for conversion to 3D, and today that movie hits theaters in RealD 3D for an exclusive one-week engagement at AMC theaters.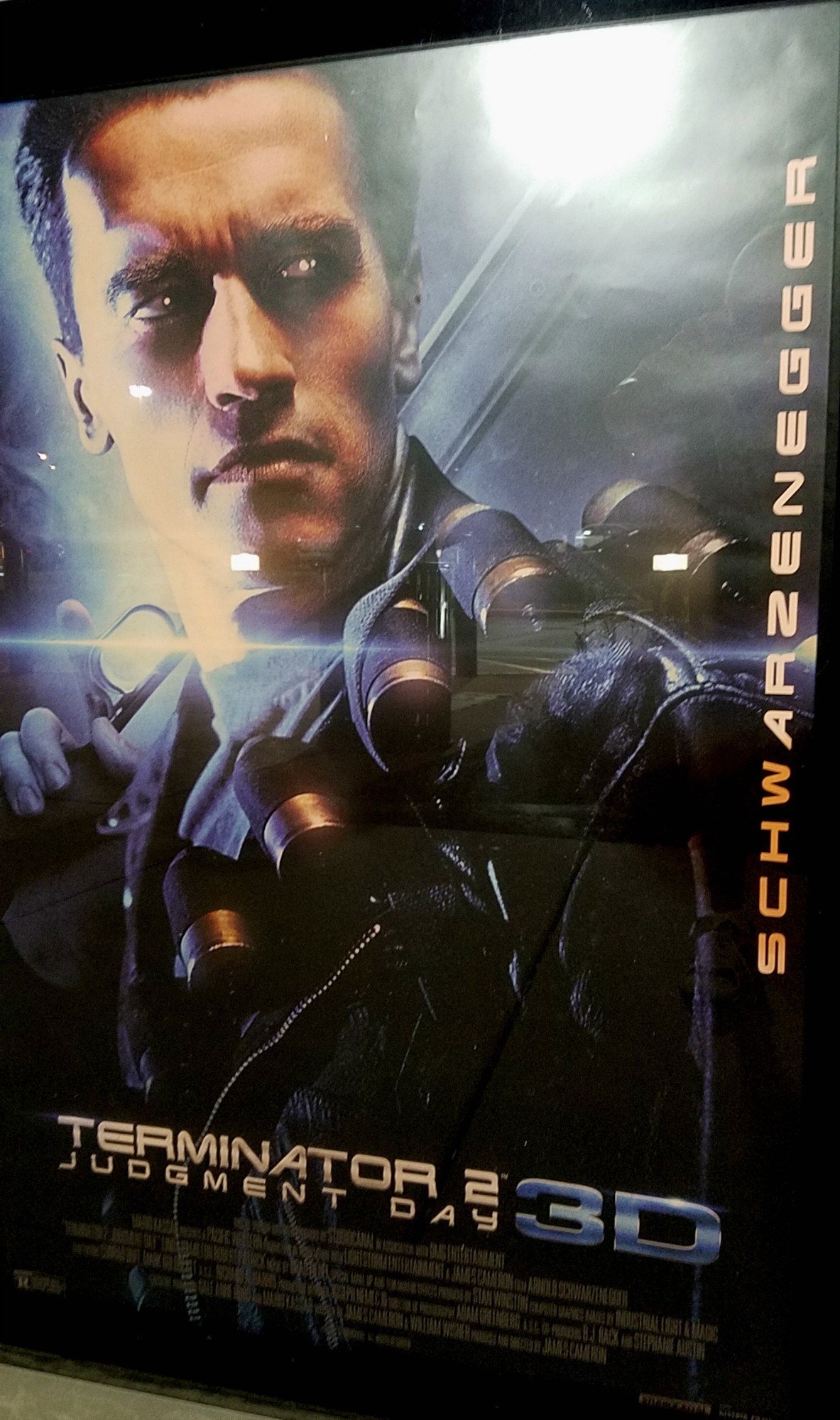 Sadly, the 3D impact is barely apparent except for two or three brief moments when Arnold Schwarzenegger swings his sawed-off shotgun towards the camera or Linda Hamilton does the same when pointing her pistol.
The 3D in the 12-minutes of additional film footage produced by director James Cameron for the 1996 Universal Studios Florida theme park attraction "Terminator 2: 3-D" was far more impressive. ("T2 3D: Battle Across Time" opened at Universal Studios Hollywood in 1999.) Too bad those U.S. attractions closed in 2012, though "Terminator 2: 3D," which opened at Universal Studios Japan in 2001, remains in operation.
Aside from the few seconds of guns pointing and protruding towards the audience, the slight additional depth of space between objects in this week's "Terminator 2: Judgement Day 3D" barely registers on a conscious level, and there are a couple of times when a glitch in the conversion process shows up momentarily as a thin green film veils half the screen for a couple seconds.
That's a big disappointment since there are so many stunt scenes that could have really benefited by the impact 3D can make when used properly, but that's an artistic choice of Cameron's, who prefers a very subtle form of 3D, not the decision of the 3D conversion company StereoD.
And those stunts are about the only things that really hold up in this 1991 blockbuster in which, amazingly, Schwarzenegger's acting now seems the least wooden and most convincing of all the actors in the film. Edward Furlong's young John Connor is particularly insufferable, as is the drawn-out 2-hours and 17-minute running time.
But those stunt scenes are still riveting: the truck/motorcycle chase and jumps through the concrete L.A. river washes; the helicopter scene that begins with a motorcycle leap from a building and continues with the copter flying under short bridges; and then the tractor-trailer chase with Schwarzenegger climbing out his driver's side window, shooting at the big rig, and jumping on its hood. Pretty incredible stuff.
Too bad the new 3D version doesn't enhance those stunts and the movie any better than it does.
— By Scott Hettrick