You'll feel like you are surrounded by the water of the ocean and as if you can reach out and touch the spears and boat paddles of the Polynesian Islanders in the 3D version of "Disney's animated "Moana" coming to Blu-ray 3D this Tuesday, March 7.
You'll also enjoy two original animated shorts included with nearly two-hours of bonus features in addition to an audio commentary running the full length of the movie.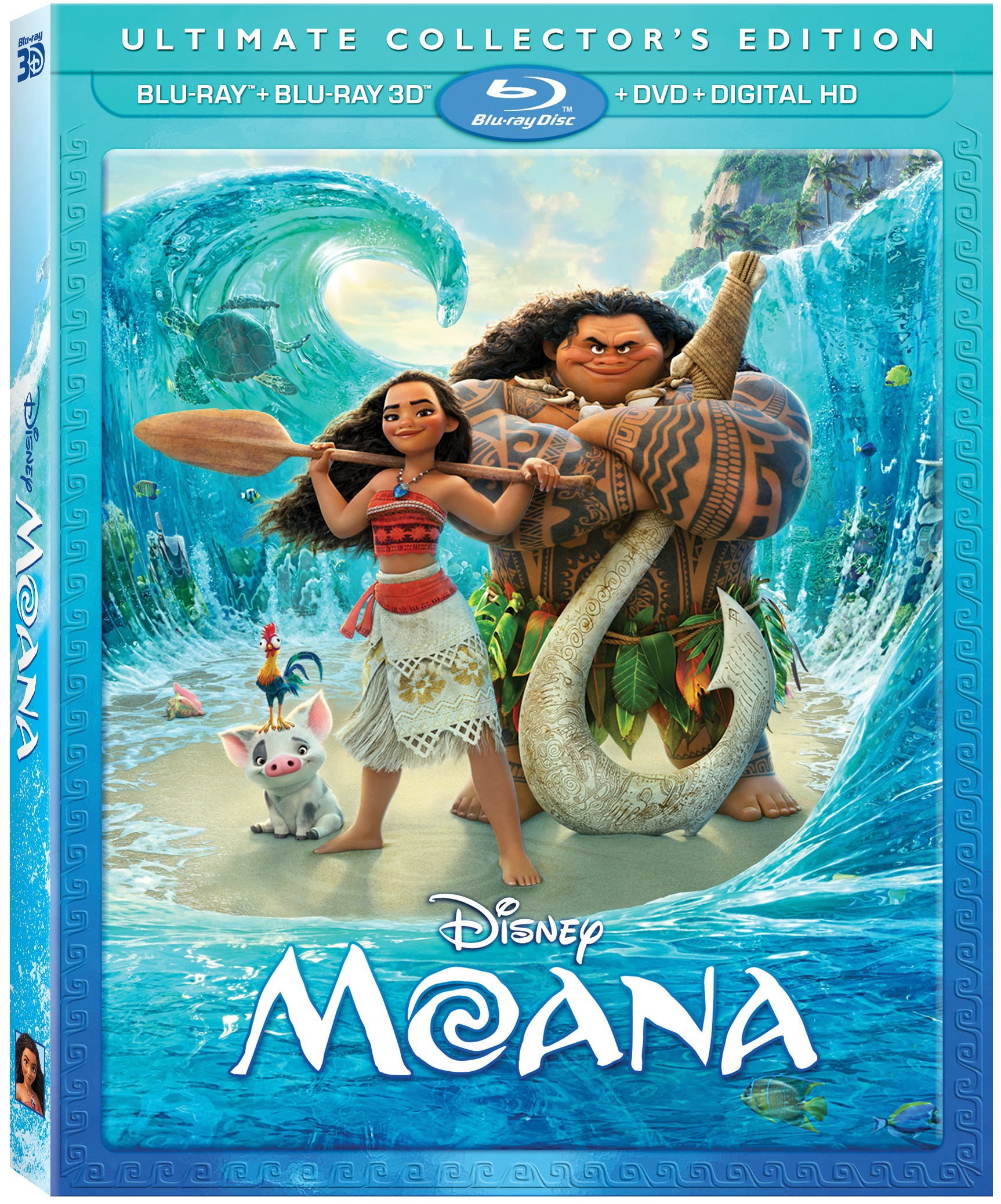 Once again Disney gives you your money's worth when it could easily have settled for simply making the Oscar-nominated film itself available for home video. After all, the movie was clearly appealing enough to audiences to rack up nearly $250 million in U.S. theaters alone.
While that only ranked the movie as the fifth most popular animated film last year, and even though the story, characters, and songs do not have the impact or appeal to compare to Disney classics or even modern Disney animated girl power hits such as "Frozen," "Tangled," "Mulan," or "Pocahontas," and some of the movie feels derivative (a colony of marauding coconuts resemble the minions of "Despicable Me"), this sweeping story of a spirited Pacific Island teenager from long ago who sets sail on a daring adventure to save her people is nonetheless a fun and enjoyable film with vivid visual appeal.
In this nearly two-hour film (and be sure to watch through the end credits for an amusing "button" at the end that makes a humorous reference to another Disney ocean-related animated film), newcomer Auli'i Cravalho provides the engaging voice of the tenacious Moana, a young girl destined to be the new leader of her people once she proves herself, while Dwayne "The Rock" Johnson plays the self-assured but guilt-ridden demigod Maui who has tattoos that come to life to tell stories.
Before he became a superstar for his production of the Broadway smash, "Hamilton," Lin-Manuel Miranda wrote the original songs for "Moana" along with Mark Mancina ("Speed," "Tarzan" "The Lion King") and Opetaia Foaʻi (founder and lead singer of the award-winning world music band Te Vaka).
Bonus features
Watching the bonus features makes one have even more admiration for the movie's authenticity. In the audio commentary and in the primary half-hour making-of featurette "Voice of the Islands," directors Ron Clements and John Musker give multiple examples of where they changed things in the script at the request of local island residents to better reflect their culture and heritage. For instance, they changed a scene where Moana expressed frustration by hitting coconuts with a bat — an unlikely action since coconuts are a food source — to having her throw sticks in the sand. Even more significantly, Maui was originally designed to be bald, but locals said he should have long hair.
Clements and Musker also give credit to John Lasseter, head of Disney and Pixar animation, for multiple elements and revisions that were his suggestions.
Bonus features on Blu-ray 3D, Blu-ray & Digital 3D/HD/SD:
Theatrical Short Film: "Inner Workings" (6 1/2-min) – First of all the best thing is that this film is also in 3D. Like "Moana," this cute story of the internal struggle between a man's pragmatic, logical side and his free-spirited, adventurous half that blends CG and traditional hand-drawn animation is not as clever or memorable as many other Disney/Pizar film shorts, but is still cute and amusing.
Maui Mini-Movie: "Gone Fishing" (2 1/2-min) – A nice little original animated short featuring Moana and her friends showing Maui the error of his ways when he decides it's time to take charge of the ocean and catch his next meal.
Voice of the Islands (31-min) – A fascinating background of the movie's evolution, that included research trips by filmmakers to the Pacific Islands.
Things You Didn't Know About… (4-min.) – Two fun 2-minute videos in which and crew and music crew answer rapid-fire questions about everything from what they had for breakfast to their favorite Disney song.
o Dwayne Johnson, newcomer Auli'i Cravalho, and directors Ron Clements and John Musker.
o Opetaia Foa'i, Mark Mancina and Lin-Manuel Miranda.
Island Fashion (5-min) – With no references from centuries ago, costume designer Neysa Bové managed to create costumes using materials and techniques native to the islands of Oceania.
They Know the Way: Making the Music of "Moana" (12 1/2-min.) – Musicians Opetaia Foa'I, Marc Mancina and Lin-Manuel Miranda tell and show their exploration of the island sound from trips to New Zealand and Fiji (where Miranda won a dance contest) to experimentation and a journey that changed their lives and bonded them forever.
Fishing for Easter Eggs (3-min) – Revealing location and meaning behind thirteen Easter Eggs hidden by Disney animators throughout the film.
The Elements of … (14-min) – Four short behind-the-scenes programs exploring the technical achievements behind effects used in the film.
o Mini Maui – Maui's tattoos come to life (dubbed "mini Maui") by legendary hand-drawn animator Eric Goldberg, who relishes keeping hand-drawn animation alive in this CG animated film.
o Water – The ocean is literally a character in this film, enhanced tremendously by the 3D. This piece explores how the water is given a personality, along with the technical feats of creating a believable ocean landscape farther than the eye can see.
o Lava – Te Kā is a creature made of lava, smoke and fire. This piece dives into the challenges of making an animated creature of massive scale brought to fiery life by character, technical and effects animators.
o Hair – One of the greatest technical achievements of the film was the animation of the beautiful, curly hair on Moana and Maui. This featurette showcases the hair-raising detail that goes into animating each strand.
Deleted Song: "Warrior Face" (3 1/2-min.) – Songwriter Lin-Manuel Miranda introduces this song with Moana and her father hat is presented with incomplete animation.
Deleted Scenes –(26-min.) As in their audio commentary, directors Ron Clements and John Musker talk over each other and even get a little testy as they introduce multiple deleted scenes:
* Race the Wind/Ties that Bind (Moana and her six older brothers – her brothers were eventually eliminated before production so she became an only child)
* Discussing Moana's Future
* Under the Sea
* Grandmother's Warning/Legend of Maui
* Education of Moana
* Father, Daughter, Boat
* Canoe Race
Music Video: "How Far I'll Go" (3-min.) – Performed by young Alessia Cara on a beach.
"How Far I'll Go Around the World" (2 1/2-min.) – Multi-language reel of the song "How Far I'll Go" shows amazingly seamless transition from one language to another, with Moana's lips even seeming to match the various words being sung for each language.
Audio Commentary – With directors Ron Clements and John Musker. No doubt it comes from working so closely together for so long (these two helmed "Aladdin" as well; but they both not only speak excessively fast — as if they need to cram 4-hours of anecdotes in to a 2-hour commentary, but they also annoyingly cut each other off (not always just to complete each other's sentences), surely inadvertently but certainly diminishing the impact of the point the other was making. But there are still numerous interesting stories shared. They also reveal a couple Easter Egg hidden treasures in the animation before chastising themselves for doing so.
"Moana" also stars Temuera Morrison ("Star Wars: Episode II – Attack of the Clones") as Moana's no-nonsense father, Chief Tui; Rachel House ("Whale Rider") as Moana's trusted Gramma Tala; and Grammy-nominated singer and dancer Nicole Scherzinger as Moana's playful and strong-willed mother, Sina; Jemaine Clementvoices Tamatoa, a self-absorbed, 50-foot crab; and Alan Tudyk ("Zootopia," "Wreck-It Ralph," "Big Hero 6") lends his voice to stowaway rooster Heihei.
— By Scott Hettrick