This weekend begins a series of movies that could be amongst the most notable showcases of the potential for maximum impact of 3D in films with Thursday's impressive premiere of "Everest" in IMAX theaters.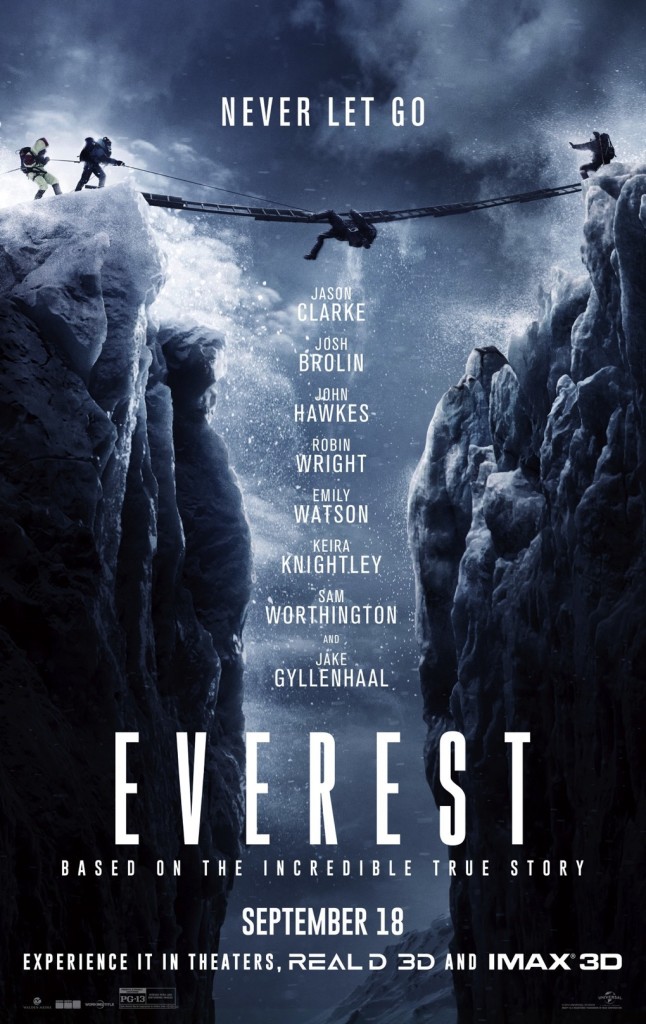 Next up on Sept. 30 is "The Walk," director Robert Zemeckis's dramatization of the true high-wire stunt between the twin towers of the World Trade Center in IMAX 3D. The trailer alone, even on a small video computer screen in 2D, screams for 3D and giant format. A few days later on Oct. 2 we get "The Martian" from director Ridley Scott in RealD 3D and Large format theaters.
In a subtle way, "Everest" completes the circle that began when an IMAX film crew was filming the giant format documentary of the same name in 1996 when the horrible tragedy that is now the subject of the new movie took place. Early in this new movie, a Mount Everest climbing guide calls out the various crews preparing to make the climb to the pinnacle of the 27,000-foot mountain and he notes the IMAX crew.
What would tragically occur soon after was that another group of mountain climbers became trapped by a blizzard near the summit. The IMAX team of 1996 assisted some of the survivors.
This new two-hour film portrays the leaders and members of the ill-fated two groups that pushed too far and too long and took risks they determined were manageable, and suffered the consequences. Director Baltasar Kormákur does a terrific job utilizing the giant canvas of an IMAX screen to convey the scale of the mountain and the chasms, and the 3D to make audiences feel as if they are experiencing every precarious step along a rickety ladder or swaying bridge over huge crevices right along with the adventurers.
An impressive cast of Jason Clarke, Josh Brolin, John Hawkes, Robin Wright, Michael Kelly, Sam Worthington, Keira Knightley, Emily Watson and Jake Gyllenhaal portray a number of different personalities among the climbers and their friends and family back home, though there is little back-story of any of the characters.
But where the story feels shallow, the visual images have plenty of depth.
— By Scott Hettrick