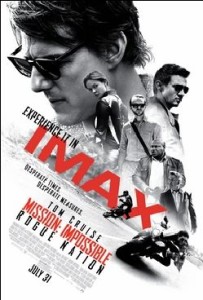 "Mission: Impossible – Rogue Nation" is the latest in a summer full of audience-pleasing blockbusters to make a big splash with the help of giant screen IMAX theaters, grossing $56 million domestically to top the charts on its opening weekend.
The fifth episode of this series that makes us wait 4-6 years between missions offers perhaps one of the best chase sequences ever filmed. The incredible motorcycle pursuit through Casablanca and the outskirts across Morocco, features a camera on the helmet of Tom Cruise's Ethan Hunt that, in combination with the view-encompassing IMAX screen, brings the audience into the action like never before.
And this is just one taste of the big-budget eye candy, which also includes the much-promoted scene of Hunt/Cruise hanging precariously off the side of an airplane as it takes off.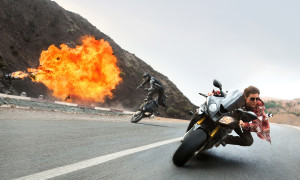 While none of this has the same jaw-dropping impact of the IMAX camera-filmed aerial scenes approaching and atop the Burg Khalifa building of Dubai in the last installment, "Mission: Impossible – Ghost Protocol," they nonetheless combine with the increased humor of the characters and situations involving the rooting out of a secret sub-government syndicate to create a couple of hours of fun and excitement.
For some, this series really kicked into gear with "Mission: Impossible III: in 2006."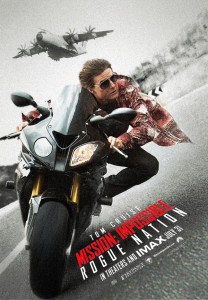 Not only is the entire team back in place, but for the third time in a row they benefit from the assistance of a woman who is every bit their equal in charm and physicality. Rebecca Ferguson plays an agent who not only out-runs Hunt/Cruise on a motorcycle but also keeps him guessing if she is a double-agent he can trust.
Meanwhile, Alec Baldwin is a fun, if modestly-used addition.
The IMAX and 3D market continues strong across the board with the IMAX 3D movie "Ant-Man" collecting another $12.6 million for a three weekend total of $132 mil.; the 3D "Minions" adding $12 mil. to its total that now stands at $287 mil; the 3D "Pixels" fighting its way to $46 mil. after another $10 mil. this weekend; the 3D "Inside Out" finding another $4.5 mil. to reach $330 mil.; and the $3.8 mil. for IMAX 3D "Jurassic World" pushing it to a whopping $631.5 mil. domestically and $1.56 billion worldwide in two months, surpassing "Marvel's The Avengers" as the third biggest movie of all time, behind only "Avatar" and "Titanic."
— By Scott Hettrick