For his 60th anniversary, Godzilla gets to make his debut in 3D and IMAX and become a good guy and hero.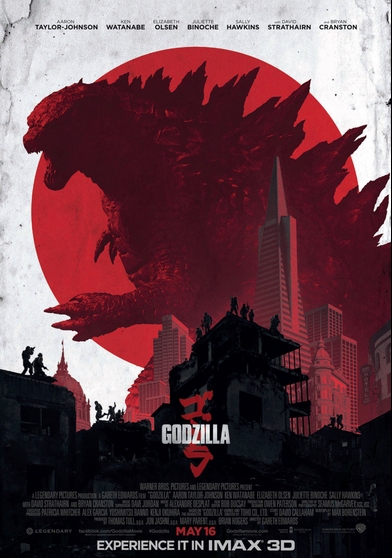 The latest incarnation is a fun ride, enhanced by the size of the IMAX screen as witnessed on the full giant screen at the new TCL Chinese Theater in Hollywood, and the depth of the 3D that again draws viewers into a more engaging experience.
It's not really clear why Gozilla plays the hero but what matters is that it's a crowd-pleasing decision when the creation of nuclear fallout decides to take on some other giant flying creatures who are making their way across the U.S. destroying cities such as Las Vegas and San Francisco.
It plays right in to the current trend of giant creatures fighting each other in movies like "Transformers."
The timing and setting is interesting given Japan's latest nuclear-related tragedy of 2011 due to the power plant hit by a tsunami and earthquake. The backdop of this story involves a cover-up of nuclear radiation fallout in Japan. The movie starts in 1999 when a nuclear physicist (Juliette Binoche) dies in what her husband (Bryan Cranston) suspects is a result of nuclear radiation. The movie then shifts to 15 years later in present day when all these creatures are re-awakened and begin fighting each other.
— By Scott Hettrick