Superman isn't the only thing returning in Warner Home Video's "Man of Steel" Blu-ray 3D ($44.95) on Nov. 12 — the Maximum Movie Mode is back but without the branding.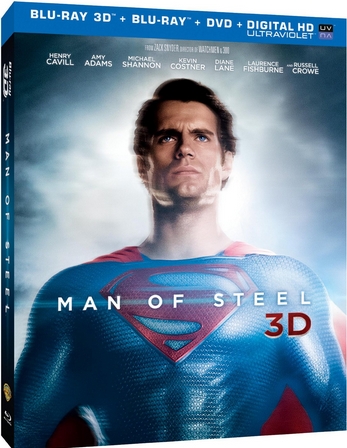 The 2D Blu-ray disc special features disc presents the entire movie with frequent pop-up comments and videos by director Zack Snyder and cast and crew, as well as 30-minutes of stand-alone behind-the-scenes footage inserted that elongate the film to three hours.
While much of the pop-up footage and comments are of a techincal nature – the rationale and process of introduing the new meaning of letter "S" on Superman's chest and creating a partial new language and corresponding "glyph" symbols, there are also interviews with each of the primary and supporting stars offering fun and interesting anecdotes. Russell Crowe describes while video plays of the challenges of doing long takes while swimming underwater in a huge tank. Snyder and star Henry Cavill describe strategically showing off Cavill's bare chest physique in the shipping village to establish credibility of his body under the costume. Diane Lane offers her thoughts about playing the mother of a superhero child with issues.
One of the most enjoyable bonus features is a two-minute animated short produced for Superman's 75th anniversary that morphs images of the man of steel from his earliest incarnations through all his TV iterations and more recent film and comic adaptations.
And, of course, there is also a more traditional 25-min making-of featurette.
As for the movie itself, the 3D offers roughly the equivalent impact as its theatrical predecessor.
Snyder, who used 3D to pretty decent effect in "Sucker Punch" and  even moreso in "Legend of the Guardians: The Owls of Ga'Hoole," is less ambitious with the format here. Although the depth between characters and objects is fairly pronounced in the first third of the 2 1/2-hour movie on the planet Krypton, the images appear to go almost flat when he gets to Earth, causing viewers to periodically pull off their glasses to see if there is any difference — not much. And that's a big disappointment since there are so many scenes of flying and mayhem that seem perfectly suited for 3D. How cool would it be to see Superman appear to fly off the screen right over your head? But no, not happening here. Heck, Bryan Singer utilized 3D more effectively in the 20-minutes he converted for "Superman Returns."
With those missed opportunities, we're left with the movie itself, which grows quite tedious in the last hour when it turns into a Transformers-like interminable battle of alien foes — Superman vs Zod — smashing each other through one skyscraper building after another. They appear to destroy most of Metropolis, and thousands of people must surely die in the collapsing skyscrapers. And then there is the anti-climax of Superman finally stopping Zod by simply putting him in a headlock. Who knew that would be Zod's Kryptonite?
A previous battle between Superman and Zod's team of outcasts in Smallville is carried out in front of a handful of obvious corprorate product placements, including IHOP and 7-11. Hard to imagine there is much left of the town after this showdown.
The best parts of the humorless movie are when the story slows and quiets down and allows the development of a bit of character and story, especially the scenes played as periodic flashbacks of Clark Kent's struggles as a youth in Kansas with the tender sympathy of his adopted mother (Diane Lane) and the sage guidance of his adopted father (Kevin Costner). Henry Cavill is also more human and relatable in these moments, though he is also serviceable enough when he dons the cape.
Those hoping to enjoy watching Superman play the dual role of undercover reporter Clark Kent at The Daily Planet will be disappointed — he doesn't step foot into the place until the last seconds of the film after he and Lois Lane (Amy Adams) have a whole relationship involving her witnessing his reconnection with his father Jor El (Russell Crowe in an engaging performance). That's just one of the many twists on the Superman legend you are likely most familiar with. The main missing ingredients are a sense of humor and anything that makes us root for our hero.
Mostly you want to tell him to take his fights outside, or out of this galaxy, so we can get back to our normal peaceful lives.
— By Scott Hettrick