There is nothing about "Bachman & Turner Live at the Roseland Ballroom NYC" on the Eagle Rock Entertainment Blu-ray Disc ($19.98) or CD ($17.97) being released today, June 26, that disappoints in any way.
Randy Bachman and C.F. (Fred) Turner are as strong and vibrant, in some ways even more-so, than decades earlier in their Bachman Turner Overdrive days.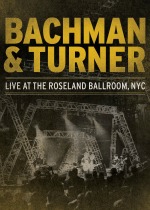 There are a lot of reunion concerts that don't live up to expectations. That was true from my perspective earlier this month when I went to the Van Halen show in L.A., with the exception of Eddie Van Halen's astounding guitar solo. That was also the case two years ago when I saw the reconfigured Uriah Heep at a riverboat casino in Kansas City, with the exception of the guitar playing and performance of founding guitarist Mick Box.
A few months after that Heep concert I decided at the last minute to take another chance on the 1970s rock duo of Bachman & Turner at the Spotlight 29 Casino in Coachella, Ca. on Oct. 16, 2010, a month before the Roseland performance on their North American tour that would be recorded for this Bu-ray and CD. I bought tickets online at 5:30 p.m. and left 15-minutes later for a 120-mile drive to an 8 p.m. show. By 7:40 I was in my seat, dead center four rows from the stage, next to a man from Canada who told me he knew Fred in dental school in the 1960s.
My expectations were low – these guys had only reunited a year earlier after not recording or playing in years, each gaining hundreds of pounds (most of which they recently lost); and they were pretty old for rockers.
From the opening "Let it Ride" I was pleasantly surprised at how good they sounded. By the third song I was blown away (knowing reference to BTO song) by the gusto of bassist Turner's full-throated gravely vocals on "Not Fragile," which only increased when he added controlled and riveting high notes to his impeccable version of "Stayed Awake All Night."
Immediately racheting up the energy, the duo took "Stayed Awake…." into a very impressive and innovative 2 ½-minute guitar solo by Bachman using a drum stick, which then segued into a fun roll back even further into Bachman's rock history with "American Woman" from his Guess Who days, this time sung remarkably well by Turner.
Turner's hard-to-believe vocals shone brightest, loudest, and most enjoyably coarse on the woman-despising "Sledgehammer," featuring crazy good high-pitch screams that had the audience at fever pitch.
A few requisite original songs were thrown in with little response, although the slightly goofy "Slave to the Rhythm" seemed to grow on the crowd eventually. I would have preferred to hear a couple more BTO songs instead, like "Gimme Your Money," "Give it Time," and yes, "Blown."
But it was the return to hardcore rock anthems like "Four Wheel Drive," the first finale number, "You Ain't Seen Nothin' Yet" and the perfect encores of "Roll On Down the Highway" and "Takin' Care of Business" that jacked up the audience enough to keep the songs playing in our heads for the two-hour drive home.
All of this was gratefully repeated a few weeks later at Roseland and captured in its 90-minute, 20-song entirety in pristine HiDef video and sonically superb audio by Eagle Rock just as entertainingly as you want to relive such a great experience.
The bonus features here are integrated into the concert itself, which in Roseland included a guest appearance during the encore by "Late Show with David Letterman" band leader Paul Shaffer and an oldies ditty "Shakin All Over."
— By Scott Hettrick