Warner's May 31 (2011) HiDef Blu-ray releases of a couple of filmmaker Stanley Kubrick's best movies are magnificent (and also tied to $149 package of nine of Kubrick's films on Blu-ray, including "Dr. Strangelove," "2001" and first Blu-ray version of "Lolita"):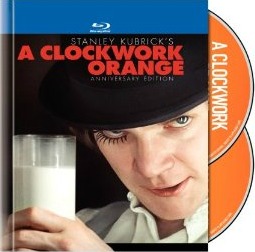 * A Clockwork Orange 40th Anniversary Editon (Warner, $34.99) is a beautiful rendition of the 1971 controversial story of youth obsessed with sex and violence and extreme governmental attempts at deterrence and rehabilitation – originally rated X.
Mezmerizing peformance by then-unknown Malcolm McDowell
Equally mezmerizing electronic soundtrack by Walter Carlos who later became Wendy Carlos
Another amazing successful genre shift for Kubrick with a low budget after nearly bankrupting MGM during production of big budget of "2001: A Space Odyssey" three years earlier.
Blu-ray offers immaculate presentation of vivid and bright colors and dazzling, innovative sets.
Beautiful double-disc set with color 40-page booklet of great photos and essays.
Two fascinating new documentaries/interview about the movie and McDowell and two feature-length documentaries about the life and careers of McDowell and Kubrick
Numerous informative background trivia anecdotes by McDowell during audio commentary – Kubrick ordered the film banned from theaters and TV-home video in the UK until his death due to threats on his family.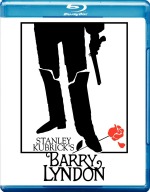 * Barry Lyndon (Warner, $19.98) is perhaps one of the most visually exquisite films ever shot, with an equally powerful classical music score, yet the three-hour groundbreaking period film starring Ryan O'Neal (he and Farrah Fawcett named their son after his character) as an 18th century Irish scoundrel who manages to turn his series of failings and missteps mostly relating to his quick temper and penchant for deceit into an unlikely rise through the military ranks of the Seven Years War and eventually aristocracy was mostly dismissed by audiences and some critics in 1975. Yet director Martin Scorsese still considers it one of Kubrick's best films and delivers a "profoundly emotional experience."
It remains atop my list of the best films ever made.
Finally, a wider screen aspect ratio of 1.78:1 (formerly 1.66:1)
First HiDef Blu-ray edition is improved but still a little grainy
Still no bonus features included, as ever — maybe Scorsese will see to remedying that for a 40th anniversary edition in a few years.
— By Scott Hettrick