A quartet of new Blu-ray 3Ds all deliver the goods but one edges the others.
If you've just purchased or received a Blu-ray 3D player and 3DTV for the holidays, you can't go wrong with any of three new releases: Disney's "Step Up 3D" ($49.99) and "Alice in Wonderland" ($49.99) and Warner's "Legend of the Guardians: The Owls of Ga'Hoole" ($44.98) None offers any bonus features in 3D but each delivers a very strong hi-def 3D image of the movie itself that in almost all cases looks as effective or moreso than in theaters.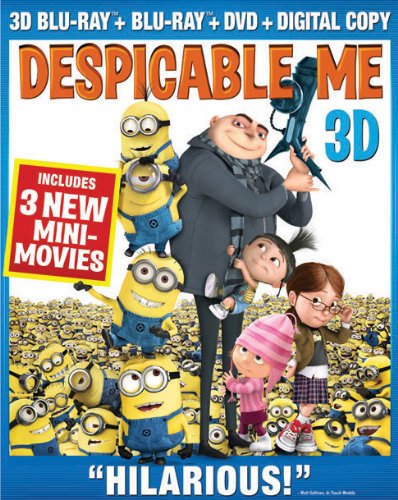 The same goes for last week's release of "Despicable Me," Universal's first 3D title for theaters and now Blu-ray 3D. This the most entertaining, and certainly the funniest movie of all the recent Blu-ray 3D releases. And the 3D is used very well — once again, literally not in your face, but a very strong and clear sense of depth behind-the-screen. That is, except for the little animations during the closing credits clearly designed to push the envelope out into the audience, which works really well when the cute diminutive trio of minion characters stick a ladder and a tape measure towards the camera, among other things.
The regular 2D Blu-ray disc included in the package contains some notable bonus features, including 3 amusing animated featurettes starring those mischievous minions, as well as some fun making-of featurettes, one of which has interesting interviews with the high-profile voice cast of unrecognizable Steve Carrell, Jason Segal, Russell Brand, and Miranda Cosgrove of "iCarly," among others.
— By Scott Hettrick