"Days of Heaven" is one of the two most visually exquisite movies ever filmed, in my opinion, and thus stands to benefit the most by the Blu-ray HiDef experience.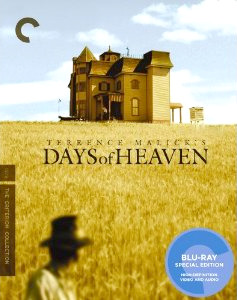 Criterion's long-awaited Blu-ray release of Terrence Malick's stunning 90-minute cinematic painting about an early 1900s Chicago steel worker who accidentally kills his supervisor and then flees with his young sister and his girlfriend to become a field worker in Texas, where they devise a dangerous con against the wealthy young owner of the ranch, comes two years after the company's 2007 DVD version. It features all the same terrific bonus features which are worth revisiting (see below).
Never has a film had such impact and told such a powerful story of a bygone era with such a scarcity of dialogue. You are drawn in immediately and deeply by the rendition of Camille Saint-Saëns' ethereal and strangely simultaneously haunting "Carnival of the Animals – The Aquarium" under the opening title sequence. From there, the matter-of-fact observations heard in a raspy and innocent voice-over of the young actress played by Linda Manz, clearly already impacted by the rough challenges of her few years of life, captivates and engages the viewer and never lets go.
But the real treat here are the images that are more vivid and impeccable than ever before. And that is most rewarding since there is nary a frame of film that could not be removed and displayed in an art gallery, particularly the early scenes of migrant workers riding atop a freight train, amongst dozens of others.
The bonus features produced for the 2007 DVD that are re-produced here:
* An audio interview with star Richard Gere and video interview with co-star Sam Shepard during which they describe how the movie was written and shot with a typical amount of dialogue, most of which was later cut during a two-year editing process.
* A fascinating anecdote-filled audio commentary includes a note by casting director Dianne Crittenden that Mallick's first choice for Gere's role was John Travolta, then starring in the TV series "Welcome Back, Kotter."
* A video interview with then-camera operator John Bailey offers fascinating background on the filming process, such as the need to move production from the Texas panhandle to Canada, Malick's penchant for being distracted from a set-up with actors to turn the cameras towards birds flying by or to catch a pretty sunset, and including fun tidbits such as how a scene showing hundreds of thousands of locusts flying up from the wheat fields was filmed by reversing film of peanuts being dropped from an airplane.
* A 42-page color booklet featuring a five-page recent essay by Adrian Martin and a 17-page reprint from the 1984 autobiography of cinematographer Nestor Alemendros's engaging description of his experience on "Days of Heaven," for which he won an Academy Award, including details about being forced to hand his job over to Oscar-winning cinematographer Haskell Wexler for the final 19 days of the 72-day shoot.
By the way, that other visually astounding film ranked alongside "Days of Heaven?" Stanley Kubrick's 1975 masterpiece "Barry Lyndon," for which I am patiently waiting for a Blu-ray edition from Warner Home Video. (Interestingly, "Barry Lyndon" also starred a young pretty boy actor — Ryan O'Neal — who, like Richard Gere, would not have been cast by another director to carry such a heavy drama.)
— By Scott Hettrick