Disney's release of Monsters, Inc. on Blu-ray ($29.99 for 2-disc; $40.99 for 4-disc) reminds us that the 2001 movie is one of the best of all the Pixar movies, if not the best.
* One of the most clever concepts about a city of monsters who get their power from kids' screams.
* Extremely funny and witty writing.
* Terrific voice-acting led by the incomparable Billy Crystal.
* The most infectious child voice and giggle: little girl called Boo.
* Exhilarating action scenes, especially chasing the moving doors.
The DVD release was among the best.
* Oscar-nominated original DVD short "Mike's New Car."
* DVD Exclusive Award-winning menus.
* Oscar-winning short "For the Birds"
* Extensive making-of and Pixar Studios tour featurettes.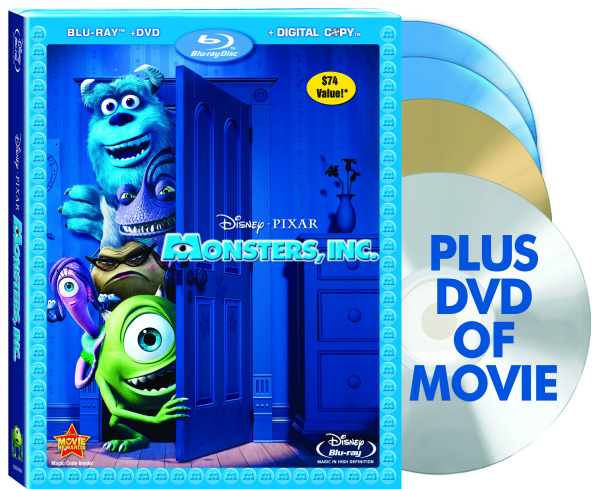 And now the new Blu-ray elevates the movie and the bonus features to even higher levels by including all of the above, plus:
* Incredible hi-def video and audio experience.
* Highly engaging an informative "Filmakers roundtable" reflection on the making of the movie, complete with hilarious anecdotes and a rare glimpse of the 2 1/2-year-old Pasadena girl (Mary Gibbs) who played Boo and had to be chased around the room to get all the giggles they needed.
* A fascinating in-depth look at the creation of the impressive new Monstropolis attraction/ride only at Tokyo Disneyland.
* A fun new interactive "Roz's 100-Door Challenge Game."
– Scott Hettrick