This year "Patriot's Day" comes shortly after St. Patrick's Day and right before April Fool's Day.
The Mark Wahlberg dramatic re-creation of the horrific Boston Marathon terrorist bombing and mostly the extensive manhunt that followed, "Patriot's Day" arrives on 4K Ultra HD Blu-ray March 28 (Lionsgate, CBS Films; 4K Ultra HD $42.99, Blu-ray $39.99).
It will also debut on digital HD March 14.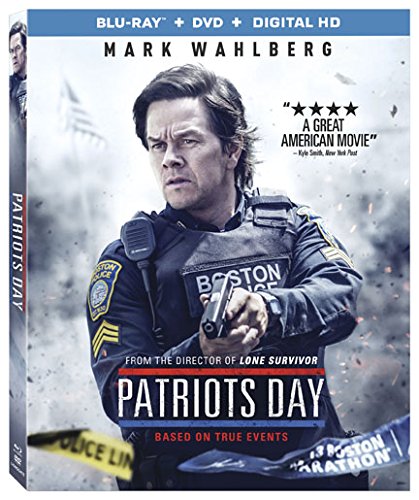 The HiDef releases include more than 90 minutes of bonus material including "Boston Strong, vignettes that tell the true stories of three first responders, and five behind-the-scenes featurettes:
The Boston Bond: Recounting the Tale, which reveals, through the eyes of the cast and crew, how a city that was challenged by tragedy rose above it to thrive.
The Real Patriots: The Local Heroes' Stories, highlighting the real heroes from the marathon bombing.
The Cast Remembers, featuring Wahlberg and the cast discussing what drew them to the film.
Actors Meet Real-Life Counterparts, a two-part seeries showing the actors meeting their real-life counterparts:
— John Goodman and Ed Davis
— Jimmy O. Yang and Dun Meng
Researching the Day, showing how Peter Berg worked with an FBI technical advisor and researcher to tell this story as accurately as possible,
The 2-hour and 13-minute film directed by Peter Berg and also starring Kevin Bacon, John Goodman, J.K. Simmons, and Michelle Monaghan, follows Wahlberg as police sergeant Tommy Saunders, who joins survivors, first responders, and investigators in a race against time to find the bombers before they strike again.
— By Scott Hettrick